Review: M. Butterfly
Corpus Playroom's production of M. Butterfly defies and exceeds expectations at every turn, writes Vanessa Braganza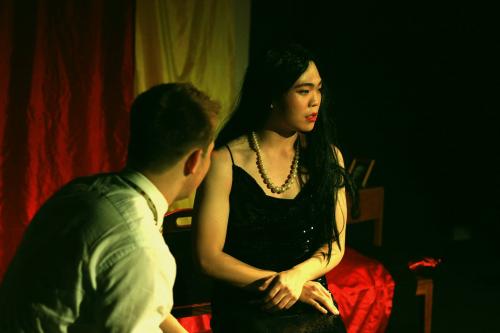 When Rene Gallimard (Dan Blick) confides in the audience his consuming passion for a beautiful Chinese actress, he little imagines that he isn't in on the real secret. Director Claire Takami-Siljedahl's bravura production of David Henry Hwang's play about "a man who falls in love with a woman created by a man", performed at Corpus Playroom, defies and exceeds expectations at every turn.
Blick's portrayal of the sexually inept French diplomat-turned-dominating lover brilliantly captures the metamorphosis of Gallimard's comic awkwardness into a sinister patriarchal imperialism. Against the backdrop of the Vietnam War, the timorous Gallimard finds in Chinese opera singer Song Liling (Jiwoo Yoo) the "perfect woman" – at once beautiful, fragile, and utterly submissive – and dubs her his "Butterfly" for the performance that ignited his obsession.
Blick adroitly draws his audience into the distortions of Gallimard's psyche, as his reverent love for Liling devolves into a sadistic desire for a butterfly who will writhe upon his needle – a desire which becomes synonymous with the white supremacist underpinnings of Western imperialism in French Indochina. Gallimard's perverse yearning for a woman whose "mouth says no and eyes say yes" turns into the conviction that East Asian countries long to be dominated by imperial Europe. The dialogue is shot through with the powerful extended metaphor that imperialism is a kind of patriarchal rape mentality. Blick's seamless tonal shifts between the childishly optative and chillingly ruthless facets of Gallimard's character convey this analogy stunningly.
The play's complex elision between gendered and imperialist discourses is beautifully interpreted by Yoo in his performance of Liling, a male Maoist spy extracting information from Gallimard under the guise of a woman. Yoo skilfully depicts Liling's defiance of what the play terms the "feminisation" of the East by the West, and is perhaps at his most striking in his delivery of Liling's courtroom testimony, after his "Butterfly" disguise is unmasked.
Moreover, his performance is sensitive to the epistemic disparity between Gallimard and the audience: Yoo's portrayal of the excessively demure Butterfly can at certain moments be classified as deliberately bad acting, an extravagant and totally transparent charade. But this elaborate act-within-an-act locates Gallimard's submersion in a realm of fantasy and wish-fulfilment, where he is deceived by his own willingness to see and believe what he wishes to be real.
Yoo's greatest strength, however, lies in his attentiveness to the constantly shifting power play between Liling and Gallimard. His performance creates a provocative ambiguity as to Liling's own desires: to what extent is Liling the actor and communist spy carried away by his role? Yoo does not settle for reducing the character to the status of a detached political informant. Rather, he is sensitive to the complexities Liling's homoerotic desire for Gallimard – a longing for masculine dominance which flickers beneath the act of the Butterfly's submission.
Blick and Yoo deliver powerhouse performances. Their extraordinary attentiveness to the play's discourses of gender, sexuality, desire, and imperialism evokes a relationship between these discourses that transcends the play's historical moment. Moreover, their negotiation of the remarkably porous fourth wall, given that the play is a flashback recounted directly to the audience, is seamless and elegant. At the last, Gallimard acknowledges a passion for a woman he knows does not exist. Blick's performance captures the poignancy and irony of a dreamer who ultimately becomes the thing he dreams of – who longs for dominance, but submits to his own fantasy and unwittingly inverts his narrative, becoming the Butterfly. The sensitivity with which the nuances of these complex social discourses are explored makes this a captivating production