Review: SWALLOW
Kate Emden is thoroughly impressed by this emotional performance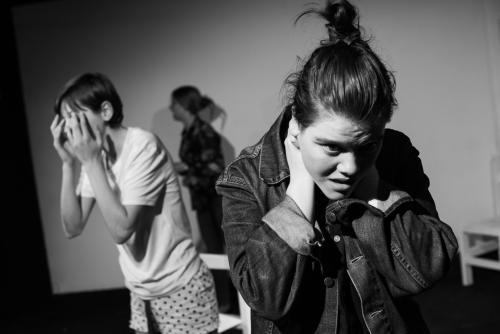 SWALLOW, written by Stef Smith, a ferocious contemporary gem of the Scottish theatre scene, is an impressive exploration of the lives of three very real characters. Directed by Avigail Tlalim, this Corpus Playroom production realises the full potential of a wonderful script, making for an incredibly emotive and thoroughly enjoyable hour. If you want to see some of the best of Cambridge theatre, this is a ticket to get your hands on.

The play centres around three characters, each struggling with isolation, unexpressed anger and their particular barrier to happiness. For Rebecca, this barrier is manifest as the still-smarting wounds of her divorce; for Anna, the inescapable walls of her apartment; for Sam, his consistently rebutted attempts to just live as a trans man in a world which is hostile towards and violently unaccepting of his existence. The three actors remain onstage throughout, which, combined with the intimacy of the Corpus Playroom, helps to produce the deep sense of empathy that the audience is led to feel for these characters. It is a joy to be able to witness, in close proximity, their detailed and subtle performances.
The direction of Smith's partially deconstructed writing style was excellent throughout. The staging is of a professional standard, deceptively and effortlessly smooth, while the pacing is just incredible. The script is brilliant, but the manipulation of delivery speed is so powerful and polished, that it becomes a key contributor to the production's ability to take the audience to whichever emotional place it chooses.
The actors were all phenomenal and truly enjoyable to watch. Emma Corrin is utterly absorbing as the fragile and faintly ethereal Anna. Her timid, frantic physicality consistently catches your eye: it is one of the best performances I have seen in Cambridge. A key reason for this is the slightly startling way in which Corrin was able to draw out moments of pure humour from otherwise distressing scenes. Her infantile disposition and endearing naivety led to the excellent delivery of such fantastic lines as "I once saw a pigeon eat a whole tampon". SWALLOW repeatedly throws its audience back and forth between the earnest and the absurd, and Corrin manages to toe the line between the two with considerable skill.
Isla Cowan also drew several laughs from the audience. The humour generated by her portrayal of a drunken Rebecca was especially bittersweet. Cowan really shone when presenting her character at the extremes of emotion and in her onstage chemistry with Georgie Henley. Their dancing in a brief scintillating moment of levity and music was a truly glorious sight to behold and I would almost recommend going to see the play based on their convention-defying moves alone.
Henley has perhaps the most challenging of the performances to give. Whilst I have reservations about cis actors playing trans characters, I am reassured by the director's claims that trans actors were explicitly sought. It also helps that Henley delivers an incredibly sensitive and powerful performance. She was particularly effective at capturing the rhythmic elements of the play's monologues, opening with an almost spoken-word style of which I would have liked to have heard more. Her mannerisms impressively drew out Sam's self-consciousness and she is strong in capturing his understated anger.
High praise should also go to set designer, Jack Parham, and lighting designer, Johnny King, who have done a stellar job dealing with the space. The aesthetic is deliberately understated; three plain white chairs, a doorframe and naked bulbs hanging above the stage. This helps to create a feeling of sparseness, which serves as an excellent counterpoint to the emotional concealment throughout. The lighting changes are similarly minimal but, as a result, incredibly powerful, marking significant shifts in the tone of the play.
My only slight reservation is that the production's ending was not quite as strong as one might hope, although this may be attributed to a limitation of the script rather than the talents of those involved, which are demonstrated throughout by the brilliance of the rest of the play. It is a truly impressive production that the cast and crew of SWALLOW have created: a job outstandingly well done.