Gown smash Town
Oli Goldstein reports as CUABC record an 8-1 victory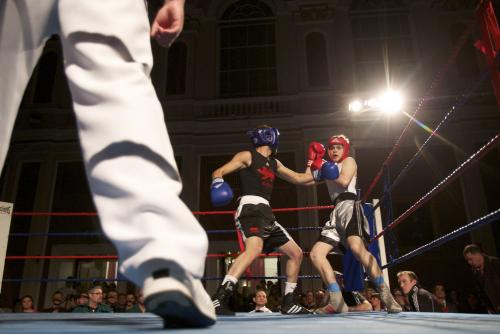 On a night of glorious action, Cambridge University Amateur Boxing Club recorded a resounding 7-1 victory in the annual "Town Vs Gown" event. Held at the Guildhall, the 500 spectators were treated to a night that showcased the finer elements of the sweet science: from some silky boxing skills to heavy knockouts, this was a night that had it all.
The first bout set the tone for the evening, as Greg Nance and Simon Senaussi fought in an all-Cambridge opener. Senaussi, fighting out of the blue corner, displayed some quick feet and slippery lateral movement on the back foot, as Nance struggled to pin the smaller man down. Senaussi's defensive smarts would eventually earn him a deserved unanimous decision.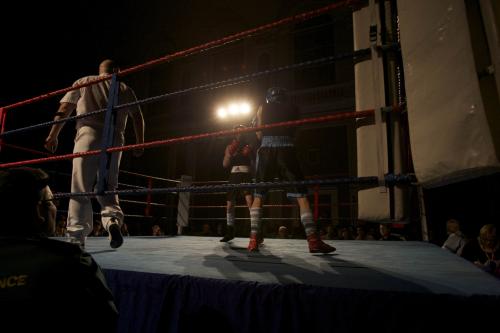 Looking for his first competitive win, Aron Schleider of St Edmund's provided the crowd with a thrilling encounter in the first "Town Vs Gown" meeting. Having burst from the corner after the opening bell, Schleider's relentless pressure kept his opponent pinned to the ropes, earning a standing eight count in the final round and a split decision victory to give CUABC the lead.
Chris Perry would continue Schleider's good work in the next bout, regularly trading hard shots with Daniel Aero of the town. Despite Aero impressing in spots, Perry's stiff jab allowed him to control the pace of the fight, before both fighters opened up in an exciting final round. Bloodied and bruised, Perry took a clear unanimous decision to put Cambridge 2-0 up.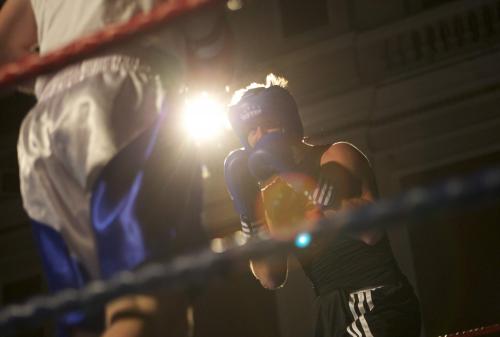 'Hoping to turn the tables on the bad guys,' Nick Edelman battered opponent Andrew Butcher before a clean knockout in the final round. Sensing the need to attack, Butcher left himself wide open for a thunderous straight right from Edelman, the Hughes Hall lawyer eventually stopping his opponent after a series of hard shots.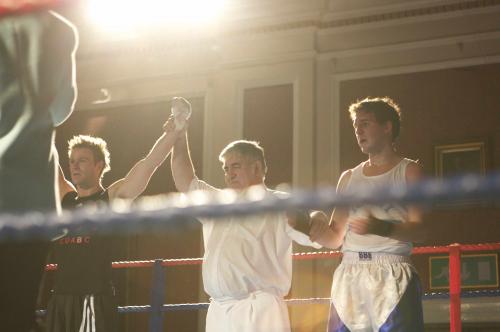 However, controversy would surface in the next bout as Kris Ren was denied victory by some dubious judging after his fight with Daniel Van. Despite a standing eight count in the opening round, Ren was able to make his agricultural opponent miss consistently, frustrating him and landing with clean shots on the back foot. However, for all his good work, Ren was denied victory as the fight was awarded to Van by majority decision.
CUABC refused to let this setback stand in their way, however, as Sam Burgess triumphed by third round technical knockout in a messy affair with Joel Saul. Forced to deal with an opponent seemingly in constant motion, Burgess remained patient throughout, eventually getting through with a barrage of punches that saw Saul's corner throw in the towel.
Already 4-1 up, Cambridge's dominance continued in the second half of the evening. After an action-packed brawl that saw King's Richard Rowlands triumph over Fitzwilliam's Rob Liu in the second all-University bout of the evening, Seb Pender recorded a superb victory over tricky southpaw Phil Richardson. Pender's excellent balance and footwork ensured that he was able to force Richardson off balance consistently, hammering home his advantage with a hard right hand down the pipe that caught Richardson unaware time and time again.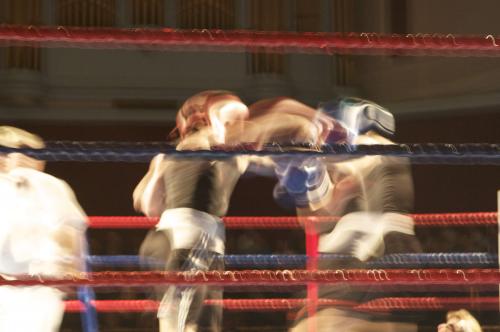 With Pender triumphing via unanimous decision, former Oxford Blue Borna Guevel won a hard-fought encounter with Kris Loginvos of Wisbeach ABC. Boxing behind a firm jab, Guevel was able to force his opponent backwards almost at will, taking the centre of the ring and remaining on the front foot throughout. With both men tiring, Guevel was able to keep up the pressure and grind out a deserved decision victory.
In the final bout, heavyweight Chris Meunce recorded an emphatic victory over his town opponent to seal the deal.
Forced to endure numerous defeats in recent years, this was a night to remember for CUABC. Now coached by former assistant Lee Mitchell, the team can be rightly proud of its efforts, coming out 8-1 victors. Hopefully the team will be able to carry this momentum on with them for the rest of the season.