Bombing brothels in Macau
Jossie Clayton talks to motorbike and truck racing legend Steve Parrish
Besides the glow of the trophies that support the achievements of Steve Parrish (the most successful truck racer ever, having won five world titles, super biking legend and Sky Sports commentator), there are three things that lodged in my memory when I interviewed him. First, the fart machine on the fridge; secondly, his aeroplane "parked" just outside his kitchen window and finally, the pole dancing podium in his sitting room "that the builders put up for a laugh."
These initial impressions sum up what I was to learn about Steve and his attitude to his life, sport and work. When I asked which he preferred between his racing and presenting lives, he tells me that he enjoys "having not had to have a proper job for most of my life." I baulk - surely 120mph in a truck around Copse Corner isn't all fun and games? "Well, since many years ago, I was always allergic to work - I didn't really like the mundane life that most jobs seem to entail." The way that Steve has made this work is a mixture of luck and the 'hard graft' that he wasn't so adverse to after all. "I guess it has been a fluke. Sport in my day was not a proper job and I proved them all wrong whereas nowadays, everyone wants to go into a sport. It wasn't nearly as commercialised and I managed to luck into it...it just happened that someone wanted to pay me."
We are talking about a change in attitude towards sports in general; greater media attention for winning players has created hype around their fields. I am told that "sports stars now achieve fame similar to soap stars and it's all down to the media, commercialism and money." It seems that the 'bug' which sportsmen and women so often refer to as their childhood motivation is being swatted in the face of management machines. International sports are nowadays "not so much a passion as a job."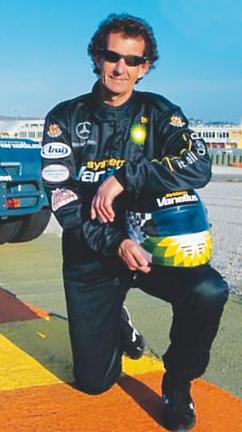 The benefit, however, of these growing sports industries is that it has become easier to diversify away from one's early talent once injury sets in and the going gets tough. Steve now does everything from hosting corporate awards and events to commentating on Sky Television, Eurosport, the BBC and acting as an expert witness for motorcycle racing accidents.
So should successful sports players of the future all expect to become a brand like David Beckham? Perhaps one day we will be able to buy a petrol scented Steve Parrish perfume? Steve laments the fact that "you can no longer have a fart without someone noticing and as a result people are loathed to be characters and have fun...you can't have a laugh with your mates because someone will be there with a camera." Renowned for his practical jokes, Steve is a one-off in this flashbulb-dominated industry and I try to glean as much gossip as possible. One particularly memorable incident is in Macau, a country he is no longer allowed to visit because he blew up a brothel. The toilet blocks in Poland were also substandard so "we set fire to them." With his persistent injection of fun into everything that he does, added to Steve's death-defying racing success, something tells me that there might yet be some originality still to come. As he puts it, "the TV world pisses me off because there are lots of people deemed to be famous who sit on the telly not doing anything. I just love meeting talented people." The most important thing about talent is making the most of it and never missing an opportunity. I start to doubt whether any achievement of Steve's has really been one of the "flukes" that he attributes to his life.
As the interview comes to a close, I ask Steve whether there is anything else that he wants to conquer. "I just want to be able to carry on doing what I'm doing and have lots of fun. My life has been about having fun and as long as I can continue doing that, I'll be very happy."