Boat Race 2021 Preview: In conversation with the Blues
In the build-up to The Boat Race on Sunday, Sports Editor Jack Wadding speaks to four participants about their preparation.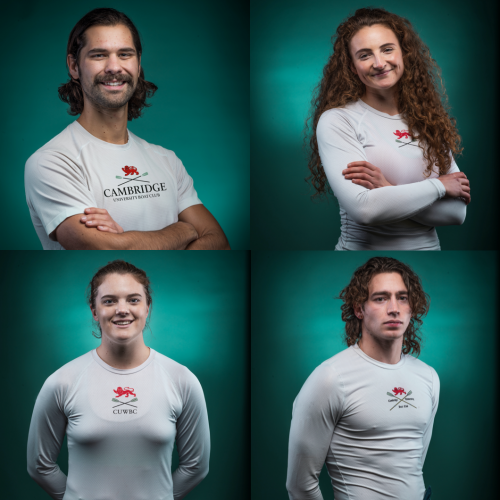 Abba Parker, Caoimhe Dempsey, Theo Weinberger and Quinten Richardson are all long-term rowers. While Caoimhe only learned to row in her first year at Trinity College Dublin (7 years ago), the others have all rowed since school, collectively racking up decades of experience. All four are set to race against Oxford in one of the biggest races of their careers, and all for the first time. So, I sat down with them to ask about how they are feeling in the build-up to The Gemini Boat Race 2021.
Despite their equally substantial rowing experience, each of the four Blues I spoke to is approaching Sunday's race from a different perspective. For Quinten, who has rowed intermittently since graduating from Brown University, Rhode Island in 2014, being a part of the blue boat is something of a "return out of retirement". In fact, he tells me: "it was always the dream… to do the boat race and come to Cambridge." For Abba, on the other hand, it is a continuation of her long-term rowing career, and her fourth and final year of PhD work at Cambridge.
"The most exciting race of my life just didn't happen"
Theo's journey to the Boat Race over his four years of undergraduate and postgraduate study has all the characteristics of an underdog story; having not "finished [his] school rowing career as [he] wanted to", he allowed himself a single year of university rowing with the lightweight crew, during which he broke his leg. As a result, he returned the following year and won the lightweight race, then joined the heavyweights and was set to row in the reserve boat, Goldie, in 2020. Equally, Caoimhe was also set to race last year, in what was her only year of a Master's course. She is now in her first year of a PhD.
Indeed, all but Quinten, who is in his first and last year of an MPhil, were meant to race on the Thames last year. All three seem to have a similar mixture of disappointment and excitement when reflecting on the past year of rowing. Abba explained to me that "it was really tough. We were really excited for the race. I'd been here for three years at that point, and that was the first year that I'd made the crew." Similarly, Theo described it as "pretty gutting", especially considering that, "at that point in time, that was [his] last year in Cambridge." But Caoimhe explained that "it's turned into a positive motivation really", especially since seven of the women's crew (including the cox) have all stayed on from 2020, meaning they all understand that "there's just something unfinished from last year."
"We have a job to do that we weren't able to complete last year."
While the women's boat are all well acquainted, Quinten explained to me that a significant number of the men's crew are new to CUBC as of this year. Despite this, they have been able to "establish cultural strongholds for the rest of the team" by deciding to rent a house of six off-campus specifically for rowers, most of whom are in their first year. Quinten tells me that he had "done that in my undergrad and it really helps foster the bond" and that this year, "we could not have predicted how important it would be". Five of the six rowers in that house will be competing in the Blue Boat on Sunday.
Caoimhe explained how important such bonds can be, saying "you're always gonna achieve way more if you're on the same page as everybody else." Abba added: "the fastest teams are the ones where the spares are pushing the second eight and those people in the second eight are pushing all the people in the first eight." Quinten mirrored this, explaining that "the competition between the twelve guys who were brought out for the seats was so, so close" and that "I think we've ended up with a really strong crew as a result of it."
Both pairs of rowers told me that, due to the lack of time on the water, their selection process had to be somewhat hurried this year. Quinten told me that "normally this takes place over many weeks, months even" but Abba explained how it has been necessary to do "a quick series of selection to decide who would be in the final crew." She added that they found out "very recently" who would be in the Blue Boat, and that they've essentially "just been coming together live, as it's happening, now." Quinten specifically took a moment to thank the men's coach, Rob Baker, for his management of those who were told that they would not be a part of the Blue Boat crew, explaining: "to make it very clean and clear in that way was very helpful, although very difficult, for those guys who did not make selection."
"The quality of what you can achieve over the course of a year will significantly improve if you have a good team culture that's pushing everybody forward."
On the topic of the selection of Ely as this year's course, the consensus among the four rowers seemed to be one of disappointment, with an element of anticipation. Caoimhe explained the stark differences between the Great Ouse and the Thames, saying that "the focus is very different: it's about establishing a good rhythm that's gonna carry you all the way down" since it is so straight, narrow and empty. "It is very internally focussed" she added but "I think it's gonna make it more exciting really."
However, Abba and Quinten were a little more wistful in their response. "It's not the experience that I'd dreamed of in my head for years," said Abba, while Quinten repeated the sentiment almost word for word, explaining that he "never would have imagined it being like this." He added, "to say that it's not disappointing in some way would be not completely honest." Despite this, both ended on a more positive note, describing how fortunate they feel to be able to race at all. "The most important thing is that we have the opportunity to race. I think it's a huge privilege," explained Quinten.
For Quinten, as someone who has rowed in both Canada and the USA, the legacy of the Boat Race stands out as something that is unique to Cambridge and Oxford. "The history of this race really plays a prominent role in how we all go about our training and prepare for this race," he said, adding that, by speaking to alumni who have rowed in the Boat Race, "you really appreciate just how significant this race is for them and the legacy that you're participating in."
"Fundamentally the key thing for me this year is the fact that we're able to race. I'm incredibly grateful for that privilege."
Abba and Caoimhe seemed to agree that recent history plays an important role in preparation. Having asked how they feel about the ongoing women's winning streak that has been maintained since 2017, Caoimhe admitted that "it does bring pressure for sure because you don't wanna be the crew that… [loses for the first time in four years]." Despite not wanting to actually voice the possibility of losing, she added that "it's a positive thing really because you have a trust in your training programme because you've seen it succeed in the past." Ultimately, "you wanna keep that whole group of people proud," said Abba.
The final consideration of this unusual edition of the Boat Race is the lack of spectators. Usually, the crowds on the banks of the Thames reach around 200,000 people. Theo confessed that "there is a part of me that, I don't want to say disappointed, but will miss that we're not racing out on the Thames in front of hundreds of thousands of people." However, Abba, from her previous experience, believes that "during the race, it won't have any effect." She told me, "I've done a lot of races and I've never noticed once anything that was happening." She explained that when you're racing, "it just becomes the peripheral vision of the boat next to you and what's going on in your crew. You don't hear anything else, you don't see anything else." Caoimhe, however, added that "the difference will be at the finish line, like not having friends and family around to celebrate with."
As our conversations came to an end, I asked the obligatory question: "how do you fancy your chances?". All seemed to echo one another in that, due to the lack of fixtures this year, it is hard to tell. However, all seemed optimistic. "Using a benchmark of previous years, we are going quickly, we are a fast boat," said Theo, concluding, "I'm quietly confident that we stand a decent chance." Caoimhe also seemed hopeful, saying that "the last few weeks on the water, they're starting to give me an awful lot of confidence." The only way to find out will be to watch the races on Sunday.
Coverage will begin on the BBC from 3pm on Sunday, with the women's race starting at 3:50pm and the men's at 4:50pm.
Varsity is the independent newspaper for the University of Cambridge, established in its current form in 1947. In order to maintain our editorial independence, our print newspaper and news website receives no funding from the University of Cambridge or its constituent Colleges.
We are therefore almost entirely reliant on advertising for funding and we expect to have a tough few months and years ahead.
In spite of this situation, we are going to look at inventive ways to look at serving our readership with digital content and of course in print too!
Therefore we are asking our readers, if they wish, to make a donation from as little as £1, to help with our running costs. Many thanks, we hope you can help!
Sponsored Links
Partner Links