Cambridge women breeze past Sussex to come out victorious
The Light Blues produced an entertaining display of rugby to overcome Sussex 67-10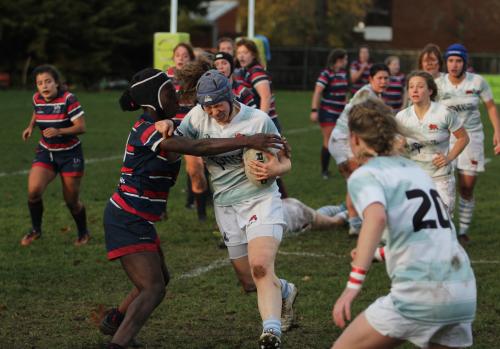 The CURFC Women's team extended their run of good form to win their third game in a row, with a 67-10 win over Sussex University Women at Grange Road on Wednesday afternoon.
Coreen Grant and Jenni Shuttleworth particularly stood out, with both players proving to be a real handful for the Sussex defence, causing issues for them all afternoon and scoring a couple of great tries, each coming off of good runs.
Missing a number of key forwards, the Light Blues made several changes to their squad. This allowed plenty of players to experience some game time ahead of the Varsity Match next month.
Suzi Pozniak was given her debut on the wing, and put on a very good display of talent.
The Cambridge women came flying out to start the game. They were able to score a try within the first couple of minutes on their opening attack, with Laura Nunez-Mulder putting the ball over the line.
The opening 25 minutes saw a determined Cambridge dictate the gameplay, and they quickly emerged as the much more successful side, managing to gain four more tries in quick succession.
Most notably, just before half time, Bluebell Nicholls scored a great try after a smart Cambridge move down the flank and some quick offloading and handling from the Cambridge team.
Sussex were certainly pleased to see the interval arrive, offering a break to gather together and discuss strategy. Cambridge finished the opening half of the game on a strong 38-0.
The second period began with a reenergized Sussex frustrating Cambridge, refusing to simply give in to defeat.
The Sussex team managed to break through the Cambridge centres a couple of times, and with some great support play were able to find an opening through the Cambridge backs.
They were rewarded with a well-taken try, marking the first time they had scored in a fair while. This was met with some wild celebrations from the Sussex team.
This glimpse of success was, however, not to last for long, as Cambridge subsequently managed to get a hold back on the game. The Cambridge team's high levels of energy and fitness, combined with great experience, were increasingly evident as the game went on.
Jenni Shuttleworth managed to get a couple more well-taken tries in as she broke free and skipped past the Sussex players on the break.
The game finished much in the same way that it started, with a Cambridge attack turning into a try: the last move of the game saw Lottie Patterson break through the Sussex backs and score.
The final score was a 67-10 victory for the Cambridge women.
Cambridge Captain Fiona Shuttleworth said that she was "very proud of the girls and their performance".
"It was a good opportunity to try out the skills we're doing in training", she said, adding that, due to being in a higher league this year, "we are forced to earn our wins and that's good because each week we are excelling, we do come back from some games frustrated because we know the potential we have and when things don't go quite to plan it can be frustrating".
With only four weeks and two games to go now until the Varsity Match at Twickenham, this was a good opportunity for Cambridge to practise and prepare. Talking about the forthcoming fixture, Shuttleworth continued: "we would be fools to be complacent. Going into that match we need to do what we do and not focus on what they do".