How lacrosse is empowering young women in Kenya – and how the government is trying to stop it
Finn Ranson meets the former Cambridge Women's Lacrosse player hoping to lead Kenya's first team to the Olympics, despite bureaucratic and financial obstacles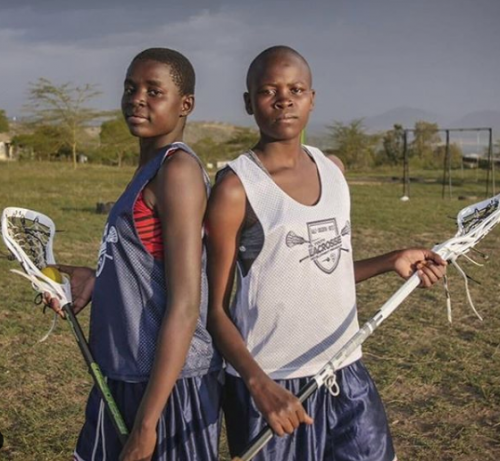 Coaching Kenya's first lacrosse team is a far cry from the plush lawns of St John's sports ground. Former Cambridge University Women's Lacrosse Club (CUWLC) coach Storm Trentham puts her team through their paces on a school pitch where the grass is baked brown and the lines smeared with chalk powder. The girls run around in trainers donated by players from the other side of the world. They wield sticks sent by schools in the UK and US. Their kit, emblazoned with 'Kenya Women's Lacrosse', is paid for by Instagram posts.
You will struggle to find a team in the world who wear their stash with as much pride. You will struggle to find any team for whom sport means so much. Because for some of these girls, lacrosse can mean survival.
"We provide the players with toothbrushes, underwear, sanitary products, sports bras, equipment, everything," Trentham explains, a former Wales international and two-time European gold medallist. "The highlight of coming to camp for some of the girls is that they get three meals a day for seven days straight."
Trentham set up Kenya Women's Lacrosse in 2007 and now over 400 young women aged 14 to 18 play the sport. This is no talent hunt. This is about using sport as a vehicle for humanitarian action and radical emancipation. This is about empowering girls to step across the chalk lines society draws every day. 
"The highlight of coming to camp for some of the girls is that they get three meals a day for seven days straight"
"We want to inspire them to know that through sport, academics, music or drama, whatever our players want to put their mind to, there are opportunities and there are ways out to get a better life," Trentham puts it.
Over 50% of girls in Kenya are outside of formal education by secondary school, and almost a third are married by 18, but Kenya Lacrosse is able to step in. By investing in their girls' education, the charity can prevent early marriage and teen pregnancy, avoiding cases of HIV and AIDS and breaking the cycle of poverty.
"We found a life and happiness we didn't all know existed," says co-captain Elmar Noélle in a video Trentham sends me. "Lacrosse gave us an amazing focus, rather than like many girls our age who are dealing with teenage pregnancy. Thank you for introducing another breath of life to each of us."
This unlikely humanitarian project is now on the cusp of making history. Eighteen girls are set to represent Kenya at the U19 Lacrosse World Championships in Canada this August. They will be the first African women's team to play the sport on the global stage. With all seven continents represented in men's and women's international competition, lacrosse will finally be eligible for Olympic status. The road to Los Angeles 2028 may well be starting here for this team.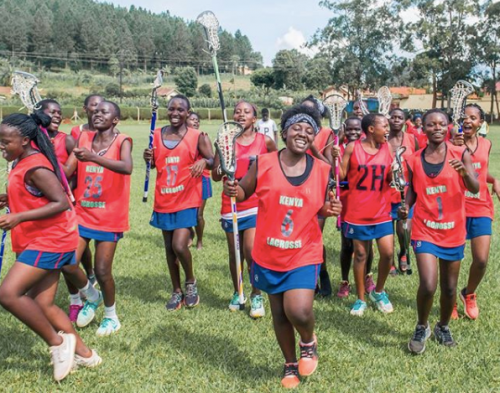 "Things like this don't come to kids in Kenya," Trentham said. "Even being given a pair of second-hand trainers they are so grateful for. It's going to be massive."
But this World Championship appearance ten years in the making is by no means a sure thing. Few national teams in world sport hold the distinction of competing internationally in a sport their government has tried to ban. 
"I was going out to coach the girls for half-term in February," explained Trentham. "It was essentially their World Championship trials week. I sent my budget to the ministry of education and our committee and it was sent back to me with additional fees for individuals from the ministry to attend our training camp."
As a programme run through schools, Kenya lacrosse is under the jurisdiction of a committee of teachers overseen by the ministry of education. In the three years Trentham had been running the national team, not one official had attended a training session. And certainly not for a £150 fee. Trentham refused to pay unless the ministry could present official documentation to back up their request – the charity's sponsors were owed that much, at least. 
"When I flagged this up they said I was going against government policy and that I was refusing to facilitate what was their right," Trentham said. "So they decided they were going to ban the sport." 
The ruling was revoked a week later on the day talks were due to take place between Trentham and representatives. But the government has held out on its demands. Trentham received a revised bill at the end of March outlining increased charges for their Easter training camp, meaning that between now and the end of the World Championships Kenya Women's Lacrosse stands to pay £38,000 for the presence of officials. It could be fatal for a charity already under pressure to raise £148,000 to take the squad to Canada.  
"These players can't afford to get to training, to bring food, water, trainers and some of them can't even afford to be in school," Trentham said. "My friends and family step into make sure their education is covered. Thirty-eight thousand would pay for all our team to go through school and university. To find that extra funding on top of what we already have to pay for is absolutely barbaric."
At the end of last year, Trentham was beginning to seriously doubt the project she had started a decade before. Every day seemed to bring some new adversity, and the sense of responsibility as founder, fundraiser and head coach of the national side was overwhelming. What was once a dream of taking Kenya to the World Championships, a hazy abstraction, had become a daunting expectation beset with difficulties.  
"But then these girls live these challenges day in day out," said Trentham. "They live under a corrupt government. They live in a very male-dominated society. I do not want to leave these girls high and dry. If I give up on them then many will have nothing, or no one. You wouldn't turn your back on your own family so I can't turn my back on them. 
"They live under a corrupt government. They live in a very male-dominated society. I do not want to leave these girls high and dry. If I give up on them then many will have nothing, or no one"
"Two of our girls have children of their own and through no fault of their own. These are thirteen, fourteen-year-old girls. We're talking about kids with kids that really need our help. If lacrosse is an outlet for them, if lacrosse is going to help them in the hideous situations they are in now whether it's through financial donations to help them and their new-born or clothes or even just hope of a better life, then there's so much more to this fight."
The disruption of the last few months has left the players significantly behind in their preparation. Trentham flew to Kenya days after we spoke to start a four-month stay coaching the team. She had an intensive eleven-day training camp with them from 10 April followed by further sessions over the school term, with one final camp due to be held the week before they fly in late July. She has a prodigious task ahead of her and a tough balance to strike. Kenya Women's Lacrosse started out as a humanitarian project driven by a dream of making sporting history. Now, on the cusp of that feat, those two things are becoming incompatible.
"Every day we train we have to pay £150 plus for an official," Trentham said. "As long as I pay it's not banned. We need to get the maximum training days we can but equally I'm not blowing that money on anything but the team. I'm going to fight that money as hard as I can without it stopping the sport. I've got to play it smart."
This national team is effectively being held to ransom by its own government. But for Trentham, failure is not an option.
"We have to get there," she said. "I'm really competitive and there's no way in hell that I'm wasting all this time and the money of friends, family and total strangers. We're not going to be the best prepared compared to other teams but we will be the best prepared Kenya has allowed us to be. It's going to be a tough slog. Until the day we depart we're going to be fundraising. But it has to happen for the sake of these girls and the opportunities it will give them for life."
You can keep across the team's progress on Instagram @kenyalax. To find more information and donate visit www.kenyalacrosse.org.