More than just wickets: the Street Child Cricket World Cup
Sports reporter Eoin McSweeney went to Parker's Piece to see how young people from vulnerable backgrounds are challenging perceptions through sport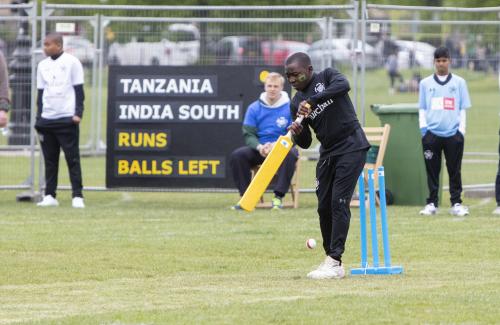 Negative perceptions and treatment of the world's estimated 150 million street children are pervasive in all societies. They often experience stigmatisation and discrimination, making it difficult to access basic amenities such as education and healthcare.
Street Child United is a British charity aiming to use sport to change the current attitude to street children. In pursuit of this goal, the Street Child Cricket World Cup group stages were held at Parker's Piece in Cambridge on May 4 and 5. This follows other successful events held ahead of the last three FIFA World Cups and the 2016 Rio Olympics.
Eight mixed national teams from around the world competed at the free festival which included art activities for all ages, food trucks and live music. Each national team was organised, selected and supported by non-governmental organisations working to improves the lives of street-connected children in their community. The large and encouraging crowd in attendance included former England international Monty Panesar. England and India South both performed strongly ahead of the finals, which took place at Lord's on May 7.
Abbas, a boy from Bradford competing with the England team, was looking forward to the opportunity to play at the 'Home of Cricket'. He is supported by Centrepoint, a charity supporting homeless young adults in the UK. "Not many people get this. I'm very proud and excited that I am representing Team England."
The India South team, captained by V. Paulraj, from Chennai, went on to defeat England in the final at Lord's on a scoreline of 47 runs to 42.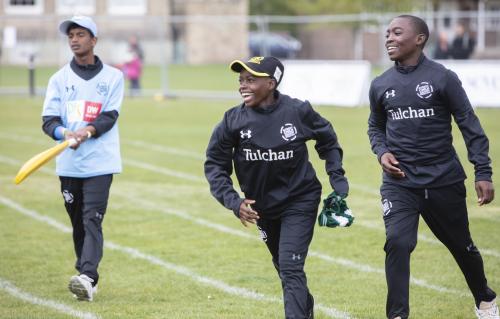 However John Wroe, the CEO and co-founder of Street Child United, explained the event was not just about cricket.
"It's about using sport to change the way street children are seen and treated. Birth registration, access to education and protection from violence are the key three demands of all these young people. The sport is about creating a global platform for their voices to be heard."
The idea emerged after a visit John made to South Africa over ten years ago. He volunteered at a street child organisation and met a boy named Andilile. He said that when people saw Andilile play football, they thought of him as a person instead of a street child. This inspired John to create a global platform for street children's voices to be heard and he decided sport was the answer.  
John was keen to point out that the organisations that Street Child United work with are committed to supporting individual growth before, during, and after the event. The children return home as ambassadors, boosting their personal development and raising awareness of others in similar situations. Alongside the sport, children attend a Congress in which they are educated about their rights and share their experiences with each other.
When people saw Andilile play football, they thought of him as a person instead of a street child
A young leadership program has now been launched to give ambassadors the tools to transform their own lives, but also inspire others to do the same. The aim is to provide opportunities such as future employment and university participation to break the cycle of poverty.
Erica, a youth leader from the Philippines, competed at the 2010 Street Child World Cup and her experience gave her the confidence to attend university. It was the first time she had left home and she said it was profoundly enlightening to meet other street children from across the globe.
John, another youth leader from Tanzania, scored the opening goal at the first Street Child World Cup. Before going to South Africa, he did not have a birth certificate or a travelling passport. When he returned home, his community's perception of him had changed.  
"I returned to my country and there was a lot of respect. People said I am somebody, I am brave and I can do anything."
Kamut Massanja, the Tanzanian coach, was keen to stress that the event should be considered as more than just a game. He emphasised that it was also important that children learn about their rights and teach others how to stand up for themselves.
"The children want to win. But moving from their homes and coming here; that is winning. Going outside of your country; that is winning. They are winning at every point of this journey. They must remember that."
The influence of the first Street Child Cricket World Cup is already being felt by those participating. Through travelling, young people and their families who were previously overlooked are now on the radar of their home countries. While the scores may be forgotten, the lasting impact of the tournament will certainly endure.