Nick Koster on being CURUFC captain: "We're not going to attract 25,000 people to Twickenham if it doesn't stay unique"
Speaking to William Ross, Nick Koster reflects on his time as captain of the Blues men's rugby team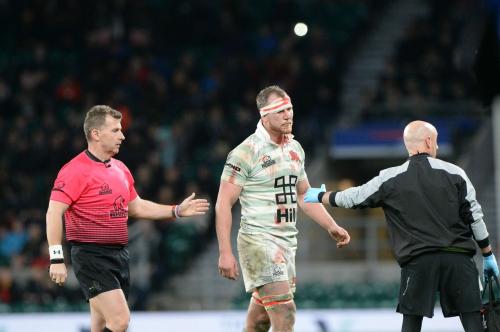 Standing tall at 6ft 4in and weighing in at 242lb, the imposing figure of Nick Koster at the back of the scrum is certainly one that opposing forwards will be glad to see the back of. Described in the aftermath of last month's Varsity defeat by coach James Shanahan as a "warrior and outstanding leader", Koster certainly led from the front on the big day, not only scoring a try but leaving the field with blood gushing from an open eye wound and more blood pouring out from a cut on his head, an image which embodied the culture of bravery and unflinching commitment to the cause that Koster instilled in his team.
Indeed, reflecting on his tenure as captain at CURUFC, Koster is particularly proud of the team culture fostered during his time at the club:
"The feedback I had from players at the end of my captaincy was that it was, in spite of the loss, an experience that they really enjoyed and one of the best experiences of their lives. Unfortunately, rugby teams are measured by the scorecard but I think that there's so much that we achieved in terms of the friendships that we grew and the experiences that we had and the team culture that we created was special.
Koster's Cambridge team, largely comprised of undergraduates, came up against a vastly experienced Oxford side containing seven players with professional experience. If anything, however, the team's inexperience adds to Koster's pride.
"I wouldn't want to become like another rugby club that plays in a league - there are enough of those"
For a team of undergrads to be able to put in the performances that we did during the term - to win seven out of ten games going into the Varsity match - was to me something that I was really proud of and we got so much out of the group. Everyone gave a lot more than they thought they could and a lot of people achieved a whole lot more than they thought they could. For me, that's probably one of the greatest experiences of my rugby career: being able to influence team culture and actually contribute to my team being very successful despite the fact that we had one half of rugby at the Varsity Match where a lot went against us"
The culture at the club was so strong, in fact, that Koster readily admits that he enjoyed his time playing rugby at Cambridge more than he did at any of the professional clubs that he played at (Bath, Bristol, Western Province and Stormers)
"Throughout my professional career when you speak to people about their best rugby playing days most of those guys ironically enjoyed their amateur days more - I saw that when I played at Cambridge.
When you play with a bunch of people who aren't paid to play rugby and they play for the love of the game it's a bit different. Because everyone's turning up with no egos involved, people just turn up and play a sport that they all enjoy playing, they enjoy each other's company and it adds such a different dynamic. Everyone has one goal that they're striving for and that's to win the Varsity match, but when you play professionally it's pretty much everyone for himself because everyone wants to get another contract and the most important thing is that you get another contract - at the end of the day, it's what you're doing for a living."
When asked to impart some advice about the role to incoming captain Stephen Leonard, he highlights the importance of "embracing the unique challenge and making sure that it stays a unique challenge."
"One of the special things about CURUFC is that the captain's role is so unique - you select the team, you make the big decisions, and you run the club to a large extent"
"One of the special things about CURUFC is that the captain's role is so unique - you select the team, you make the big decisions, and you run the club to a large extent. And even though we've got an extremely talented coach in James Shanahan, I think it's important [that the captain retains his powers]."
A lot of people are talking about changing things to be the way that it runs at other clubs but it's very important for us to remember what our selling point is and that's tradition, history and all of that stuff. We're not going to attract 25,000 people to Twickenham if it doesn't stay unique. Obviously you need to lead by example and make sure that you play well but for me one thing that sometimes goes unnoticed is how unique this club is and how important it is to keep it unique."
Pressed on the distinctive structure of CURUFC's season and their format of only playing friendlies rather than league-games before the all-important Varsity match, Koster is similarly keen to preserve CURUFC's idiosyncrasies:
"You've also got the fact that you play a load of friendlies and then you've got the one massive game at the end of it. I wouldn't want to become like another rugby club that plays in a league - there are enough of those. For me the unique experience was that it was twelve weeks and literally nothing else mattered apart from the Varsity Match.
The memory of last month's Varsity defeat is so fresh that it is perhaps easy to forget that Koster was part of the 2017 match-winning Varsity team, a moment which he ranks as his proudest achievement in a rugby career which also included appearances for the South Africa Under-20 team and the Barbarians.
"I'd just started studying at Cambridge, I study part-time so I was looking for a job, I'd just had a kid, I'd just moved back to the UK from South Africa, and my body was pretty knackered after playing professional rugby for ten years. It was so outside of my comfort zone - I was meeting all these new players, guys who are extremely bright and there was a cultural difference to anything that I'd ever been a part of so to experience all of that and all that change and to still be able to contribute to winning on the day against all the odds was probably the best achievement of my career in the circumstances."
Dedicated, courageous and eloquent all at the same time, Nick Koster will certainly be remembered as a legend of Cambridge University rugby.