New to a Blue: Hitting it off with the Cambridge University Polo Club
William Ross discusses all things polo with Robyn Macrae, secretary of the Cambridge University Polo Club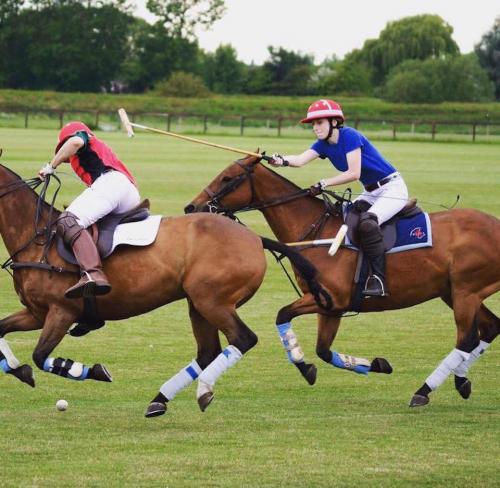 "Polo is a unique and exciting sport, providing a rare opportunity to play as part of a team while riding a horse. Nothing beats the thrill of galloping down a pitch (which is the size of 5 football pitches) chasing a ball, racing the opposition!"
Polo, an ancient form of which was first played as long ago as 200BC in parts of ancient Iran and Iraq, is one of the oldest known team sports, though the current form of the game originated in India and was introduced to the UK in 1834.
Indeed, the Cambridge University Polo Club itself is steeped in tradition and is certainly one of Cambridge's more illustrious sports clubs. Founded in 1873, it is the oldest polo club in Europe and the La Martina Varsity match (played against Oxford University Polo club) is the second oldest continuing polo match in the world, having been played almost every year since 1878. The match is currently played at the prestigious Guards Polo Club in Windsor, whose members include Prince Phillip as President and Queen Elizabeth II as patron.
"The club counts Prince Charles, Prince Henry and the 3rd Earl of Kimberley among its alumni"
More recently, the establishment of the bi-annual Atlantic Cup in 2002 has been an exciting development. The tournament involves Cambridge University Polo Club, Oxford University Polo Club, Yale Polo Club and Harvard Polo Club in a hard-fought tournament involving four of the world's top academic institutions. The 2017 tournament, held in the UK, involved 32 polo players from around the world and was watched by over 500 spectators.
The sport, requiring the ability to ride a horse, has long been beset by accusations of elitism, even being described by the Telegraph as the 'sport of princes'. The Cambridge University Polo club, counting Prince Charles (current President of the club), Prince Henry (Duke of Gloucester), and the 3rd Earl of Kimberley among its alumni, has not been immune to such comments. Macrae, however, assures readers that 'our members come from a wide range of backgrounds'.
"Some have played lots of polo before but most only start when they come to Cambridge, with many of them having never been on a horse before! We have a mix of undergraduates, Masters and PhD students."
Indeed, the club has an extensive development program that takes on those who have never tried polo, a program which has been highly successful in recent years: in both 2017 and 2018, over half of the club's members had never played polo before coming to Cambridge.
Players benefit from the tuition of professional coaches Mark Holmes and Francis Molyneux and new players learn the ropes through lessons and during training sessions and relaxed Cuppers tournaments held in both Summer and Winter. Macrae is keen to stress the fun and variety in polo training: "Training for polo has a number of different elements. 'Stick and ball' is one of the main elements, which is exactly what it sounds like - practicing on your own, hitting the ball while riding your horse."
"We also practice team drills and play constructional chukkas", the name for a period of match play. "We practice hitting technique using a wooden horse and have classroom rules and tactic sessions."
The club is also remarkable for its vibrant and busy social calendar, contributing to a warm and friendly environment off the pitch. In Michaelmas 2018, for example, the social term card included formal dinners at Clare College, Wolfson College, and St. John's College, as well as wine and cheese tasting at the Hawk's club, Christmas Dinner and the Hawk's and Osprey's Charity Ball. The showpiece social event, however, is undoubtedly the annual white tie polo ball in summer term which last year was held at Madingley Hall, the former residence of King Edward VII. So, if you fancy joining one of the world's most historic sports clubs, galloping across a field on a horse at breakneck speed and being part of a thriving social scene, look no further than the Cambridge University Polo Club.