Cambridge fight back from sleepy start to save winning streak
Cambridge University Women's Lacrosse Club Blues continued their perfect start to the season with a convincing win over second-placed Exeter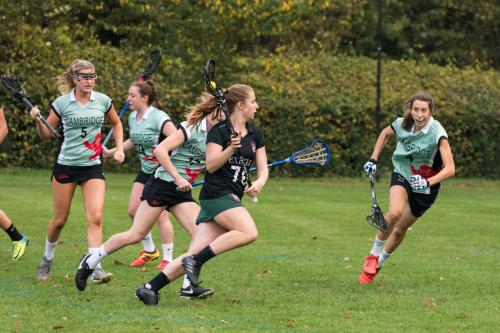 There was a feeling of expectancy in the air as the Cambridge Blues and Exeter Women's lacrosse teams warmed up on a brisk afternoon at St John's Sports Ground. Both teams had won all of their games so far this season, and both had accrued a hefty amount of goals in the process. Cambridge came into the season as last year's BUCS Premier South division defending champions, but Exeter were particularly buoyant after thrashing Bath University 21-4 last week. A good old-fashioned, top of the table clash.
And it was Exeter who were the more switched on from the start. A clean win from the draw had Exeter charging down on Cambridge's back-line, with the first whistle still ringing across the field. Elmitt, the Exeter number 76, darted through a desperate Cambridge backline to dispatch the ball into the left-hand bottom-corner. 0-1 with only 10 seconds on the clock.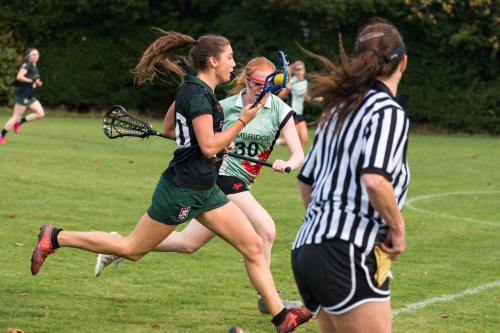 Cambridge almost found a reply immediately with Wise, however, as the Blues number 21 found a yard of space in the Exeter goalmouth and fired home – only for the goal to be disallowed. In what was a frantic start, Exeter responded by getting hold of the ball and applying concerted pressure to the Cambridge defence, until Elnett found another gap to dance through, and once again find the bottom corner for 0-2.
"Having recovered from their sleepy start, a much hungrier-looking Blues outfit commenced the second-period"
Despite tireless transition play from Erica Wallace and valiant defending at the back, Cambridge were struggling to get out of their own half, and another period spent with Exeter camped inside the Cambridge defensive area led to yet another goal, this time from Garland. Timeout called, the Cambridge players looked rattled, but determined to wake-up and force themselves back into the game.
And the blues did look far more focussed after the restart. Lehovsky won the ball from the draw and found the upraised crosse of talismanic forward and captain Sophie Tamblyn who finished high into the top corner to pull one back for Cambridge. Building on this momentum, Lehovsky and Miller ducked and dived and drove from deep until Miller was blocked in front of goal where she dispatched the subsequent free shot with aplomb.
Cambridge were resurgent, but Exeter were not rolling over just yet. Elnet proved a particularly tricky customer all game and she completed her first half hattrick with another strong run stopped only by a foul and the resulting penalty tucked away into the bottom corner.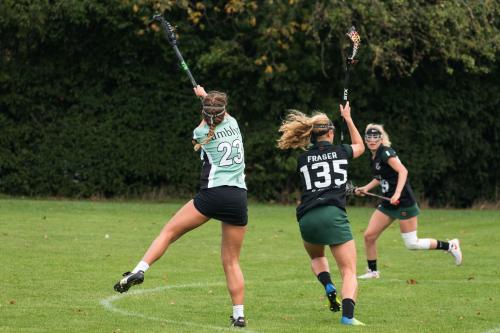 Two goals to four, but not for long, as Wise went on to notch two goals of her own in quick succession after some smart play around the Exeter goal. Comeback complete, but Cambridge were not satisfied; a flurry of passes soon culminated in another goal for Tamblyn, followed moments later by Crerend and Miller to put Cambridge three goals to the good. The Blues were now well and truly in business.
A goal from Exeter kept up the frenetic end-to-end pace but it was immediately cancelled out by a mazy run and finish from the uncatchable Wallace. 8-5 to Cambridge as the half-time whistle sounded.
Having recovered from their sleepy start, a much hungrier-looking Blues outfit commenced the second-period as Exeter had begun the first. With Lehovsky winning the ball from the first whistle, the Blues advanced at break-neck speed, with a flowing move finished off by a clinical finish from Dillingham.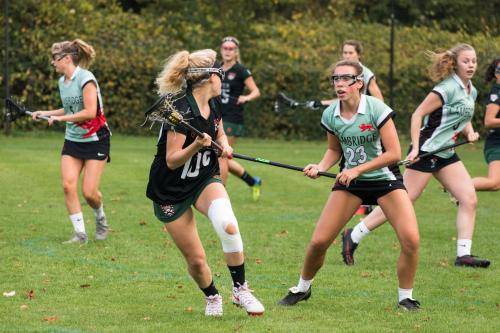 This didn't signal the flood-gates opening, however, and with both teams fully settled into the game, the rate of goals slowed. Eventually Exeter pulled one back to make it 9-6, but a yellow card for an Exeter defender stunted their ability to push on for a seventh; and it was Cambridge who hit double figures minutes later with Lehovsky popping up to score a masterful tenth and twelfth either side of another accomplished finish from Crerend.
Exeter offered two consolation goals in the last 5 minutes, but it was too little too late as Cambridge had hit their stride and both Tamblyn and Crerend completed hattricks to leave the scores 14-9 at the final whistle.
Cambridge were able to claw back control after a shaky first quarter, with the Blues showing both skill and hard graft all over the pitch, and it will prove a tough afternoon for Bath University when they become the Blues' next victim on 31 October. However, Captain Sophie Tamblyn and her team will be well aware that to gift the likes of Oxford and Durham such a head-start it will be far more dangerous. For now, though, Cambridge march on.