Under-funded and under-appreciated: it's time for the University to treat female sport equally
William Ross explains why the University needs to level the playing field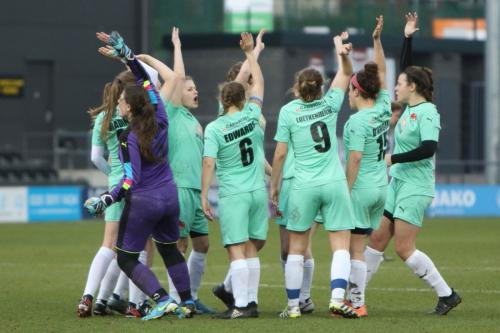 The issue of gender equality in the world of sport is never far from the headlines. From FC Barcelona placing its men's team in business class and its female team in economy when both teams boarded a flight to the US in July, to world number three tennis player Novak Djokovic publicly arguing that male tennis players should be awarded more prize money than female tennis players, it is clear that the wider world of sport has work to do in achieving gender parity. How, though, does the world of Cambridge sport fare by comparison?
The issues of equality of funding and sponsorship are particularly contentious. They made national headlines in April when the Women's Boat Club pulled out of the Sveti Duje regatta after the Women's crew were offered youth hostels to stay in, while the men's crew were put up in a five-star luxury hotel.
The issues, however, extend far deeper than this single incident.
This summer, a number of men's teams travelled abroad – in sports including rugby, football and rowing, at both a University and a college level – to attend training camps, while their linked women's teams received no similar invitations. Although in most cases it would have been a painful decision to deprive male athletes of unique travel opportunities, the decision of these clubs to accept an invitation to an event in which female competitors were excluded is questionable.
In the words of Daphne Martschenko, former President of CUWBC, "if perhaps, a sponsor is only willing to sponsor one gender, that should be a sign the sponsor isn't worth having."
In the words of Daphne Martschenko, "if perhaps, a sponsor is only willing to sponsor one gender, that should be a sign the sponsor isn't worth having."
In rugby, the men's blues were able to attend a training camp at the Browns Sports Club in Portugal this September, while the female University rugby players had to make do with a pre-season training camp back in Cambridge. A source within the Women's Rugby Club commented: "we have struggled to get sponsorship this year, and so could not [go on tour]."
She also added: "from my perspective, the problem is far deeper than simply a lack of funding at the club level here. It is deeper-set, with the sponsors far more likely to back a men's team due to the higher profile of male sports making it seem a more lucrative venture".
On a more positive note, the same source commented: "we do now have a number of shared sponsors for both men and women's teams who are incredibly supportive", and "key individuals are working hard within committees at the club to ensure that a level playing field for the men and the women is the ultimate goal."
The men's football team, meanwhile, jetted off to Wuhan in July after being invited to participate in the World Elite University Football Tournament. Katy Edwards, the CUAFC Women's secretary, clarified that the "opportunity hasn't been offered to the women's side to my knowledge", and "the women's side of the club didn't go on a tour this year for a variety of reasons: namely a lack of funding, no obvious opportunities and the fact that no-one had time to organise one." She was, however, keen to emphasise her "hope that with the recent merging of the men's and women's teams we will be able to collaborate better and make planning tours easier and more affordable"
It seems clear, then, that more work can be done in addressing issues of equality in Cambridge sport when it comes to funding and sponsorship. The tendency for male athletes to attend international tours without their female counterparts is both concerning and damaging.
The University should be seeking to set the gold standard in terms of gender equality in sport. Instead of accepting invitations which are only extended to male athletes and accepting sponsorship money from organisations only willing to fund male athletes, Cambridge's sport clubs might consider taking a stand. It's time for change.