Samantha Graham on satellites and sevens international rugby
The former Cambridge Rugby Captain speaks to Marcus McCabe about her recent call up to the England Rugby Sevens squad, and why she won't quit her day job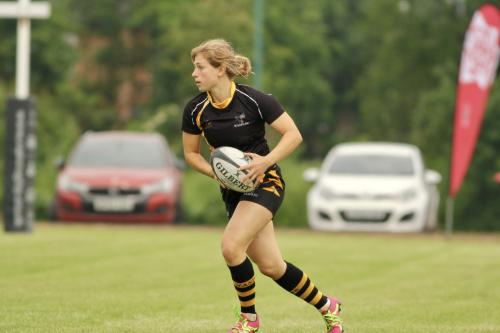 Following Samantha Graham's recent call up to England Women's Sevens at the Rugby Europe Sevens Grand Prix Series in Kazan, Russia, Varsity caught up with the former Cambridge University Women's Rugby Captain to talk all things rugby: representing England, the women's game, and preserving a healthy dose of fun – not to mention balancing it all with a career as a rocket propulsion engineer.
Graham studied Natural Sciences at Jesus College and played rugby union for the Cambridge University Women's team for the duration of her degree, captaining the Light Blues in her final year. She was also a Varsity sports reporter, covering women's rugby in a series of articles.
Since her graduation in 2013, she has gone on to play for Henley RFC and Wasps Ladies RFC as a scrum-half. In Kazan, Graham, along with the rest of the 12-strong sevens squad, relished the experience: drawing one, winning one and losing two games before ultimately losing the Challenge Trophy final to Wales after a last-gasp converted try made the final score 5-12.
However, as the former England Rugby Union Under 20s player believes, the emphasis of the tournament was focussed firmly on improvement rather than results. The fact that England Sevens Women's head coach James Bailey was trialling a raft of new players meant that they "only had a couple of training sessions together before the tournament, which I found really strange."
Graham adds: "It's hard to play your best when you have only just met. So that was a challenge, but it was really good trying to show what we could do, which we did I think."
As one of the more experienced members of the squad, Graham was third-oldest, and the only player with experience of playing in the Premier League. And while the young team coped well under the circumstances, she did think that this 'sink or swim' approach was in some ways counterproductive: "It's definitely not the best way to play Rugby, by any means. We arrived in Russia on Friday night and we were playing on Saturday morning, so we didn't get any time to get over the travelling."
However, as she was keen to make clear, if the opportunity were to rematerialise, she would seize it in both hands once again. "It's still awesome to be part of it and play international rugby and see what the other teams are about. I just hope England Rugby do their prep right for the World Series!"
While this taste of international rugby certainly inspires Graham to run out for the Red Roses again in the near future, she actually sees her long-term career outside rugby: "If I was offered a contract, I don't think I would take it because I've already got a pretty cool job; I wouldn't just give that up. Women's contracts aren't that great at the moment compared to the men's, so I don't think I even could make a living out of it."
"I work on satellite propulsion systems and go out to launch sites around the world and help launch satellites, which is pretty fun! If I was a professional rugby player I couldn't do that"
And this choice becomes far more understandable when you learn more about what her day job entails – modestly, she clarifies, "I work on satellite propulsion systems and go out to launch sites around the world and help launch satellites, which is pretty fun! If I was a professional rugby player I couldn't do that." It is celestial rather than sporting stardom that beckons.
Graham recognizes an imbalance between men's and women's rugby symptomatic of disproportionate coverage and funding in the world of sport more generally. That's not to say, however, that the women's game isn't progressing in the right direction. Just last month, the Rugby Football Union announced 17 new women's sevens contracts for the 2018/19 season and Graham was effusive in her assessment of the potential of the game going forward.
"Having played at a lot of different levels, I now know that there are a lot of ex-players and ambassadors of the sport who are doing a lot of work, although it's quite hard when there's a lot of people in the RFU who are very traditional about where the money goes.
"I think it is to do with exposure because previously, I'm not ashamed to say, I know the standard wasn't really worth watching about ten years ago. But now it really, really is and watching women's games and watching men's games I get the same enjoyment from each because the standard is so much higher."
When asked about how her experiences of rugby at Cambridge compare to this wider climate of unequal wages and unstable career prospects, Graham sees similar inequality of recognition for the women's side but also similar opportunities for improvement. "When I was at Cambridge it definitely wasn't seen as as prestigious as being in the boys' team. I think the boys took themselves a lot more seriously," she laughs.
Women's rugby is in relative infancy compared to the men's, with only 31 women's Varsity matches played compared to 136 men's. Only in recent years have provisions been made for the equal development of University rugby. As Samantha remembers: "It was the year after I left that the girls started playing at Twickenham, which is amazing. But I also think that the quality needs to reflect that stage."
Currently, many players arrive at CURUFC Women with little playing experience. So, for Graham, work will revolve around ensuring that "the coaching and the strength and conditioning and the attitude towards it is good enough to put on a good show," as is already the case for the men, while trusting that the sport will grow organically.
But as much as anything, she stresses, "The main thing is don't lose the fun bit. At the end of the day, it's a game, and it's an awesome game, and you can take it to a really high level." Even, and perhaps especially, when you get called up for England.