New to a Blue: Ultimate frisbee
Strange Blue Club President Jo Starkie discusses the prospect of becoming a Blue by playing Ultimate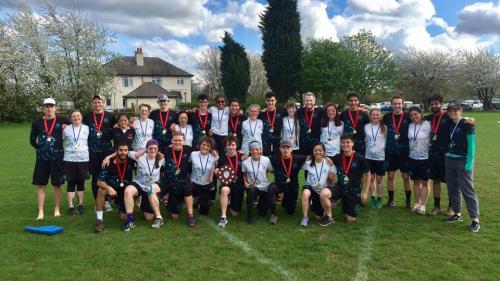 The word 'frisbee' is in fact a trademark of the California-based toy company Wham-O, and so although it may be known by many as 'Ultimate Frisbee', aptly the sport is officially termed only as 'Ultimate'. Ultimate by name and ultimate by nature, we spoke to Jo Starkie, president of the University Ultimate club, Strange Blue, to understand what makes this game the pinnacle of frisbee-related pursuits.
Jo outlined to Varsity that, in simple terms, it is "a fast-paced, non-contact team sport, both mixed and single gendered, played with a disc. Points are scored by catching the disc in the other team's end-zone."
Ultimate is an incredibly inclusive sport, and whether you prefer less running and have the vision of a NFL quarterback, or you find yourself with two left arms but the legs of Usain Bolt, there is a position for you. Starkie explains that players cannot move while holding the disk, meaning "typical game strategy revolves around two types of positions: handlers and cutters.
"The handlers are more known for consistent throws and decision-making in terms of how best to move the disc down the field. The cutters are needed for finding the open space downfield and for giving the handlers viable options."
Playing Frisbee with the dog will never be the same again
As each throw only has ten seconds to go off, Starkie describes the game as "dynamic", requiring all players on the field to be doing their job successfully to move the disc down the field to score a point.
Developed in the USA in 1968, the first teams played in the parking lot of Columbia High School with jumpers for goal-lines. This perfectly illustrates the glorious simplicity of the game; all you really need is some willing friends, a (Wham-O) frisbee and a healthy dose of enthusiasm. However, it is by no means any less serious for this fact, with Starkie making the point that it is "Recognised by the International Olympic Committee, it's been in the World Games since 2001 and is eligible for the 2024 Olympics." So not only can players enjoy playing Ultimate in Cambridge, becoming half-blues once they have competed in the Open division, they may ultimately end up Ultimate Olympians.
Closer to home, players from Cambridge have enjoyed university-level success this year after an undefeated season in the league. Both the men's and women's teams brought home gold medals at outdoor nationals the end of April, as well as securing the mixed Ultimate Varsity trophy this year.
Many sports proudly emphasise the so-called 'Spirit of the Game' as a defining credo. However, in Ultimate it is actually written into the rules of competition. Remarkably, the sport relies on complete self-regulation, with no referees necessary due to a refreshing philosophy of absolute honesty and fair play that would likely leave the likes of football blushing. As a result, it is exceedingly easy to organise matches and Cambridge cultivates a rich Ultimate scene. Jo Starkie reports that "as well as first and seconds teams going to tournaments there is a strong college league. Indoor cuppers is at the end of Michaelmas, Summer cuppers is after exams. Trinity, Churchill, Homerton and Downing will be some of the colleges fighting for the win. We also share a lot of members with the town team, a top-level UK team." This impressive talent-pool has meant that Cambridge boasts a national standard of competitor: Starkie explains "this January Ali Thomas represented GB at the U24 world championships and Helena Andres has represented Spain. The town team features many current GB (and others) competitors."
If you think you're ready to huck, you're very much in luck. According to Starkie, "College league is open to all all year round. In October we'll be running uni sessions open to all and building our squad from there! Come along if you fancy trying out something new." Playing frisbee with the dog will never be the same again.