1848 Cambridge football rules commemorated in Parker's Piece sculpture
170 years after the Cambridge rules were established, the work of art was unveiled to commemorate the importance of football here and around the world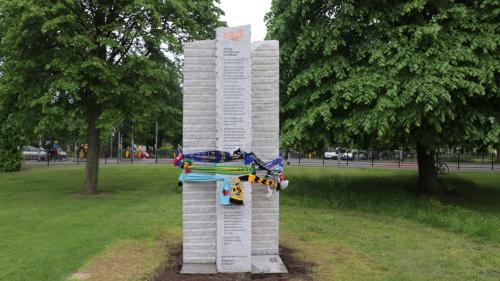 A new statue was unveiled today at Parker's Piece by councillor Anna Smith to mark the 170-year anniversary of the establishment of the Cambridge football rules. The original 11 Cambridge rules, which are inscribed in English on the front of the monument, became the foundation of the football rules employed by the FA today.
Football was introduced to Cambridge in 1710 but the rules varied greatly, dependent on which version of the game was played. Students coming from across the country all played football with very different ideas about the rules; so much so that the different variations were pinned to the trees around Parker's Piece. Students would have to find a set of rules that they were familiar with before they could join in a game. However, this changed in 1848 when students from Trinity College came up with 11 simple rules to make sure that the same version of football was being played across the University. Eventually, in 1863, the Cambridge rules were presented in Holborn and were adopted as the official football rules to be used nationwide.
The work of art unveiled today was designed by Alan Ward and Neville Gaby and has been cut into nine parts. Four columns stand on Parker's Piece, inscribed with the rules written in many different languages to represent football's worldwide influence.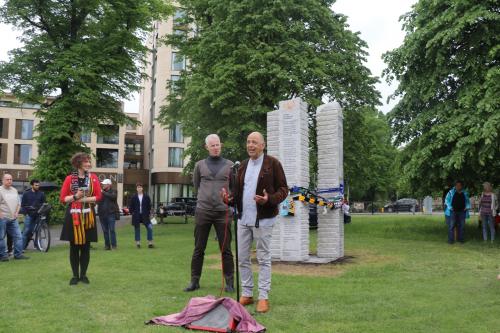 The other five parts of the statue have been shipped off around the world to become benches, where passers-by can go and reflect on the importance of football in their communities. They have been sent to the Complexo da Penha in Rio de Janeiro, the Bomu Stadium in Kenya, the Al Abageyah Youth Centre in Cairo, the Karunalaya Social Centre in Chennai and the Shanghai Greenland Shenhua Training Complex. These locations have been chosen with help from Street Child United, who try to change perceptions of children who live on the street through sport.
Addressing the assembled crowd, Mayor George Pippas said that he was impressed by the many different languages on the statue and that Cambridge's contribution to establishing the rules of the modern-day game was just another example of what the city had to offer. He also said that football terminology like 'goal', 'foul' and 'offside' would be recognised worldwide, because football is a game which brings people from across the globe together.
After the unveiling, two exhibition matches were played at Parker's Piece to represent the importance of football locally and on the global stage.