Australia's cheating scandal has test cricket in the spotlight for all the wrong reasons
Angus Parker offers his thoughts on the sad episode that has thrown a nation into a period of self-reflection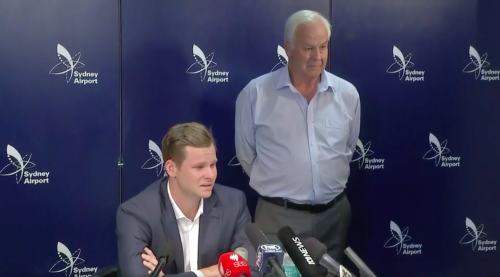 In recent years there has been an increasing clamour from staunch Test cricket fans to push the exposure of the longer format as its appeal is progressively eroded by its younger, more popular cousin – Twenty20. However, while Test cricket has, in the past week, hit the headlines in spectacular fashion, it is perhaps not the exposure that anyone was looking for in the attempts to bring the format to a wider audience. If anything, the current controversy has only served to sully the reputation of the game even further. 
Last week, the Australian batsman Cameron Bancroft was caught on camera rubbing a piece of grit-covered sticky tape onto the ball in the third Test match between South Africa and Australia in an attempt to induce reverse swing, which would benefit the Australian bowlers. However, as you'd expect when there are countless cameras dotted around the ground, the incident was picked up by the local broadcaster. The naivety and brazenness, or perhaps stupidity, is quite frankly shocking. What is more, in the press conference in which Smith and Bancroft admitted to the tactics, Smith was keen to stress that it hadn't worked anyway – as if this somehow absolves him of some responsibility, or makes the attempts to tamper with the ball less serious. 
In fact, that press conference did little to defuse the situation, as it further exposed the apparent lack of appreciation on the part of Smith of the gravity of the situation. While there has been a tendency, perhaps for legal reasons, for the cricketing authorities, especially Cricket Australia, to shy away from extending their criticism beyond 'ball-tampering', this incident needs to be called out for what it was – cheating. It stamps all over not just the spirit of cricket but fundamentally contravenes the laws of the game, too – there should be no half-measures in dealing with this issue or in labelling it as anything other than cheating.
While Bancroft has received less punishment and criticism given his inexperience, the book should be thrown at the captain Steve Smith and vice-captain David Warner – a player who appears to revel in serially appearing in cricketing controversies. Their complicity in the affair, the culture that has been fostered in the Australian camp as well as the precedent which needs to be set in order to dissuade others from replicating the stunt, means that their punishments had to be strong – careers need to be put on hold. Unfortunately, the ICC are somewhat limited in their powers - they have banned Smith for one game and fined him 100% of his match fee, a laughable punishment in the circumstances and one which exposes the inadequacy of the international disciplinary system. 
But Cricket Australia are not bound by such restrictions and thus it devolved upon the national body to act swiftly, decisively and appropriately. This will be difficult considering that Smith is Australia's captain and the key player of the national side and Warner, despite his flaws, is a prodigious talent. Yet Cricket Australia must not shy away from a harsh punishment – the media, public and even the Australian prime minister have all expressed shock and disgust at the tactics. The national board are therefore not swimming against a tide of national fervour in defence of the underhand tactics and would not face much opposition if the punishment was far from lenient.
That said, it is difficult to judge what would be appropriate. During the time I have been writing this article I have changed my mind multiple times as to what punishment they should have received – 1 year, 2 years, 3 years? I think the fact that both players have been stripped of leadership duties and banned for competing for Australia for 12 months does go some way to appropriately punishing them for their involvement in the affair. This does not preclude them from necessarily competing in franchise tournaments but even the IPL have barred the two players from competing and given the stains upon their character and the reprehensibility of their – who would want to select them anyway, especially if sponsors then threaten to withdraw their support for that team if they are selected? After all, Smith's own personal sponsors are already expressing disproval at the incident and Warner has already lost his lucrative deal with electronics giant LG.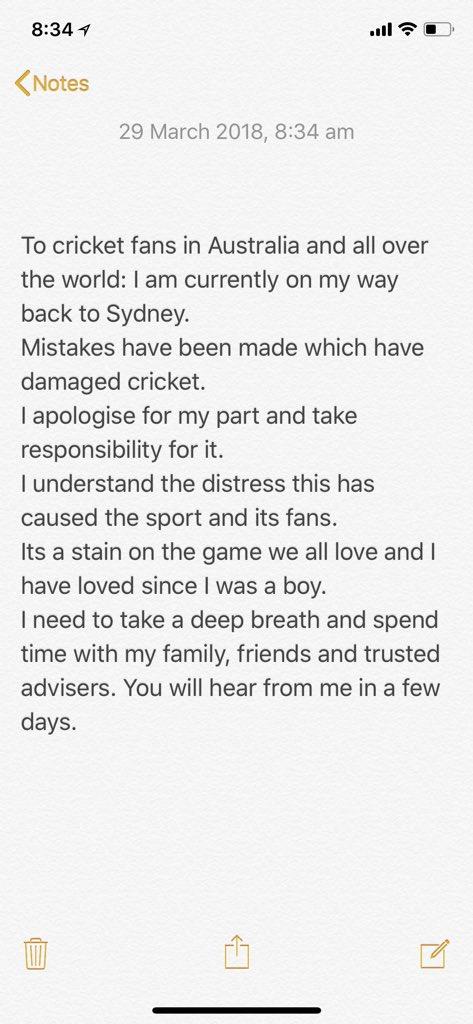 Should there even be a way back for either player? The calls for a lifetime ban were certainly excessive and, in many respects, the self-inflicted damage has already been done. Their reputation will permanently be besmirched, and rightly so – they will forever be associated with ball tampering and cheating. Whether they are able to forge a career after an inevitable ban is impossible to predict – what is disappointing for the cricket world is that Smith, one of the best batsman of his generation, will not get to fulfil his true potential or greatness. Even as an England fan, it is hard not to admire Smith's rise as a test batsman, from a tentative, fragile middle order 'filler' to the world class player that he had become – it is a shame that such talent will now go to waste. 
This is neither an attempt to stir up sympathy for Smith in any way, shape or form but I have come to view this ball tampering scenario – 'tape-gate', if you will – with a tinge of sadness, regret and disappointment. Test cricket has been thrust into the spotlight in ways that nobody would have ever hoped for and the career of one of the best batsman for a generation will, and should, be curtailed. It is therefore a sad week for Test cricket in more ways than one and Steve Smith will forever have to shoulder the label of 'cheat' – a very far cry from recent comparisons that had been made between Smith and the great Don Bradman. 
The bans that have been handed out by Cricket Australia are appropriate in some respects but they do still err on the side of leniency in my opinion for such a blatant act of cheating – it could certainly have been far worse for Smith and Warner. However, the twelve-month ban will preclude any involvement in international cricket for either player which means the next time we could see either Smith or Warner in an Australian team will be the 2019 World Cup in England and the subsequent Ashes series in England. As a sports fan and journalist, that is an incredibly enticing prospect…