Fitzwilliam inflict 6-1 defeat on travelling Girton in Cuppers Final
Fitzwilliam College sealed a defence of their football Cuppers' title with a demolition of the Green Army of Girton at Grange Road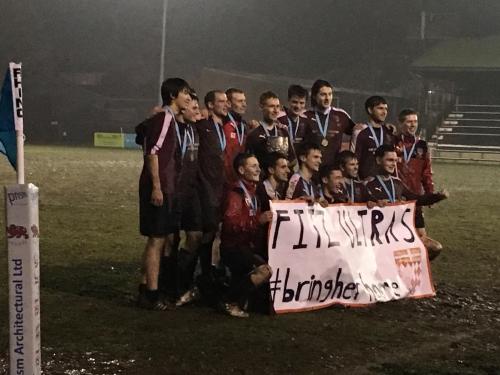 Fitzwilliam romped to victory in this year's Cuppers final, as they were crowned champions for the second year running on a cold and wet night at Grange Road, beating a substandard Girton 6-1.
Both colleges had vocal support in the stands who were dreaming of victory before kick-off. Fitzwilliam narrowly surpassed Queens' and comfortably dispatched Trinity to make the final as defending champions while Girton had emphatically seen off Homerton and Magdalene before winning out in a tight semi-final against Pembroke, securing a chance at glory for the first time since 1995. However, in a game marred by a particularly boggy pitch, it was clear from early on that it was Fitz's night, as the holders' quality proved too much for their challengers.
The game started with some intensity as both sides aimed to convert their adrenaline into an early advantage. However, neither side particularly threatened early on until Fitzwilliam goalkeeper Adib Badri's long ball nearly caught out Girton's Christian Tien, who had a particularly difficult night between the sticks. By the 10 minute mark, Fitzwilliam had begun to assert their dominance, and it was striker Max Burrows who broke the deadlock on 12 minutes, latching onto a through ball to poke beyond the onrushing Tien. The goal marked the beginning of a phase of complete supremacy for Fitzwilliam, an ascendancy that lasted until half-time and ultimately decided the result of the match.
Burrows popped up again to make it 2-0 as he tapped in a cross that was fumbled by Tien, his two goals fully deserved on a night in which he persistently found space behind the Girton back four. Girton only threatened on the counter attack, their best chance of the half coming from frontman Olly Tapper who fired straight at the keeper having been played in by Yusuf Mushtaq. Mushtaq was a bright spark for Girton on a gloomy night overall; his explosions of pace and skill caused problems for the Fitzwilliam defence. However, a lack of support meant that he was largely ineffective.
Saunders made it 3-0 soon after, firing in a header from a delightful delivery by Stefan Wolf at a corner, one of a string of set pieces that caused issues for the Girton defence. By the end of the half Girton heads were dropping and Fitzwilliam were alert enough to kill the game off. In the 45th minute Burrows found space in the box and drew the keeper away from goal, before squaring to Saunders, allowing him to fire into an open net for his second. Just 2 minutes later Joe Ellis headed in from another Wolf corner at the far post, making the score 5-0 at the break and leaving Fitz in complete control.
Girton came out after the interval knowing they largely only had pride to play for, however to their credit they played with a considerable improvement in the second half. Possession was much more even in the first 20 minutes of the second period as a number of Girton corners were dealt with effectively by Badri. Fitzwilliam did eventually reassert themselves though, Burrows came within inches of a hattrick as his header hit the bar before Saunders did bag the match ball, placing a simple side foot finish into the corner following an outstanding run by substitute Hector Cox.
At 6-0 with over 20 minutes to go, Girton could have rolled over and been on the end of a double digit score line, however to their credit they continued to fight until the final whistle. Mushtaq's individual run forced a smart save from Badri before Tapper's late header from a corner was just kept out. It looked like the Fitzwilliam defence would survive with a clean sheet, however with just seconds left on the clock Tapper was brought down blatantly in the box by Badri to present the Girton faithful with something to cheer. The referee Matt Haslett had no hesitation in pointing to the spot and booked Badri for the challenge. It was Mushtaq who converted, sending the keeper the wrong way to bag a morale boosting consolation for Girton which was celebrated emphatically by their fans and players alike. But it was Fitzwilliam cheering as the final whistle went, lifting the cup in front of their fans to cap off another impressive season