New Cambridge Rowing Tank making waves with boat clubs
The Cambridge Rowing Tank, owned by Downing College Boat Club, is already proving highly popular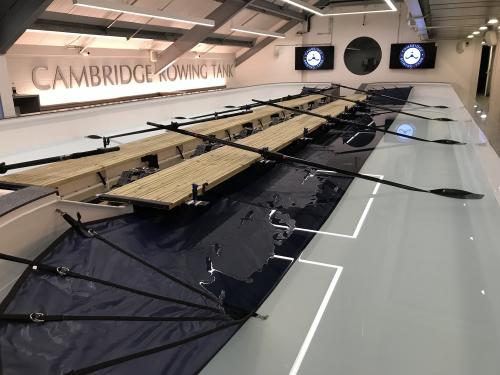 Downing College Boat Club's new rowing tank is proving a hit with rowers from across the University and the city. Two years in the making, the Cambridge Rowing Tank, which contains 20 tonnes of water, offers boaties the chance to hone their skills in a more controlled environment than the River Cam.
The Cambridge Rowing Tank, as the new facility is officially known, broke ground in June 2017, having been conceived as an idea over a year prior. Completed at the end of 2017, the tank has been in use throughout January. The facility is housed above the boat bay within Downing's boathouse.
Although owned by Downing College, the tank is available for hire by any boat club, and all other clubs on the Cam are offered a free taster session before the £40/hour rate kicks in. The tank has already been used by over thirty other clubs, from as far away as North Norfolk.
The tank has been built by Boston-based firm The Durham Boat Company, who also built a similar installation at Molesey Boat Club. The team responsible for the delivery of the tank at Downing visited the Molesey tank, a similar facility in Oxford, and the Boston base of its supplier.
Comprised of two tanks, both 50 feet long, the facility is state of the art. The tank comes complete with HD screens mounted above the rowers and fed by eight cameras around the room, giving those with oars in hand real-time feedback on technique.
Downing College Director of Rowing, Ian Watson, has described the tank as "transformational for rowing in Cambridge". His words were echoed by Cambridge Rowing Tank Officer and Downing student, Charlie Slater, who added: "The tank will provide rowers in schools and clubs across the region with an opportunity to develop their technique faster and more efficiently".
The tank, while already open for use by clubs, will be officially opened on April 21st