Oxford–Cambridge Boat Race 2017 – as it happened
An unexploded WWII bomb will not stop the Varsity Boat Race from being contested today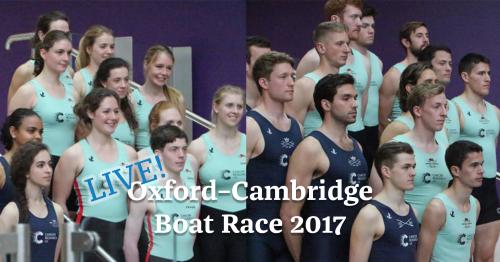 Live Text
(Refreshes automatically)

● Oxford win the 163rd Men's Boat Race by a length

● Cambridge fail to recover from poor start

● Oxford now have 80 victories to Cambridge's 82

6:53pm That's all from us here at Mortlake, what a day of racing that was! Thank you for following Varsity's coverage of The Boat Races 2017 stay tuned for full race write-ups of a dramatic afternoon here in South London. 

Devarshi Lodhia and Paul Hyland over and out

6:46pm "We deal with a lot of challenging situations and we're used to reacting on a day to day basis to changing plans. To have distractions at home everyday sets us up for the Boat Race really well. You get to a situation where you can only control the things you can control - we don't get influenced adversely by external factors" CUBC Head Coach Steve Trapmore on the bomb scare

6:42pm "I'm immensely proud of the guys, we knew Oxford were fast and we had to take the race to Oxford and that's what we tried to do. We were on the front foot for a little bit but we didn't quite have the platform or the horse power to gain on them when we needed to" - CUBC Head Coach Steve Trapmore MBE

6:39pm "It was a tough race for the coxes and a tough race for the umpires. I think it was an extremely tough day at the office for any cox" - OUBC's Head Coach Sean Bowden

6:37pm "I don't think there was any question the race was going to go on. Our only concern was the race today" - OUBC's President Michael Disanto on the bomb scare

6:27pm Oxford may have won the Men's Boat Race but Cambridge won The Goat Race earlier today

6:00pm Cambridge's start really put paid to the contest today.  They were in it to the end, but Oxford never really troubled.

Oxford win the 163rd Men's Boat Race! 

5:55pm At Barnes Bridge Oxford's lead is shrinking as Cambridge try to reel them in. Is it enough though?

5:54pm Matthew Pinsent's been a busy man this afternoon, warning Oxford for encroaching on Cambridge water. Oxford's lead had increased though to just under a length as they're approaching the final mile.

5:52pm The crews have crossed stations and Cambridge are forced to move back onto their side of the river. They're still digging in and hanging on.

5:50pm Oxford have the clear water and are able to choose their line. Cambridge are hanging in there and have taken back a couple of feet in the last few strokes. It's not over yet!

5:49pm Cambridge rowing at 36 strokes per minute to Oxford's 34 but the Dark Blues still have the lead near the halfway mark.

5:47pm Some clashing blades between the Cambridge and Oxford crews and Oxford have a serious advantage as they cross the Hammersmith Bridge.  Hard to see a way back already for the Light Blues.

5:47pm Cambridge lose ground and Oxford have the inside of the bend for the next six or seven minutes. Umpire Matthew Pinsent warned the Cambridge cox to move out of Oxford's water.

5:44pm After a poor start, Cambridge are beginning to hold their own here.  It's taken quite an effort to keep Oxford's lead at a quarter length.

5:43pm As they approach Craven Cottage, Oxford are still ahead. Matthew Pinsent is busy ensuring the crews stay apart.

5:41pm Oxford get a clean and straight start to get a quarter of a length lead at the minute mark.

5:40pm Sir Matthew Pinsent has dropped the flag and they're off!

5:37pm Jamie and Ollie Cook with San Pellegrino at their dinner table in the BBC video package. They may have made the wrong university choice but they've made the right choice of sparkling water. 

5:34pm Cambridge lead Oxford in the overall standings with 82 victories to Oxford's 79. There was also a dead heat way back in 1877. 
The boat race is great because, either way, some rowers lose

— Patrick Wernham (@mr_patrickgw) April 2, 2017
5:27pm CUWBC President Ashton Brown on Cambridge's early lead: 
"When I saw that I thought we'd better make that a huge margin.  That was a thought shared by the whole boat, we're a very vocal crew and there was a lot of chat down the boat about keeping up speed and it never being enough.  I didn't really think we'd won until about ten strokes before the end."
5:21pm "It feels great, all the hard work of so many people has paid off" - CUWBC President Ashton Brown
5:18pm Oxford no. 2 Flo Pickles has spoken to the media after her crew's defeat:

"Obviously it was quite disappointing that one of the girls caught a very big crab on the first stroke, that's not what what we prepared for and it took too long to get back together.  Once they got rowing they put in a great effort, and it's a bit hard to come back from that. 
"We've done quite a lot of practice, everyone knows that the start is always difficult in the Boat Race, so after a practice day on Friday, it's disappointing that today caused us the problems, but that's how the sport goes.  I'm not saying we'd have won the race if it'd been different but I think it would have been a better challenge."
5:07pm CUWBC's cox, Matthew Holland's passion is drinking and writing about tea having previously worked as a tea-taster. Who'd have thought?
5:00pm Cambridge won in a record time of 18:43. That's better than the Cambridge Men's boat last year!
4:56pm What a win for CUWBC! Oxford were unlucky with their start but the favourites dominated from the outset and showed why they're deserving winners.
CAMBRIDGE WIN THE WOMEN'S BOAT RACE IN RECORD TIME!
4:52pm Oxford currently rowing at 33 strokes per minute to Cambridge's 32 but it's just not enough for the Dark Blues.
4:51pm Approaching Mortlake and the finish line, Oxford are a speck on the horizon for the CUWBC.
4:48pm Cambridge are cruising through the placid waters near Chiswick Steps. Oxford, to their credit, are trying to close the gap but with just over a mile to go it's surely too little too late.
4:45pm Cambridge lead is only growing.  Matthew Holland is coxing the Light Blues expertly through the calmer waters of the Thames.  Oxford are nowhere to be seen.  It'd take something special now to deny Cambridge their first victory in five years.
4:41pm Spectators at Hammersmith Bridge will have no idea as to what happened at the start, Cambridge have pulled away even further.
4:40pm Cambridge's experience beginning to show for them now.  Calm, focused rowing from the Light Blues, who are ten seconds ahead as they head under Hammersmith.
4:39pm Oxford's 4 seat, Rebecca Esselstein caught the crab.
4:38pm As the boats go past Craven Cottage, Cambridge extend their lead to almost four lengths.
16.36: A crab for Oxford at the start has put them in serious danger already!  Cambridge have built a lead of three lengths within the first minute on the Surrey bend.
16.34: Cambridge have won the toss and opted for the Surrey bend.  We're moments away now!
16.33: Meanwhile, none of Oxford's crew have appeared in the contest before, with only Rebecca Te Water Naudé competing in the Osiris Boat last year.  Though the Dark Blues' Emily Cameron has rowed for Canada at World Championship level.
In their quest to prevent Oxford from making it five in a row, Cambridge have named a highly experienced bout, with Ashton Brown, Holly Hill, Myriam Goudet and Melissa Wilson all making appearances in the Blues' boat in previous years.  The Light Blues will also be able to count on the race's only Olympian - Ireland's Claire Lambe at no. 3.  Lambe finished sixth in the women's lightweight double sculls final at the Rio Olympics.
OUWBC haven't been defeated in the Boat Race since 2012 and won last year's inaugural Thames double-header by an enormous margin after CUWBC came within a hair of sinking.  
Hello and welcome to Varsity's coverage of the 72nd Women's Boat Race, brought to you by Devarshi Lodhia and Paul Hyland.  With the women's crews to take to the river at 4.35pm, here's a sneak preview of what's to come...