In Conversation with: Adam Parkes
Lawrence Hopkins talks with Adam Parkes, Captain of Cambridge University Golf Club (CUGC)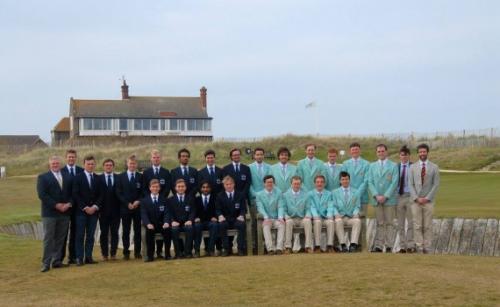 For all intents and purposes, CUGC is run by fourth year Johnian Adam Parkes. Though the club has a President, Mr Roger Mosey, Master of Selwyn College, the role held by Parkes is the one that is far from ceremonial. Though he clocks up in excess of eight thousand miles a year ferrying himself to and from fixtures around the country, the enthusiasm Parkes has for the game of golf, one sometimes described as just a good walk ruined, is unwavering.
Though fresh from a humbling defeat at Hankley Common GC at the weekend, Parkes has no fear for state of his side: 'fixtures are funny things. There is always a massive home advantage. We took eight guys to Hankley Common, only two had seen the course before, and with forty miles an hour gusts this was always going to be a tricky fixture. There is a fixture every year we play at Sunningdale, I don't think we have won in around seventy years. It's part and parcel of the game'
'There is certainly no sense of frustration; we know we will lose a lot of matches, but that's just the way things go. And so when we play well and win, it is very rewarding: recently we beat the Oxford and Cambridge Golfing Society (The Society) for the first time in about five years.'
The fixture slate for CUGC is hectic, and golf is not a sport that takes little time, rounds can easily exceed four hours. So how does the University's premier golfer find balancing time, even now in his fourth year?
'The time commitment is a lot; I find the sleep most difficult. For some fixtures we are up at 4:30 in the morning, then we have to travel for two hours. And then we have to play so many holes of golf; I find that I am more tired after a weekend than before it. In Michaelmas, particularly, we, as a club, make things as flexible as possible, and of course work has to come first.'
'As Captain I have to bear quite a lot of the administration of the club, but the whole team puts work in. I do also get a lot of help from The Society, it can be intrusive at times, but they are the main form of financial support we get.'
The Society, Parkes tells me, is one for the Old Blues of Oxford and Cambridge Golf Clubs. As part of the funding arrangement both clubs cannot accept outside sponsorship, something not lost on Parkes who is aware that the game of golf is 'massively expensive'; however, The Society funds a trust which keeps the university game 'within the realms of what a student can afford.'
'The cost can sometimes be a barrier, a few players, in my experience, have not been able to do everything, but I have never come across a player who cannot play purely because of financial reasons.'
With all this in mind I ask the Captain if golf at Cambridge is an elite, even aloof sport: 'We don't take beginners, because we don't have the funding and because there would be no chance of them getting into a team for Varsity so that can skew the demographic. But, in my time the club has come to be increasingly the preserve of undergraduates; gone are the days when, as it was in my first year, eight of the ten guys would be international and/or postgraduates.'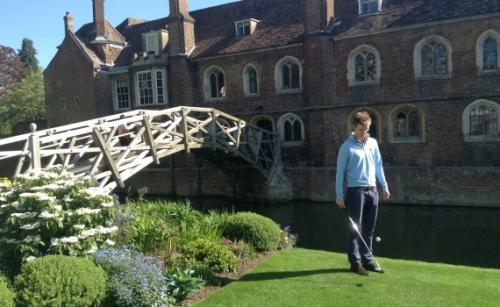 CUGC have not won a Varsity Match against their Oxford counterparts in eight years, a lengthy losing streak, though this is not something that weighs on the mind of the Captain: 'I know that six of those eight losses were in no way my responsibility. We had an opportunity to snap the streak a few years back but we didn't take it, since then Oxford's squad depth has helped them over the line, but I don't think there is any reason we can't win this year. There is not much more I can do, but in leading the club I do try to gear things toward getting guys playing well in March, not December. Being a young team too there is no scar tissue either; we have every chance.'
The world of golf is an old one, the rules are administered by the Royal & Ancient, an offshoot of the members club of St Andrew's in Scotland. It is a world facing its own challenges when it comes to diversity and inclusivity: The Honourable Company of Edinburgh Golfers, better known as the members of Muirfield, also in Scotland, only last year voted against admitting women. Muirfield has played host to the Varsity Match in recent years. 
'I am certainly aware that there are some clubs that we go to where the atmosphere is not one we would like to see. Some clubs are certainly stuck in their ways, but we are always polite. Some clubs have become a bit of a refuge for this supposedly traditional thinking.' With members voting on how their own club should be run, it is no surprise then that refuges can emerge. 'But there are hundreds of clubs that are very progressive, I grew up playing mixed foursomes, and it is only the minority that cling to what they view as tradition.'
The 129th Varsity Match at Royal Porthcawl is a long way off, being contested in late March. There are certainly a vast array of fixtures to be navigated by the Blues squad before then: Parkes tells me there is a fixture every weekend – he proclaims that CUGC have 'the best fixture list of any club in the country – between now and then. But, with victory over The Society under his belt, the Captain is quietly confident about his team's chances: 'We are in the best place we can be; it is still anyone's game.'