A question of justification: women in sports
Chloe Merrell argues that the need to justify the legitimacy of women's sport is unhelpful and damaging to all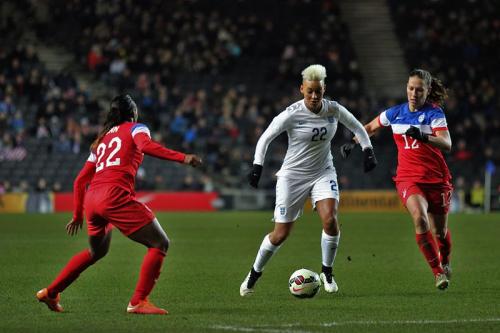 This summer has been heralded as 'a golden 2017' for women's sport. When we consider their successes in mainstream sport it is undeniable that women, for want of a better phrase, smashed it. England's women this year were: ICC Women's Cricket World Cup champions, Euro 2017 football semi-finalists, Euro hockey semi-finalists, and Rugby World Cup finalists.
Yet when it came down to the broadcasting of these significant sporting moments, a strange thing kept occurring; parallels were consistently drawn between the respective successes of the women's teams and the men's teams. For instance, in the build up to the Lionesses' match against Holland in the Euro 2017 football semi-final, the reel of footage that kick started Channel 4's programme showed tabloid newspaper headlines proclaiming the successes of the Lionesses in the group matches. Contrasted against these images were pictures of old articles shredding the England men's football team for their losses in previous tournaments. Against an elated Lioness side were images of Steven Gerard crying.
In drawing out a comparison between the successes of the women's side against the failures of the men's side Channel 4 was providing its audience with a justification – look how good they actually are! Why, they're better than the men! They're definitely worth watching!
"The need to provide a justification for the legitimacy and quality of women's sport is not only damaging for the players and audience but it is also, fundamentally, unnecessary"
Across the coverage of these matches it became apparent that there exists some mystical, unalterable standard of quality at which a sport becomes 'watchable' or worthy of attention, and in order to demonstrate that the women can reach this standard broadcasters, pundits, and newspapers continually feel compelled to make the comparison between men and women. This phenomenon of justifying the worth and the quality of the women's game to audiences was captured most aptly by Karren Brady when she stated, "in sport a woman has to be twice as good as men to be thought of as even half as good".
The need to justify in women's sport does not end there. There is also an element of financial pressure to this justification paradigm. Women's sports teams are forced to succeed in order to justify to sponsors and broadcasters that they are worthy of the investment of time and money. Anya Shrubsole, the England cricketer who secured England's victory in the World Cup this summer, expressed this very demand: "all we can do is keep being successful. Keep winning games, keep winning series, keep winning tournaments." Women's teams must succeed in order to ensure the survival of their sport. In men's sides, regardless of their success, they will still be broadcast and sponsored; for women, winning is not simply the desired outcome, but an obligation.
These are examples from sports played by both sexes, but the full consequences of this 'need to justify' are most clearly exposed in a game dominated by women: netball.
England's women won the 2017 Cricket World CupEngland and Wales Cricket Board
The CEO of England Netball, Joanna Adams, appeared on BBC's Newsnight during the summer in a discussion centred on the progress and future of women's sport. Adams drew on the metaphor of the 'double-edged sword' in order to describe the situation that netball currently faces. Whilst it benefits from being a uniquely female phenomenon, she suggested, it also suffers from not sharing a platform with men. Netball is therefore forced to generate and sustain interest in the game before going to broadcasters and sponsors, whereas the other male dominated games do not face this burden; the responsibility for netball's legacy rests on how hard its players and organisers are prepared to work internally, after which it must begin the process of justifying itself to the external powers of broadcasters, sponsors and viewers. This seems to be a somewhat uneasy tension given that the International Federation of Netball Associations (IFNA) in 2011 had participation in netball at 20 million whereas World Rugby announced in 2016 there were just 5.3 million non-registered players.
If there is pressure to perform in order to survive, rather than for sporting ambition alone, then how can we be satisfied with the state of women's sport? When Andy Murray has to intervene for the 'nth' time to remind a journalist that Sam Querrey was only the first male player to reach the semi-final of a Slam since 2009, there is work left to do. When someone tells you that they were 'surprised' at how good a women's team were, there is still a problem.
The need to provide a justification for the legitimacy and quality of women's sport is not only damaging for the players and audience, but it is also, fundamentally, unnecessary. Let's move beyond the understanding of women's sport as a 'progressive social trend', trapped in cycle of constant justification, and begin to appreciate it for what it truly is: great sport played by great players