Excellent Exeter too strong for Light Blues
An Exeter team filled with several England under 21s ultimately proved too strong for a spirited Cambridge team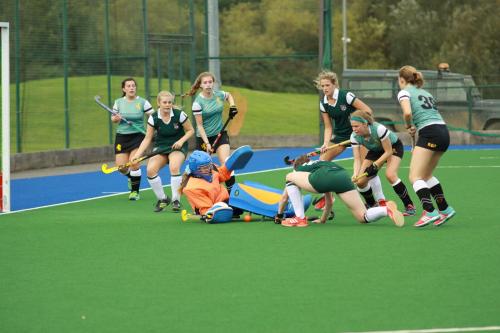 Facing a team who fielded several England under 21 players, getting a result against Exeter was going always going to be a difficult task for the Blues as they fell to a 5-0 defeat on Wednesday afternoon.
In the first couple of minutes there were plenty of passes going awry from both teams as they settled into the game but once Exeter found their stride, they didn't hold back. Their first shot on goal was a well-struck reverse shot, saved by Freddie Briscoe and cleared by Lydia Copeland, followed by an excellent cross, which didn't find anyone on the back post. Nonetheless Exeter kept pressing forward and were rewarded in 6th minute when a defensive error in the circle resulted in an easy tap-in for an Exeter forward.
Exeter kept up the pressure as the Blues struggled to get the ball out of defence, often winning the ball high up the pitch ready for a speedy counter attack. Cambridge did well to jump back behind the ball, with a couple of one v one chances being well shut down by Amy Edwards. Shots kept peppering Briscoe's goal until Cambridge's first real attack came in 11th minute. Exeter attempted to transfer the ball across the pitch, but Izzy Austin and Georgie Burrows joined forces to turn it over and head towards Exeter's goal. Unfortunately for Cambridge, they couldn't capitalise on this possession due to a mislaid pass.
Mislaid passes were a theme of the afternoon as the Blues would keep turning over the ball but then struggle to find an available player to whom they could offload the ball. Exeter's right half back, who had an outstanding game, kept making incisive runs and putting in excellent crosses, but the resulting shots kept going wide. Cambridge were let off the hook again in 21st minute when an Exeter forward found herself alone in the shooting circle, only for the umpire to call play back for a free hit.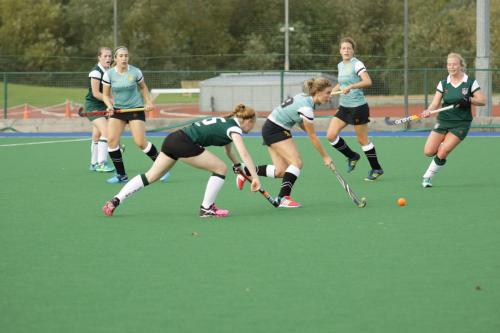 Briscoe continued to make good saves, but there was not much she could do when Exeter were awarded their first short corner of the match.  The ball was slipped left and slapped home to leave the Blues 2-0 down at half time.
The second half started in a similar fashion for Cambridge as they were constantly under pressure from Exeter, but their linking play continued to improve throughout the 2nd half.  Lucia Corry's long passes gave the forwards good space to work with and their increased intensity paid off with a short corner 4 minutes into the 2nd half. Cambridge opted for a straight strike but since it was hit straight at the keeper, Exeter cleared successfully and within seconds had a shot of their own blazing over the bar. 
Exeter's transition from defence to attack was particularly impressive, with all four of their defensive players running past the Cambridge forwards to create overloads and yet more chances. On one occasion, one of their full backs even found herself in her attacking shooting circle but this was almost her undoing, as she had to speed back after Alicia Murphy almost found Austin unmarked up front. 
Cambridge had done well to keep Exeter at bay for the first 17 minutes of the 2nd half but then three goals followed in quick succession. The first came from a frighteningly powerful shot after a well worked long corner routine.  Next came a great individual effort from an Exeter midfielder who, having turned over the ball, ran 30 meters and finished with powerful strike. Two minutes later Exeter converted another short corner by slipping the ball back to the injector.
That isn't to say that there weren't any positives in this time for Cambridge. Their attacks became increasingly direct and the forwards began to stay higher up the pitch, enabling the midfield to have more space to work in. Midfielder Rhiannon Osbourne made fantastic use of this when she ran down the left-hand flank and along the baseline to put together Cambridge's best attack of the afternoon. Cambridge had the last chance of the afternoon, when Austin won a short corner but this was well defended by Exeter. It was evident to those on the sideline that the Blues were running hard but it simply wasn't their afternoon.