Gouging: rugby's cardinal sin
In this week's column, Ben Cisneros looks at whether or not we should call Kyle Sinckler's actions 'gouging'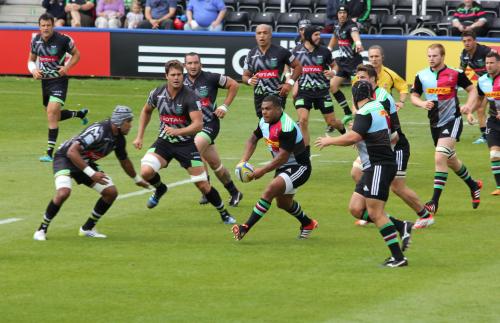 Lions, England and Harlequins prop Kyle Sinckler has this week received a seven-week ban for "making contact with the eyes, or the eye area" of Northampton's Michael Patterson. His conduct was reckless, and warranted strong sanction, but we should resist the temptation to label it as "gouging". This term should be reserved for rugby's very worst offenders, of whom there are increasingly few.
"Gouging" in rugby is the term given to the act of intentionally sticking a finger(s) into someone's eye(s) in order to cause them harm. The term makes no appearance in World Rugby's Laws of the Game, but is considered rugby's most heinous act. Why? It's pretty obvious: it could blind someone.
The laws of the game are rightly strict when it comes to the eye area. Under World Rugby Regulation 17, "Contact with the Eye(s) or the Eye Area" is classed as foul play under Rule 10.4(m) "Acts contrary to good sportsmanship", and carries a ban with an entry point of 12 weeks. The "top end" on the scale of seriousness will receive a ban of at least 24 weeks, with the maximum ban being 4 years.
Sinckler appeared before an RFU disciplinary panel on Tuesday. Its chairman, Dan White said they "found that it was an intentional action but that due to the absence of injury it merited a low end entry point".
Mitigating factors such as admission of guilt, good conduct at the hearing and genuine remorse are often considered, explaining why Sinckler's ban is reduced.
He can consider himself relatively lucky. Former England player Chris Ashton received a 10-week ban last year for making contact with the eyes in what appeared to be an accidental incident. As he went to bundle the player into touch – albeit high – his hand slipped into the eye area. Ashton's poor disciplinary record, however, counted against him.
In another 2016 incident, Wales' Tomas Francis received an 8-week ban for the same offence when his hand brushed over Dan Cole's face as Francis cleared out a ruck.
Sinckler was arguably more culpable. At the bottom of a ruck, he tried to rip off Patterson's scrum-cap, making contact with the face once, before reaching over again and catching Patterson's eye. BT Sport's pictures were not pretty. Given that Sinckler's initial intentions were at best petulant, a 7-week ban might be considered a tad fortunate.
Former England internationals Ben Kay and Ugo Money agree with the length of Sinckler's banBT Sport
"I accept the outcome of the hearing and wanted to go on record to say I am sorry that I have let my team-mates down," Sinckler said.
"More importantly, I feel terrible that anyone would think I would deliberately gouge an opponent. That was never my intention. It was a genuine mistake and an act of recklessness on my part" he said.
The impact on his career remains to be seen. In the short-term, he will be missed by Harlequins who this week revealed 45% of their squad are unavailable to play, through injury and now suspension. He is free to play again on November 21st, just four days before England face Samoa, but it would be no surprise if Sinckler is left out. Eddie Jones will likely look elsewhere to bolster his side's strength in depth.
Sinckler is known as a fiery character and has emerged as one of the most exciting props in World Rugby. His eye-catching performances (if you'll pardon the pun) on the Lions tour put him on the bench for all three tests, but he must learn to control his temper if he is to have a successful international career – he came close to starting a brawl at the end of the second Lions test and was arrested for disorderly behaviour on a night out in Auckland.
However, Sinckler is not the only member of Eddie Jones' England to have been found guilty of this offence. Captain Dylan Hartley was banned for 26-weeks after being found guilty of 'eye-gouging' two players in the same match in 2007.
Indeed, the list of those banned for some degree of 'eye contact' contains plenty of household names; Bakkies Botha, Bismarck du Plessis, Mark Cueto, Martin Corry, Alan Quinlan, Mauro Bergamasco, Sergio Parisse and Schalk Burger, to name a few.
Parisse and Burger were involved in incidents in the same week in 2009 and escaped with 8 week bans, despite both being clear cases of intentional gouging. As Lions fans will remember, Burger's case was particularly shocking and demanded an immediate red card. But the referee showed a yellow – perhaps because it was within the first minute of the game – while South Africa coach Peter de Villiers said post-match "he didn't do it".
In fact, de Villiers whole post-match interview makes for entertaining viewing. He went on to suggest that if you don't want eye-gouging or tackling, you're better suited to ballet…
But make no mistake: there is no place for eye-gouging anywhere. Following the perceived lenient sanctions of Burger and Parisse, then-World Rugby chairman Bernard Lapasset wrote to the governing body's Judicial Panel:
Former South African rugby coach Peter de Villiers compared rugby to ballroom dancingCombatBok
"The prevalence of eye-gouging in the game is a major worry," he wrote. "In order to arrest recourse to this heinous act it is necessary that strong sanctions are disbursed as a deterrent."
2009 had seen a spate of such offences and, after Lapasset's comments, sanctions duly increased. Stade Francais's Julien Dupuy and David Attoub were banned for 24 and 70 weeks respectively after they both deliberately gouged Ulster's Stephen Ferris. In an interview this week, Ferris said he felt Attoub should have been "banned for life".
Interestingly, though, no player in the Southern Hemisphere has been banned for more than 9 weeks for 'eye contact' since 1992. Clearly, consistency is needed across the globe.
Bans may have been increased, but too many incidents still go unpunished on the field: the Sinckler and Francis incidents were both dealt with post-match. Given the seriousness of gouging and the stigma it carries, referees are reluctant to act – if they even spot it. In the 2011 World Cup final, Aurélien Rougerie got away with deliberately gouging Richie McCaw, as evidenced by footage uncovered by Sky, too late even for a citing. McCaw later said he had been "half-blinded" for the last few minutes of the match.
Northern hemisphere disciplinary panels may have been relatively consistent, and cases of deliberate gouging have reduced, but referees should be bolder when they are presented with evidence, and TMOs should pay closer attention. Doing so will hurt offending teams more, and encourage players to take extra care.
Talk of 'gouging' may have reared its ugly head again, but we can be glad it is nowhere near as prevalent as it once was