Silky centres steer Durham past Cambridge
A battling performance was not enough as a spirited Cambridge University Women's Rugby Team lost 48-17 to a strong Durham side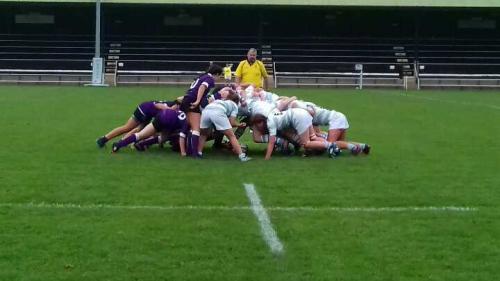 CURUFC Women 17
DUWRFC 48
University Football Ground, Grange Road
A sparkling performance from the centre pairing of Beth Blacklock and Claudia MacDonald propelled Durham to a 48-17 victory over a battling Cambridge team. The duo's deft handling and incisive running helped them combine to score five of their side's eight tries. This was not a disheartening defeat for the Light Blues, though. They defended resiliently and showed flashes of attacking brilliance, staying competitive to the end against a strong Durham team expected to challenge for the national title.
The early signs were ominous. The referee's whistle had scarcely sounded when Durham got their first try. Kicking off, the visitors turned over the ball at the first ruck. A series of flat, fizzing passes and purposeful, angled runs later, and inside centre Blacklock cruised over the whitewash. Fewer than thirty seconds had been played. 
Supporters might have been fearing a rout, but the Light Blues were not. Speaking after the game, Cambridge captain Lara Gibson said that as they watched Blacklock convert her own try, the mood was one of steely determination: 'Standing on our try line we were just like, "What was that? That was completely unnecessary. They sliced through us, but we know we can do that to them. We're going to score the next try."'
That resolve showed as Cambridge immediately struck back through fullback Alice Middleton. Gathering the ball from the base of a ruck on her own ten yard line, scrum half Lydie Thorn burst to her right, evading two defenders who had expected her to pass. She then flashed a perfectly-timed pass straight into the hands of the onrushing Gibson, whose slanting run broke Durham's defensive line. 
"It was a tough match, but we knew it was going to be. We needed it."
Straightening up, Gibson waited until Durham fullback Ellen Brown was almost upon her before looping a pass over two other Durham defenders to Middleton, lurking on the right wing. From there the Light Blues' fullback still had plenty to do, but her long, loping strides eased her away from the scrambling pursuit of Durham's defenders. It was a beautifully crafted try, what Gibson called a 'strike move': a set play developed on the training ground. This was what Cambridge's rugby development manager John Naylor was talking about before the game when he said the team was hoping to "bring more variations into our attack." 
There was more evidence of that as the first half wore on.  Durham were the next to score through a searing run from outside-centre MacDonald, but again Cambridge responded almost instantly. A tantalising cross-field kick from fly-half Kate Marks and an eager chase forced a Durham knock on five-yards from their line. From the resulting scrum Cambridge whipped the ball across the pitch, and a series of offloads kept the ball alive for inside centre Mary Coleman to power over from close range. A missed conversion made the score Durham 14, Cambridge 12. 
"People were thrown into positions that they're not used to playing."
The free-flowing, wildly entertaining attacking fare continued for the rest of the half, but it was increasingly Durham who had their way. More punchy running from Blacklock and MacDonald helped them to score another try each, and, together with a burrowing finish by second row Lauren Crawford, extend their lead to 31-12. 
It was Cambridge who had the final score of the half, though; Thorn intercepting a pass just inside the Durham half and haring across the whitewash. But that was to be almost her last contribution of the match; on the stroke of half time she hobbled off with a leg injury. In hindsight, it was a significant moment.  Cambridge would not score in the second half, struggling to find any rhythm in attack. Captain Lara Gibson explained that the injury forced the Light Blues to re-shuffle their entire back line:  "People were thrown into positions that they're not used to playing. We actually haven't played together as that [back line] combination ever."
What they lost in attacking flair, though, Cambridge made up for in defensive mettle. Barring a last-minute gallop from MacDonald, the Light Blues effectively shut down the midfield duo who had wreaked such havoc in the first half, forcing Durham to pound out hard yards through the forwards. In spite of spending most of their time in the Cambridge 22, the visitors only scored two more tries in the half, both close range lunges. 
Cambridge's rugby development manager John Naylor had identified defensive strength as the quality he was most looking for in this game, and it was the steeliness her team showed in the second half that most pleased captain Lara Gibson: "The biggest positive is that we kept working right to the end. In those last fifteen minutes we were defending a lot and we weren't just letting them run through us." That was particularly significant, she explained, because having been relegated from the BUCS Premier League last season, "we don't want to lose our intensity, we want to make sure we sure we are still hitting our tackles hard, still working in the rucks [so that] we're on top of those skills when we play Oxford in the Varsity match on 7 December."  Seen from this perspective, the game served its purpose: "It was a tough match, but we knew it was going to be. We needed it."
CURUFC Women: Jenny Orris, Emma Pierce, Tamsin Banner, Alice Elgar, Jacqueline Bramley, Fiona Shuttleworth, Jenny Shuttleworth, Chloe Withers, Lydie Thorn, Kate Marks, Sophie Farrant, Mary Coleman, Lara Gibson, Bluebell Nichols, Alice Middleton
DUWRFC: Chioma Onyeche, Tilly Kidd, Alex Webster, Roshini Turner, Laura Crawford, Clodagh Cronin, Tania Forichon, Trudy Cown, Liddie Harris, Erin Kelly, Olivia Hanby, Beth Blacklock, Claudia MacDonald, Anabel Lee, Ellen Brown