'We really feel like we're behind enemy lines': 2017 Varsity tennis preview
Imran Marashli met Blues captains Jerry Ganendra and Jenni Mair to discuss how CULTC are shaping up on the eve of their season-defining fixture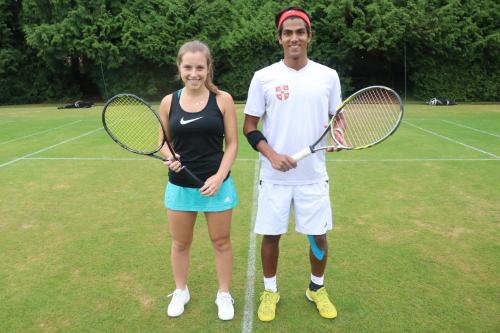 It has been a journey long in the making for two stalwarts of Light Blue tennis. Both Jerry Ganendra, a fourth-year Engineer at Jesus, and Jenni Mair, a third-year Medicine student at Gonville & Caius, have played and lost in the last two of these climactic Varsity encounters against the Dark Blue enemy, and so the stakes could barely be higher in 2017.
Sitting down with them in the Cambridge University Lawn Tennis Club (CULTC) clubhouse at Fenner's, we start with a reflection on the past BUCS season with a view towards the present and future. The men finished fourth in the six-team BUCS Midlands 1A League, but only lost twice in the process. "We had a slow start, but we were unbeaten until the finals, started racking up wins and got to the BUCS finals, which hadn't been done recently," Ganendra clarified. "So we ended the BUCS season on a real high and with real confidence. We were unlucky not to get promoted, but by the end of the year we were beating comfortably the team that ended up getting promoted."
As for the women, they enjoyed a strong season, accumulating 20 points and finishing second in the Midlands 1A League, including an 8-4 success over the Oxford seconds. Mair explained: "We were demoted from the Premier League last year so we had a lot of closer matches, but with our strongest team out we won a lot of fixtures, so finishing second is a decent result and a good preparation for our summer fixtures."
It is perhaps difficult to discern which shade of blue can be billed as favourites given that both Oxford teams play in different divisions. "Clearly, Oxford were in a tougher league, so they don't have anywhere near as many wins as we do, but that isn't necessarily representative," said Ganendra. "But their second team is in the same league as the Cambridge second team, so we can tell that we were pretty solid and it showed over the weekend [Cambridge 2s won 18-3]. There are so many different levelisers. BUCS, for example, is on an indoor hard court, Varsity is an outdoor grass court. We go in pretty confident, but it is very difficult to predict. We've just got to go in and give it 100 per cent."
Mair assented. "I think it's hard to tell. Varsity is just very different from any match. You can't really go off BUCS results even if we were in the same division. There are even things like injuries, losing players: you can't really predict it. I think as long as you're confident in how your team is playing, then that's all you can really do."
Safe in Cambridge's knowledge, however, is the experience and depth boasted by both squads. Mair gave a rundown of the women's Blues' pedigree. "We've got a few very experienced players: Kadi [Liis Saar] at number one – she's played four Varsity matches. We've got Cassy [Dix], who's played American university tennis. There's Jane [Coombs], myself, and Monika [Kondratowicz], who have all played at least two Varsities. Claudia [Dickinson], playing at number six, is new to the squad, but she played seconds last year and is a great doubles player. Georgina [Shepherd] is at number seven, and she's played three second-team Varsity matches, so there's lots of experience and we've got great depth."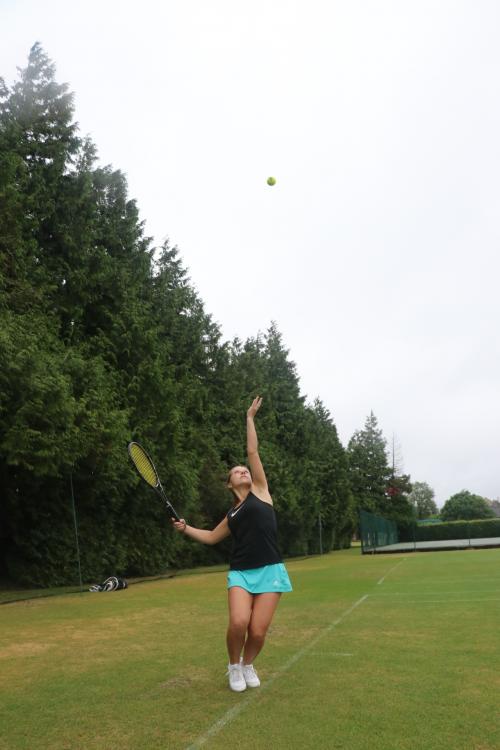 Ganendra was similarly optimistic: "We're got really solid depth across all squads this year, which makes picking the singles particularly difficult. At the top of the order is James Shemilt, who didn't lose one BUCS singles match throughout the whole season; Michal [Kaminski], who hits the ball harder than anyone I've ever seen; Tim [Prossor] has played four Varsities and captained the side two years ago. We've got Toni Morales – a leftie – who absolutely leverages that on the court and is really solid in doubles. We've got Jack [Long-Martinez], who's played every single BUCS match; Joe Koebele, who's played very high Division One tennis in the States – he's got biggest serve you can possibly imagine; and Martin [Florea], who I don't think has ever made an unforced error!
"Overall, we're looking pretty solid in singles and as well doubles. We don't know how people will perform under that pressure because we have a relatively new squad – only me, Jack and Tim have played in Varsity and understand the pressure that you're going to face – but all of these guys have competed at a very high level in BUCS, and so I'm quietly optimistic. This year in particular we've got a lot of big servers, which is important in the singles and doubles on the grass – it takes a lot of the pressure off."
Notwithstanding the reasons for Cantabrigian optimism, and despite having a 13-6 advantage over Oxford overall in these matches since 1998 in both the men's and women's game, the Light Blues have lost for two consecutive years. The Blues captains view this simultaneously as a setback and a boon. "We're on the back foot," admitted Ganendra. "This is an aspect which makes us go in as underdogs to some extent. We've just got to embrace that and go into every match giving everything that we've got."
Having lost so narrowly last year, and squandering a 9-8 lead going into the last round of doubles matches, the women especially will be even keener to right 2016's wrongs. "Last year we lost 11-10, and losing makes you want to win, but you're aware that it's not going to be easy. But last year proved that we could win, so it's a matter of taking a few more doubles matches and playing as well in the singles as we did last year."
This year the fixture is in Oxford rather than at a neutral venue. Again, though, the Jesuan and the Caian were unfazed by the prospect. "If anything, I think it motivates us more because we're on enemy soil. We really feel like we're behind enemy lines," affirmed Ganendra. "I'd imagine there'll be a slightly larger Oxford crowd and that will pump us up and motivate us even more." Mair added: "It's very different from BUCS, where you're playing at a neutral venue, so playing at home might put more pressure on them to win, so there's that to take into account as well."
Ganendra and Mair, playing their third Varsity matches, are now relative veterans of this fixture within their respective squads. Mair agreed that this makes a difference: "Apart from Claudia, everyone's played at least two Varsity matches. It's important for the format, what to expect, even little things like making sure how they're going to get food on the day, and just making sure everyone is as prepared as they can be to play their best tennis. That's probably where experience comes in the most."
Ganendra added: "On the day itself it helps because we've been through many aspects before. Of course, every Varsity match is different, and we need to be flexible to some extent with regards to leading the team and saying the right things, but it definitely benefits us. It's about preparation on the day and playing a lot of sets. It's great if you can hit a nice forehand but, if you can't do it under pressure, then you're not going to do so well."
Ending on a personal note, I ask whom they would like to model themselves on most. For Ganendra, the answer was perhaps not the most obvious choice in a men's tennis world dominated by the 'top four' of Federer, Nadal, Murray and Djokovic. "I love David Ferrer. I love the way he's this tiny guy who just works so hard and is able to get into the top ten with just an incredible work ethic and incredible resilience. I really respect that, and it's quite similar to my game." Mair's choice was also a less predictable one: "Jeļena Ostapenko, who's just won the French Open and is younger than me. She went out there, had never won the French Open, and played her game under huge pressure: that's important at Varsity. I want all my players to be like that!"
The 2017 Varsity tennis matches take place on 1 and 2 July at North Oxford Lawn Tennis Club