Magnificent Moses spearheads Cambridge to T20 triumph over Oxford
Cambridge avenged last year's defeat with a high-quality display of cricket at Fenner's, writes Imran Marashli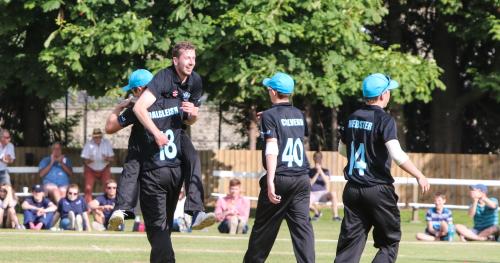 University of Cambridge (133-7, Moses 43) beat the University of Oxford (123-7, Hughes 59) by 10 runs
Men's Varsity Twenty20 Match, Fenner's
Cambridge University Cricket Club's (CUCC) men's Blues produced a performance of high skill and nerve to defeat Oxford by 10 runs in their T20 Varsity clash on a balmy day at Fenner's on Friday afternoon. Their victory was led by all-rounder Tim Moses, whose quickfire 43 with the bat and control with the ball were instrumental to Cambridge's victory. Cambridge therefore go into the 50-over tussle at Lord's in a week with the momentum and a 1-0 lead in the three-match cricket series.
Under glorious skies, captain Patrick Tice won the toss and chose to bat first. A quick start, however, dramatically turned sour when Cambridge lost four wickets for only 12 runs. Oxford's astute tactical decision to open with the left-arm spin of Ben Swanson paid off as he dismissed the aggressive Colverd at 14-1. Senaratne at three then started to make hay against the pace of Johnny Marsden. But just as Cambridge prospered against pace, they struggled against the slower bowling, and they were set back by a cluster of wickets. Senaratne was run out after confusion with his partner Jonathan Das, while the cunning accuracy of Toby Pettman did for Angus Dalgleish and Das to leave Cambridge at a subdued 34-4 by the end of the eighth over. Pettman was the pick of Oxford's bowlers, finishing with 3-17 off four overs with one maiden, strongly supported by Swanson's 2-17.
Chris Webster was the next to go, sent back to the pavilion when trying to hit Pettman out of the park. Instead, he could only sky the ball into the hands of wicket-keeper Harrison.
With Cambridge in a perilous position, therefore, Tim Moses's innings at five was even more vital. He had not played too many big shots previously, but came into his own as the overs wore on, picking the gaps with wristy shots and excellent timing. By the last few overs, though, he mixed his poise and grace with sheer power, smashing Brock over his head for six and, crucially, adding 19 runs in the 18th over of the Cambridge innings off the bowling of Marsden with some more big hitting, to the Cambridge crowd's delight.
Marsden had the last laugh when he bowled him for 43. With the score at 108-7, though, and after a 40-run partnership with Rory Sale, the damage had been done by Moses, and Cambridge's final score was boosted further by some late hitting by Tice and Sale, who added an important 24 not out from only 14 balls to spoil Marsden figures as he leaked 52 runs from his four overs.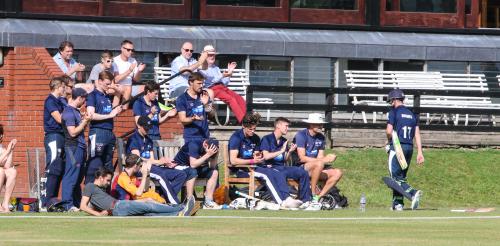 In their chase, Oxford never got ahead of the required run rate, and the scoreboard pressure seemed to tell from the very first over as some big attempted shots failed to come off. The Dark Blues proceeded to lose wickets at regular intervals. Moses – who else? – picked up Escott with a fierce short ball that he could only glove behind, and Ruari Crichard thundered in from the other end to dismiss Gnodde cheaply as he gloved down the leg side. Crichard added another in his next over with an absolute beauty that moved back in, cut Alex Rackow in half and kissed his inside edge. At 20-3, Cambridge were flying, and the Johnian finished with the impressive figures of 2-8 in his four overs.
Oxford regained some of their composure through Matthew Hughes and Matthew Naylor, but they shot themselves in the foot with the run out of Naylor for 15. Moreover, although Oxford were losing wickets less frequently, the disciplined length from spinners Nick Winder and Sale kept boundary-scoring opportunities at a premium and ably complemented the pace attack led by Poulson and Moses, limiting Oxford to 67-5 by the end of the thirteenth over.
However, one man remained to threaten to put paid to premature Cambridge celebrations: Matthew Hughes. The opener had seen a succession of partners come and go throughout the innings, and his standout performance only grew in stature as he upped the ante to chase a ballooning required run rate. He brought up his half-century in some style, swatting Sale over mid-wicket for six to keep Cambridge fans' hearts in their mouths as the final overs ticked by.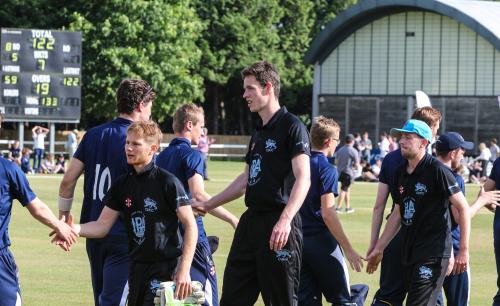 Ultimately, however, the day belonged to only one man, and that man was Moses. His death bowling in the sixteenth over restricted even the brilliant Hughes, and his final over, the nineteenth, was a masterclass in death bowling, with a tight line and variations in length keeping the Oxford batsmen guessing every time and, more often than not, heaving at the ball without ever connecting. When he dismissed Brock for 14 to end a potentially game-saving 49-run partnership, with the score reading 115-6, Cambridge's victory was very likely but not certain. The match culminated in a tense final over by James Poulson, with Oxford needing 17 off six deliveries. Given that Hughes was at the crease, though, anything seemed possible.
The tension and angst among the crowd only increased as Poulson bowled 2 wides and Pettman found the boundary. But the Homertonian's response – three dot balls – was superb, and even Hughes couldn't connect with any of his big heaves. And, when Hughes's enormous swipe towards the onside merely shot up into the air, Poulson sealed the match with a ball to spare as he set himself and safely pouched the catch under the watching eyes of the delirious Cantabs. Fenner's exploded with joy