In Defence of: Joey Barton
In this edition of In Defence of: Devarshi Lodhia takes a look at the career one of England's most controversial footballers to see if there's more to Joey Barton than meets the eye.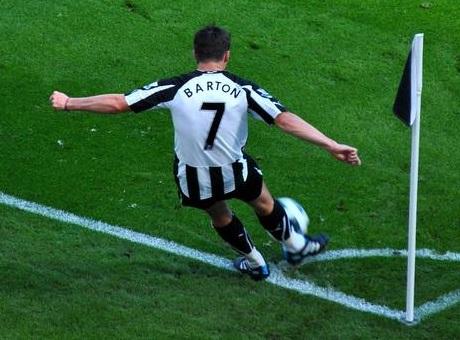 When Joey Barton arrived at Marseille in 2012, he was greeted with a banner that read: "Welcome Sweet and Tender Hooligan," a reference both to Barton's favourite band, The Smiths, and his controversial and divisive career both on and off the pitch. His recent 18-month ban for placing more than 15,000 bets on a variety of sports fixtures has effectively ended the 34-year-old's time as a player and raises a number of questions, both about the predatory nature of the gambling industry and Barton's legacy.
Perhaps better known for his conduct on and off the field, rather than skill on it, Barton's career has been one littered with incidents of ill discipline and a number of violent outbursts. These incidents have led to convictions for common assault and assault occasioning actual bodily harm respectively; he has also faced three charges of violent conduct by the FA, including one for his dramatic meltdown during that match against Manchester City, which he subsequently addressed in a speech at the Oxford Union, stating, "in the cold light of day I was thinking it was a lunatic that made that decision, a lunatic wouldn't think that's the right thing to do".
Behind all the macho-posturing and philosophical musings there seems to be a genuinely kind, funny and misunderstood man.
Barton's subsequent public attempts to reform his character and image have often been met with derision and scorn, especially from the section of the media and fans that have questioned his ability to appreciate art and literature. While retweeting Nietzsche quotes may not be the mark of an intellectual, his article on 'Social Media, Protest, And The Pacification Of The Favelas,' written during the 2014 World Cup, shows Barton as a politically engaged, verbose character. Much of the criticism of Barton comes from a sense of confusion surrounding his motives: is he putting it on or is he simply a working class man getting ideas above his station? There's a real sense that Joey Barton embodies the greatest fear of the bourgeoisie – a white working class man who goes to art galleries instead of knowing his place.
Barton has also been an active supporter of a variety of social causes, campaigning for signatories for the e-petition to force the government to release documents relating to the Hillsborough disaster, complaining about the treatment of the workers that made David Beckham's range for H&M, and being a vocal champion of Stonewall's Rainbow Laces initiative. The latter led to him winning 'Straight Ally of the Year' in 2014, at the Out In The City & G3 Magazine Awards, as a testament to the work he has done in trying to rid football of homophobia. Meanwhile, at Burnley, he has displayed his enthusiasm for engaging in community work on the club's behalf, spending time with patients at the local Pendleside Hospice – a far cry from undergoing anger management in 2005 and completing a programme of behavioural management at the Sporting Chance clinic, set up to help troubled sportsmen and women.
Behind all the macho-posturing and philosophical musings, there seems to be a genuinely kind, funny, and misunderstood man. The headline on Barton's personal website reads: "Footballer. Question Time Guest. Philosophy Student. Future Coach. Fluent French Speaker. What Has Become Of Me?" The 'fluent French speaker' part, a reference to his now infamous press conference at Marseille which he conducted entirely in an 'Allo Allo' accent, complete with broken English, shows both the bravery of an English player willing to risk his career abroad (a surprisingly rare thing in today's game) and his self-deprecating nature. Similarly, his 'retirement' from England duty in 2013 – with Barton tweeting,"decided to announce my international retirement as well. I was honoured to represent my country for such a long illustrious time. #sadtimes," while referring to his 18 minute performance against Spain as "brilliant" –indicates a man who is incredibly self-aware, a far cry from the supposed primadonnas of the Premier League.
While his career as a footballer will never be described as world class, he has proven himself as a solid and consistent Premier League performer for well over a decade now. The last of a dying breed of no-nonsense, tough-tackling Englishmen forged on the pitches of post-industrial Northern towns, rather than on the perfectly manicured lawns of a Premiership club's academy, Barton found his level and did what he had to. He was never graced with the touch and elegance of Andrea Pirlo, nor the passing ability of Paul Scholes, but, on the pitch as well as off, he was a ferocious warrior – a relentless bulldog of a man.
If this is indeed the end for Joey Barton, perhaps it's one befitting of his career. While another of the league's controversial players, John Terry, looks to be going out with another Premier League winner's medal, Barton is leaving in the only way he knows how: amid controversy.
Au revoir, Sweet and Tender Hooligan. Until the next time