Rogue Sport of The Week: Steeplechase with Priya Crosby
Devarshi Lodhia finds out about the hurdles and pitfalls of steeplechase with Priya Crosby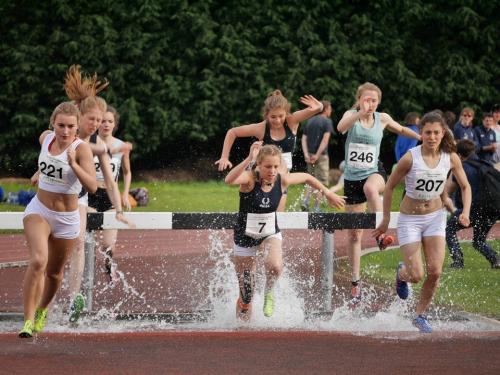 Athlete Profile
Name: Priya Crosby
College: St Catharine's
Degree: PhD Molecular Biology
Hometown: Norwich
Priya Crosby has potentially the most impressive sporting resume of anyone we've profiled for Rogue Sport, having represented the University in Varsity Swimming, Triathlon, coxing in the Lightweight Women's Boat Race as well as racing in the European Triathlon Championships for the Great Britain age group team in 2014.
Having come to athletics and steeplechase most recently, she has raced in the Athletics Varsity Match every year since 2014 and will be competing again on Sunday 14th May in the 143rd Oxford vs Cambridge Varsity Sports at the Wilberforce Road Athletics Track. 
Can you give us a brief summary of steeplechase?
Steeplechase is two or three kilometre running race on the athletics track, which is complicated by having five solid barriers to get over every lap. Unlike the hurdles, there is no regulation about how you get yourself over the barriers in steeplechase, provided that you do go over them (rather than under or around). If that wasn't weird enough, one of the barriers has a water-filled pit after it, known as the water jump. 
"You can train for running, but I think that a willingness to fling yourself over things in to water might be a bit more innate!"
How did you first get into the sport?
Somewhat by accident! There was an email sent round to a number of the university sports teams in 2014 asking if anyone wanted to try out for the steeple for Varsity, as they were low on athletes. I was mostly doing triathlon training at the time, but I had always enjoyed the hurdles at school (despite being rubbish at it), so I volunteered. Once I was in, I found that CUAC had such a friendly and supportive atmosphere that I stuck with it!
What's the hardest thing about the sport?
Winter training. It's very cold.
What traits help facilitate success in steeplechase?
I reckon probably an optimistic outlook and a touch of fearlessness. You can train for running, but I think that a willingness to fling yourself over things in to water might be a bit more innate!
What kind of training schedule do you have?
Quite a busy one, as I'm juggling a couple of sports! It varies winter to summer, but right now, it looks something like:
Monday morning: Run - 30 mins
Monday evening: Track session (with hurdles)
Tuesday: Steady run - 60 mins
Wednesday: Swim - 90 mins
Thursday morning: Run - 30 mins
Thursday evening: Track session (with hurdles)
Friday: Swim - 90 mins
Saturday morning: Track session (with hurdles)
Saturday evening: Cross train/run - 45 mins
Sunday morning: Run - 30 mins
Sunday evening: Swim - 60 mins
I would like to add that this is definitely not a typical schedule for someone doing steeplechase or university athletics – I just really like sport. For someone who wanted to just give steeplechase a try, training everyday, let alone twice a day, would definitely be excessive!
Who are the biggest names in the world of steeplechase?
For the women, Ruth Jebet (Bahrain) is the current world record holder and has put in some superb performances, including winning Olympic Gold by miles last year, despite a pretty weird hurdling style. For men, the Kenyan team has been pretty dominant for years, with people like Ezekiel Kemboi and Conseslus Kipruto; eight of the ten fastest ever times were recorded by athletes running for Kenya.
And how do you reconcile a Cambridge workload and your training schedule?
I actually find that training is a really good release from the pressures of Cambridge life – I'd probably go nuts without it. I'm lucky in having a PhD supervisor who appreciates that his students will have interests outside the lab, which is a huge help, as he doesn't seem to mind my being in the lab at odd hours to fit around training, provided that I am still doing a sensible quantity of work. I also have a very supportive boyfriend who is generally willing to help out with practical things when work and training mean that I might not have these basics covered.
What's the state of the sport in Cambridge?
I'm very surprised that there aren't many more people doing it! Currently, there are only a handful of people that I know about who are dabbling in it a bit. The facilities are there, so I can only assume that it isn't well publicised.
How might you persuade somebody interested in steeplechase to get involved?
Get them down to the track on a nice day to give it a go! Even if you don't think that you're the world's best runner on the flat, the barriers in steeplechase mean that it's more about being robust that all-out speed. And there's almost nothing better than being at the track when the sun's out.
This interview has been edited for length and clarity