Women's Blues hit for four by Oxford
Cambridge were left stunned by a superior performance from their bitter rivals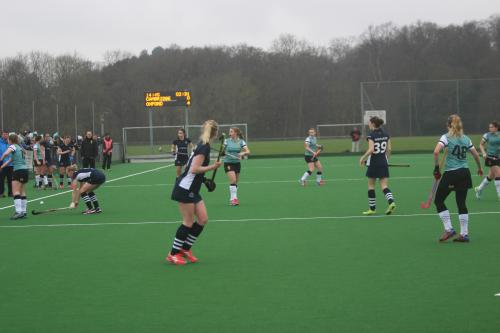 University of Cambridge 0
University of Oxford 4
Women's Blues Varsity Match, Southgate Hockey Club
The 117th Varsity Hockey Match proved to be a day to forget for Cambridge University Hockey Club Women's Blues, who were comfortably second-best to an impressive Oxford University Hockey Club throughout Sunday afternoon at Southgate Hockey Club. The final scoreline of 4–0 did not flatter the Dark Blues and reflected their clinical and sharper performance against an uncharacteristically under-par Cambridge.
The Light Blues came into the big fixture seeking to regain the Varsity title that Oxford had snatched from them last year, but they found themselves behind their opponents' intensity in possession and territory from the get-go. This was perhaps to be expected as business as usual. After all, Oxford captain Naomi Kelly highlighted in her programme notes her team's "difficulty to convert our dominating style of play and opportunities into goals", typified against Cambridge in their BUCS match in January.
But, safe to say, the Dark Blues rectified this weakness resoundingly in the most important match of the season. With barely three minutes on the clock, Oxford won their first short corner and wasted no time in making their chances pay, as the injection was expertly flicked into the bottom right corner by Imogen Brown to send the Dark Blues on their way.
This inauspicious start for Cambridge did not get much better as the match wore on. The Light Blues were too careless in possession in the early stages, and perilously so in their own half when Hatty Darling was robbed by Sophie Shakespeare on the left. Only Freddie Briscoe in the Cambridge goal spared her team from shooting themselves in the foot. On the other hand, Oxford took care of the ball much better, with Naomi Kelly and Siobhan Stewart serving as fulcra around which Dark Blue possession pivoted. For a dysfunctional and out-of-sorts Cambridge, territory in and around the Oxford D was hard to come by, with too many balls sailing harmlessly through to the by-line and not enough sustained possession to supply a rather isolated attack.
Oxford's superior play bore fruit again when Philippa Nicholls doubled their lead, an eye-catching, mazy dribble down Cambridge's right wing, leading to her cutting inside and firing into the goal, despite the desperate attempts of retreating Cambridge defenders.
It soon went from bad to worse for the Cantabs. Oxford's player of the match, Georgina Whitaker, embarked on a powerful solo dribbling effort which beat and drew fouls from three Cambridge defenders, leading to another short corner. Briscoe pulled off a magnificent save, plunging to her right to deny Brown, but the ensuing scramble for the rebound was bundled in by Shakespeare for 3–0. The Light Blues, along with their supporters, seemed shell-shocked, and could only mount some more spasmodic attacks which petered out before the half-time hooter.
Cambridge had a mountain to climb, but they did make efforts to scale it at the beginning of the second half. Incisive dribbling from Lucia Corry, a few short corners and a narrowly wide shot from Molly Buxton indicated the first protracted period of pressure Cambridge sustained all game, and Rachel Dellar in the Oxford goal was finally called upon to make a save of any description following a sharp reverse-stick shot from captain Faye Kidd.
Oxford's fourth goal, however, arrived at the perfect time to burst the Light Blue bubble. Devastatingly penetrating link-up play and dribbling between Annabel Koehli and Whitaker sliced through the heart of the Cambridge defence. Briscoe made the save, but only for Alexa Copeland to tuck away another scrappy rebound goal and kill Cambridge's momentum.
At 4–0, Cambridge could not muster a comeback, but will be disappointed not to have scored a consolation goal. Sophie Spink at right-back and Kelly did well to contain the explosive but rather isolated Sophia Padt. When Cambridge did earn more short corner opportunities, their manoeuvres simply did not come off, with Darling and Sally Bradley denied on separate occasions. So when one particularly intricate and well-worked short corner saw Darling's attempted tomahawk scuffed into the air and penalised, it summed up Cambridge's malfunctioning day and underwhelming performance.
The Oxonians almost made it five when Shakespeare was gifted the ball again in Cambridge's 22 after another sloppy concession of the ball, but she fired wide when presented with a clear sight of Briscoe's goal. Georgie Burrows then forced a save out of Dellar from a tight angle but, in truth, it was a regulation save that typified Cambridge' failure to truly test the Oxford keeper all afternoon. One last Cambridge short corner right on the hooter allowed the entire team to surround the Oxford D. Unfortunately, this final chance to come away with a consolation capped off Cambridge's woes, as another scuffed shot fittingly allowed Oxford's centre back and captain Kelly to clear with ease and confirm an overwhelming victory. The Dark Blues had outplayed Cambridge, who never performed to their potential, from start to finish.
An ecstatic Naomi Kelly spoke to Varsity after the post-match presentations: "It's quite a relief, I think – coming out with a 4–0 win definitely tops it all off. We think in earlier matches Cambridge have always been able to break down our play, and we've not really got our passing going in the games. But today we really seemed to find our rhythm, and it worked out and we scored lots of goals."
CUHC: Briscoe, Kidd (c), Bradley, Moore, Shears, Brown, Marsh, Burrows, Padt, Bevan, Darling, Buxton, Corry, Cox, Thorpe
OUHC: Dellar, Kelly (c), Bailey-Williams, Brown, Burnell, Copeland, Donovan, Harrison, Hughes, Koehli, McNab, Nicholls, Shakespeare, Spink, Stewart, Whitaker, Dennison