High-flying Seagulls are ready for a Premier League future
Top-class facilities, financial stability, giving back to their community: all reasons Brighton & Hove Albion deserve Premier League football, writes Andrew Derrett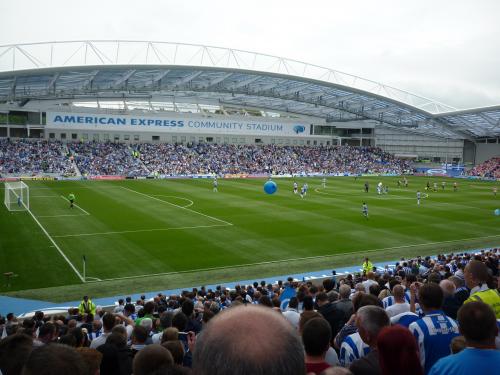 Many football teams around the country seem fit for a life at the top of the national game. Established heavyweights like Manchester United, Chelsea, and Liverpool are almost synonymous with the Premier League – one could barely envisage an English top-flight without them. The rest consist of those battling for survival, and those who sit comfortably, quietly going about their business.
Southampton, Stoke, West Brom: these aren't clubs often involved at either 'business-ends' of the table, and they rarely enthuse or excite a neutral fan. But the truth is, most of the 92 English Football League clubs would bite your hand off if offered to be in the position of relative stability held by these teams. 
And Tuesday evening played host to two second-tier teams harbouring serious hopes of joining that less-than-illustrious group. Newcastle's visit to Brighton was billed as a key battle in the much publicised 'Race for the Premier League', as the Championship's top two locked horns on the south coast. In a broadly even, competitive affair, it was the visitors who walked away with a 2–1 victory, a late double handing them a vital three points and taking them above Brighton to the Championship summit.
"If there is one trait these loyal supporters have in abundance, it is certainly patience"
While the dust settles on a disappointing night for the hosts, there is a strong sense that, in fact, many supporters still have their feet firmly on the ground. After all, one defeat is unlikely to be pivotal in a 46-match-strong marathon season, and the players pushed an undoubtedly Premier League-quality side to their limit.
Indeed, Seagulls fans are no strangers to heartbreak. They have reached the lottery of the Championship play-offs no fewer than three times in the last four years, not making it past the initial knockout stage on any occasion. Last year's defeat by Sheffield Wednesday came after agonisingly missing out on promotion to Middlesbrough on goal difference. So if there is one trait these loyal supporters have in abundance, it is certainly patience.
Close as they may have come, most share the opinion that it is only a matter of time before this rapidly-growing team eventually secures its long-term ambition of playing at the pinnacle of the sport. It has been 35 years since they played in the top flight, so they can wait a few more years yet.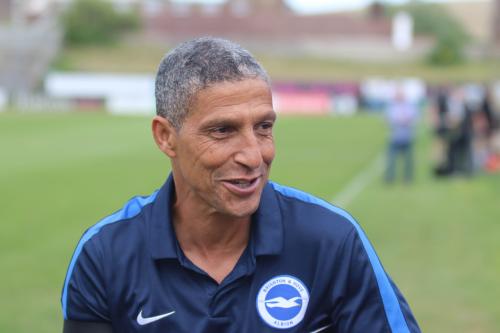 A vast amount has changed around the club in that time. They have been forced out of their beloved home after a bitter dispute with the board, have secured their league status by the skin of their teeth, and have had to play home matches at Gillingham – a 140-mile round-trip from the city – and at a temporary 7,000-seater athletic track.
So Tuesday's 30,000 sell-out at the state-of-the-art American Express Community Stadium just goes to show how far the club has come. With their new training complex in nearby Lancing completed just last year, all the pieces are in place to attract a crop of world-class players to the south coast.
The structure and ethos of the club has often been set as a model for other teams in recent years. Sustainability and equality sit at the heart of everything they do, from the chairman right down to the staff and players. They made a very shrewd appointment in CEO Paul Barber, whose grounded nature and financial know-how always kept the long term ambitions of the club above short term success. In a sport struck by the new rules on Financial Fair Play, the club has had to be very careful with how it has managed its significant yearly losses. If this has caused frustration among fans, some of whom are disappointed by the lack of funds available for player recruitment, one only has to point them to a team like Blackpool, or more recently Aston Villa, to see what the potential repercussions could be. Brighton's entire team on Tuesday had a value less than that of Newcastle's Aleksandar Mitrović alone.
The atmosphere around the town and in the stadium is also one of inclusivity and friendliness. Families, women, and children, all are welcome and comfortable on a match-day, and the noise generated in a full Amex Stadium manages to be raucous yet far from intimidating. This has been a vital ambition of the club in order to attract a new crop of young fans to the team that now has the home it deserves. With a catchment area as large as Brighton's, the team should have no problem, if things continue as such, in filling their ground week in week out.
Off the football pitch, the club's charity work is almost second to none. The official charity 'Albion in the Community' repeatedly wins local and national awards, and has its goals firmly in line with the club's ethos of diversity and equality. It may not seem as though these aspects of a football club are immediately relevant to sporting success, but for the whole image of the club, this community work is of vital importance. It says a lot, for example, that in Chris Hughton they have one of only a handful of black managers in the English game.
But, alas, that final piece of the footballing jigsaw is yet to be put in place: promotion. Things have been looking good for a few years now, but the general consensus is that 'this is the year'. The team has been jostling for the Championship lead for almost the entire season, and it would take a more than significant fall from grace to deny them their Premier League dream for another year. Nothing is certain of course, and the supporters may have to keep exercising their well-practised patience, but it is surely just a matter of time before the city can boast the top-flight football club it so dearly craves