Cambridge on cusp of Lacrosse Trophy glory
The CULC men put their visitors to the sword and set up a final against Edinburgh on 22nd March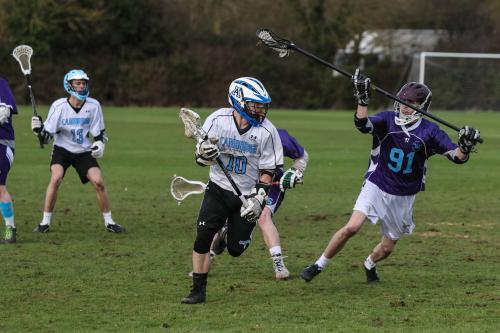 University of Cambridge 16
University College London 7
BUCS Lacrosse Trophy semi-final, Queens' College Sports Ground
The Cambridge University Lacrosse Club men's team sealed their place in the final of the BUCS Lacrosse Trophy on Wednesday afternoon, overcoming early adversity to resoundingly defeat University College London 16–7 in their semi-final. A date with destiny now awaits the men's Blues against the University of Edinburgh in the final on 22nd March.
The Blues came into the match in prolific goal-scoring form, netting 30 goals in their two previous Trophy fixtures but perhaps still smarting from letting a three-goal lead against Oxford slip in last weekend's Varsity match. Their Trophy form, though, seemed to pick up from where they left off in the opening plays. Matt Johnson, Pete Baddoo, and Jacob Schafheutle-Evans were at the centre of patient passing in the UCL restraining box before playing in Zac Dannelly, who, storming in from the X, opened the scoring with the first of his 10 goals during the day.
Cambridge's early lead, however, was quickly eliminated, as UCL hit back and had the upper hand for the majority of the half. Another Dannelly goal made it 2–2 at the end of the first quarter, but the second quarter was characterised by UCL dominance in possession but profligacy in front of goal. Quin Carr hit the bar and Arthur Stacey missed when through on goal, but UCL's offensive potency eventually began to tell as they opened up a 5–2 lead. Quicker to clear and raid upfield at Cambridge's breakdowns, and more aggressive when contesting loose balls, UCL's Matt Hughes and Stacey each bagged a brace after some slick passing and lightning-quick fast breaks that left the Blues' defence exposed.
Against the run of play Cambridge were thankful to reach half-time level at 5–5, with Dannelly scoring all five. His third goal was particularly eye-catching, cradling the ball and slaloming his way past multiple UCL defenders en route to goal, while the fifth was a ruthlessly dispatched low crank shot that Sam Hayes in the UCL goal had no hope of saving. The Blues had recomposed well to achieve parity at half-time, and, despite their tactical timeouts, UCL could not work how to contain Dannelly all afternoon.
The Dannelly one-man goal-scoring show resumed in the third quarter, his power and pace shooting Cambridge into a 7–5 lead after a leaping shot and another finish coming in from the X. But this was no one-man team: Cambridge's momentum kept gathering, and UCL struggled to handle it. Johnson punished the flagging visitors to score two goals in quick succession after good build-up play from Cambridge, who soaked up pressure and earned their offensive opportunities, which they then did not pass up. At 9–5, Cambridge had scored seven goals without reply, taking the wind out of UCL's sails from which they never truly recovered. Enjoying a healthy 11–7 lead going into the final 15 minutes, the Light Blues now had the visitors at arm's length.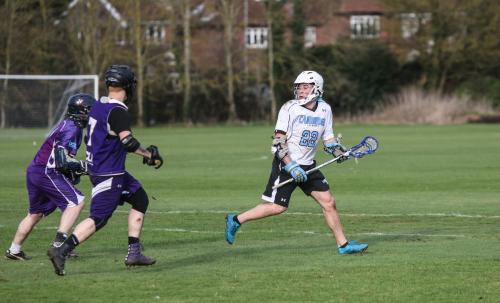 Having done the hard work to come back, Cambridge could pick off their now desperate opponents. Following some robust defensive checking, the Blues scored six unanswered goals before the final whistle. Baddoo helped himself to two goals, the second a rocket that flew into the top corner after Hayes had made a terrific save, and Johnson added another to his tally. However, the ever-destructive Dannelly could not be kept out of the game, netting thrice more, his tenth goal arriving on the stroke of full-time. The final scoreline of 16–7 perhaps did not do justice to UCL's early ascendancy, but it undoubtedly attested to Cambridge's resilience over the entire 60 minutes and offensive prowess. Only formidable opponents Edinburgh now stand between the Blues and the BUCS Trophy.
In his post-match interview, UCL captain George Edison sportingly conceded Cambridge's overall superiority: "It was a very competitive first half, but then in the third quarter they got some momentum, and in the fourth we just let them run through us. We didn't really play our game and didn't do what we wanted to do on the pitch. But Cambridge played really well – we wish them luck in the final."
Cambridge captain, Matt Coley, also assessed the day's action with Varsity: "We usually start off slow, but in the second half we clicked together, sorted our offence, and figured out how they were defending it. We tend to run over teams in the second half, so it was a good performance."
"We felt a little bit rattled, conceding three goals at the end against Oxford and having to draw the game," he admitted. "Here, we didn't want to do that – we felt that UCL could come back at any moment, so we really didn't want to make the same mistakes. We just closed out the game this time and that worked really well."
Looking towards the final, the Girtonian wasn't getting ahead of himself: "We have tough opposition – Edinburgh are probably one of the best teams in the country right now – so we're going to try and hit them hard, shock them a little bit, and do our best."
CULC: Coley (c), Baddoo, Dannelly, Swarbrick, Lidiard-Phillips, Schafheutle-Evans, Barrie, Chalken, Trueman, Sutcliffe, Grubman, Twomey, Matson, Crocker, Johnson
UCL: Edison (c), Mclaughlin, Colville, Scales, Hughes, Penman, Carr, Hayes, Cheetham, Price, Spiro, Burke, Morton, Aston, Pattinson, Stacey, Phelan