Cambridge women's basketball Blues edged out in epic encounter
The home side fell to a 57–52 defeat in overtime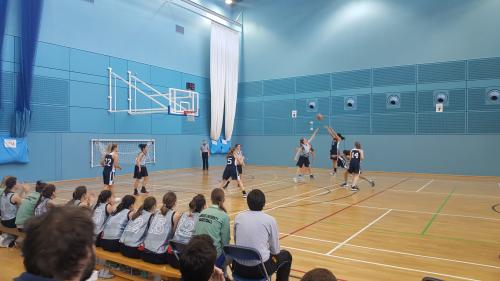 University of Cambridge 52
University of Oxford 57
Blues Varsity Match, University of Cambridge Sports Centre
Oxford claimed their first women's Basketball Varsity triumph in four years after a classic 52–57 overtime victory on Sunday afternoon.
Amid almost unbearable tension, outstanding Cambridge forward Leonie de Jonge landed a desperate score with 9.3 seconds left of normal time to tie the game up at 46 apiece, and take the game to a five-minute overtime period. But Oxford were not to be denied a deserved victory, as it was left to the pair of Sorcha Brown and Sasha Truong to score the pivotal scores as the Light Blues' bold efforts fell agonisingly short.
There was a poignant moment pre-match, where a minute's silence was held for the tragic passing of ex-Light Blues President Sophie Miller at the age of just 26, who lost her battle against a rare blood disorder after a bone marrow transplant in December of last year.
Women's coach Amalio Fernandez Pacheco would have dearly loved to have been able to dedicate a Cambridge victory for the late Miller, and could have asked no more of his players who ultimately gave their all to no avail.
The opening two quarters were in general dominated by the visitors, whose superior ball retention and handling proved too much for the Cambridge defence to resist. To their credit, the hosts managed to keep in touch thanks to their clinical forward play, and smartly drawing personal fouls to break up Oxford's rhythm.
Mixed with very accurate shooting, this meant that despite largely being on the back foot, Cambridge managed to keep their opponents within sight. The punishing accuracy of Sorcha Brown's efforts was a permanent pest to the hosts' endeavours though, and she aptly nailed her umpteenth long range effort just on the buzzer to give Oxford a 23–29 lead at the interval.
The third quarter began at a significantly slower pace, but a series of huge three-pointers from each side soon changed this. Possession began to change hands quicker and quicker, with the quality evidently dropping as the pressure mounted. Some jittery free throws followed, with both benches calling timeout in an attempt to calm their players down.
The remainder of normal time followed a similar pattern. The agile Sasha Truong, evidently the most gifted player on the court, controlled proceedings for Oxford, whose high-intensity game kept the Light Blues at bay.
But those who thought this match would ebb into a routine away win, would be very wrong. The home side used every ounce of their dwindling energy supplies to haul themselves back into the contest; rebounds suddenly fell to Cambridge hands, and long-range efforts started to drop in.
And so, as de Jonge tied up the game with barely 10 seconds left, this classic Varsity encounter was given the dramatic overtime conclusion it deserved. It was anyone's game, with the awe-struck spectators feeling every pass, cheering every score, and biting every nail.
Careless personal fouls from the away side gifted the hosts a 51–47 lead in overtime, who were dreaming now of an unlikely triumph. But, as had proved throughout the match, the pin-point shooting of Brown rapidly took the game away from Cambridge. A punishing three-pointer met a loud Oxford cheer, who knew now that they had done enough to clinch the win. The final whistle brought to an end a 52–57 thriller, sparking jubilant scenes which will live long in the memory, regardless of persuasion.
While it is the darker shade of Blue that walks away victorious, Pacheco will be nothing but proud of his team's efforts. A talented and technical Oxford side were a force to be reckoned with, so to test them as fiercely as Cambridge did was a very impressive performance.
But this was a victory the away team deserved, and Oxford coach Simone Rinco will know that, had his team been less careless and de Jonge less inspired, the margin of victory would have been significantly larger.
This was a day where the sad passing of one of the players' teammates and friends should be remembered above all else, and this encounter gave her the send-off she deserved.
CUBC: Monti, Matargka, Logan, Rios, Gomez, Navarro, Hecher, Hunt, Ratican (C), Garter, de Jonge, Hildt, Illingworth, Lees
OUBbC: Brown, Williams, A Williams, Howard, Kolb, Truong, Schmid (C), Vasylyeva, Hagman, Lyonette