Cambridge Powerlifting Club raise the bar against Oxford
The Light Blues scored over 100 points more than their fierce rivals to bring home the Varsity title, writes Devarshi Lodhia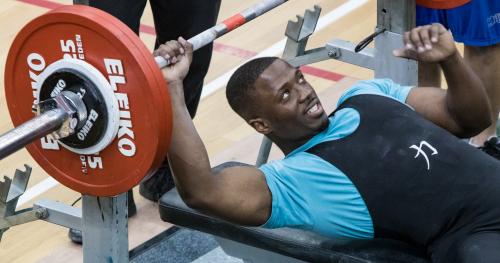 University of Cambridge 2458.92
University of Oxford 2316.42
Powerlifting Varsity Match, University of Cambridge Sports Centre
The University of Cambridge Powerlifting Club (CUPLC) extended their dominant run over Oxford University Powerlifting Club (OUPLC) to record their 5th consecutive Varsity victory in front of a fervent crowd on Sunday at the University Sports Centre. Cambridge comfortably out-lifted Oxford throughout the day to claim the trophy, with the top six lifters scoring a combined 2458.92 Wilks points to Oxford's 2316.42.
The Wilks Formula is a coefficient that can be used to measure the strength of a powerlifter against other powerlifters despite the different weights of the lifters. It creates an even playing field between light and heavyweight lifters – the lighter lifters tend to have a higher relative strength level in comparison to the heavyweight lifters, who tend to have a greater amount of absolute strength.
Cambridge's dominance was clear from the outset with Dennis Mubaiwa, Salman Khan, and Frank Sanders all putting in impressive performances on the squat rack. Mubaiwa's crowd-teasing antics provided the undoubted highlight of the opening round: seemingly struggling to lift 207.5kg, he admirably recovered to effortlessly complete his squat with a knowing smile and nod to the crowd, setting the tone for what would be a series of emphatic lifts for the Wolfsonian. Sanders comfortably squatted the most, displaying Herculean strength to register 242.5kg on his first lift and 262.5 on his second, beating his previous Varsity record of 260kg set last year and setting a new club record in the process.
Club captain Salman Khan again showed his dominance once again on the deadlift where, with a casual brush of his hair behind his ears, and while talking to the judges, managed to lift 272.5kg with seemingly minimal effort. Once again it was Frank Sanders who lifted the most overall with a 310kg deadlift. Much to the crowd's amazement, he attempted to break his previous record of 320kg by attempting a 325kg deadlift – and using most of the plates in the process – he was, however, unsuccessful in his final lift of the day although his efforts elicited the loudest response of the afternoon.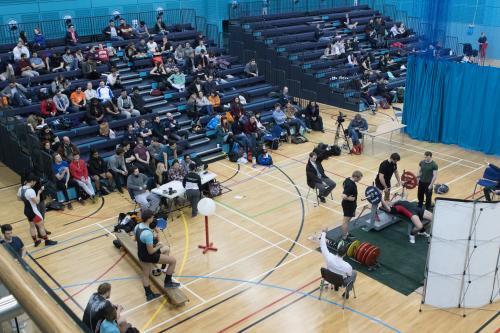 Elsewhere, Suzanne Goulder put in an outstanding overall performance, besting her previous competition record by an astounding 17.5kg with a 112.5kg squat, 65kg bench press, and a 140kg deadlift for a 317.5kg total and 347.3 Wilks points to achieve a half-Blue, while three new athletes, Zakir Khokher, Giovanni Braghieri and Kevin Tan, managed to achieve full Blues with Wilks scores of over 375.
Speaking exclusively to Varsity, Dennis Mubaiwa expressed his frustration at his own personal performance: "I thought I made incredible progress with my bench-press during training, I only managed to legally press 140kg. Based on my training, I should have managed at least 155kg." He continued: "it would have been nice for Cambridge to lock-out the top three for Cambridge, but the Oxford captain [Jamie Vickers] just beat me out so I ranked 3rd in the team behind Frank 'The Tank' Sanders and Sal 'King' Khan".
Up next for Cambridge is the British University Championships on 31st March, where they hope to retain the title for the fourth consecutive year. Currently ranked second in the world and with an especially strong line-up this year, Cambridge will be favourites going in to the championship, victory in which will ensure qualification for the University World Championships in South Africa.
Top Six Wilks Scores:
Cambridge:
Salman Khan (79.9 kg) – 444.08
Frank Sanders (112.8 kg) – 428.73
Dennis Mubaiwa (79.4 kg) – 413.32
Ali Ghareeb (77.7 kg) – 400.03
Jakub Wrazen (89.8 kg) – 393.05
Kevin Tan (69.7 kg) – 379.71
Total: 2458.92
Oxford:
Jamie Vickers (78.2 kg) – 417.35
Atamli-Ahmed Reineh (101 kg) – 400.09
Aron Hegedus (90.5 kg) – 385.14
David Jia (82.3 kg) – 375.7
Wang Kwang (79.3 kg) – 370.71
Andre Becker (68.3 kg) – 366.62
Total: 2316.42