It's time to introduce a Six Nations relegation play-off
The emergence of countries like Georgia as contenders in world rugby threatens to shake up the sport's traditions, writes Ben Cisneros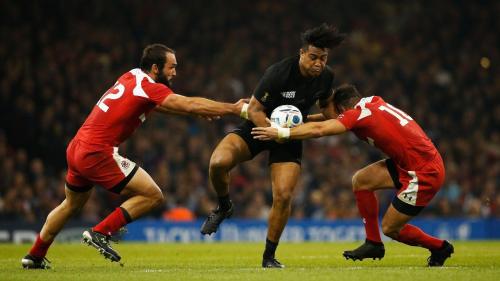 When Italy travel to Twickenham this weekend, they could be in for a real hiding. Coming off the back of a 63–10 drubbing in Rome at the hands of the Irish, Conor O'Shea's men will be desperate to put in a better performance but, with England seemingly intent on "taking Italy to the cleaners", what chance do they really have?
There have been signs that Italian rugby is on the up. A shock victory over South Africa in the autumn was followed up by a strong first 40 minutes against Wales at the start of this year's Six Nations, suggesting that, under O'Shea, the Azzurri might have turned a corner. Some individual performances have merited high praise and in Sergio Parisse they have a supremely intelligent and talented number 8 – one of the best in the world.
But that's not the whole story. The week after beating a South African team in their worst form for decades, Italy lost to Tonga. They were thoroughly outplayed by a below-par Wales side in the second half of that fixture, and in November were thrashed 68–10 by New Zealand. While there's no shame in losing to the All Blacks, there are signs that it might be business as usual for the Italians. The way that they were torn apart by an,admittedly ruthless Irish side does not bode well for Sunday's trip to Twickenham.
In the interests of the tournament, one hopes there won't be a repeat result and, with Conor O'Shea at the helm, Italy should be more competitive. If they are not, however, calls for relegation are likely to resurface.
The case for relegation has been knocking about for some time now, given the domination of Georgia in Europe's second-tier tournament, the first division of the Rugby Europe International Championships. Georgia have won the tournament six years in a row, and are this year's leaders after two rounds of games. Italy, by comparison, have finished bottom of the table 11 times in the 17 years since they joined the Six Nations in 2000.
"For those in Georgia's division, having a higher level to aspire to would give teams something more to work towards"
But it's not a debate about Italy vs Georgia. Any team finishing last in the Six Nations ought to justify their inclusion by showing that they can beat the best of what Europe's second tier has to offer, whether that be Italy or England. So why not have a relegation play-off – rather than automatic relegation? The Six Nations is supposed to be Europe's best International Rugby tournament, so why not ensure that this is so? A one-off game in – probably – Tbilisi would do just that.
A relegation play-off would be mutually beneficial for both tiers of competition. For those in Georgia's division, having a higher level to aspire to would spur on development and give teams something more to work towards than just World Cup qualification every four years. At the same time, it would give the Six Nations an extra edge, as teams would be desperate to avoid the drop. The added incentive for both tiers would only be positive, and would help to secure the competitive future of the sport. 
The previous World Rugby chairman, Bernard Lapasset, in 2016 called for the tournament to "open up and take on a relegation and promotion system," adding: "We must quickly give a vision, a hope for the other teams out there."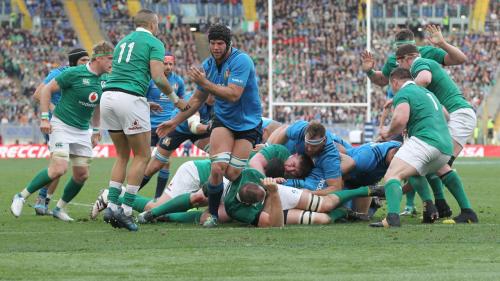 Look at Argentina. Their development since joining the Southern Hemisphere's Rugby Championship alongside New Zealand, Australia and South Africa has been notable, with regular top-level competition and greater investment clearly making the difference, with the Pumas reaching the semi-finals of the 2015 World Cup, beating South Africa in 2015 and 2016, and even overcoming Australia in 2014. Their improvement has added much to the rugby world and if nations such as Georgia were given the opportunity to play against Europe's best, there is no reason why they could not follow a similar path, enriching the sport globally.
But such a change has, so far, been resisted by the powers that be in the Six Nations, who are perhaps afraid of upsetting the established order of things. But, as Georgian Rugby Union general secretary Lasha Khurtsidze has noted: "Unless they want [the World Cup] to be contested by 10 teams, [World Rugby] need to give others the chance to grow. Georgians are passionate about the game."
In January this year, Six Nations chief executive John Feehan stated that relegation would not be introduced in the "short to medium term". Perhaps those who run the competition don't consider Tbilisi as attractive a venue for travelling fans as Rome, and presumably do not view it as being in the tournament's commercial interests. It is clear that this is an example of money – rather than rugby – doing the talking.
But that's at odds with the values of the game. As George Nijaradze, Georgia's representative on the World Rugby council, stated in an interview with The Telegraph this week, "you cannot run rugby like a VIP club and then talk of fairness and values." He insists the country is ready for tier-one competition, adding that "we have the full support of the government and the private sector".
And a relegation play-off would actually be commercially beneficial. Certainly, the play-off itself would attract much media attention and would be another well-attended, money-spinning fixture. Similarly, in Georgia, the infrastructure is in place, as the Central Stadium holds almost 55,000 spectators, and rugby is the country's national sport. 
As Nijaradze explains, "Tbilisi is a beautiful city with many of the oldest cultures in the world. The supporters from England, Ireland, France, Scotland, Wales and Italy will come and enjoy the rugby, enjoy the city and enjoy the wine from the oldest wine-making country in the world." The Six Nations tournament would be exposed to a new market, as viewers in nations such as Georgia and Romania will have a vested interest in following it, while their passionate supporters would be sure to travel to matches both home and away.
There is the valid concern that, in the modern game, we need to reduce the number of fixtures annually, to take better care of players, and a Six Nations relegation play-off would be yet another fixture to be fitted in. Yet a match with such meaning and importance is surely more worthy of a place in the global calendar than a random summer tour match, or autumn international.
It is hard to see why this wouldn't be a good idea. Georgia deserve to be able to fight for what is rightfully theirs: a spot at the top table of European rugby