World Rugby's 'new tougher approach' won't do enough to protect players
Rugby columnist Ben Cisneros argues World Rugby's new ruling on tackles could be counter-productive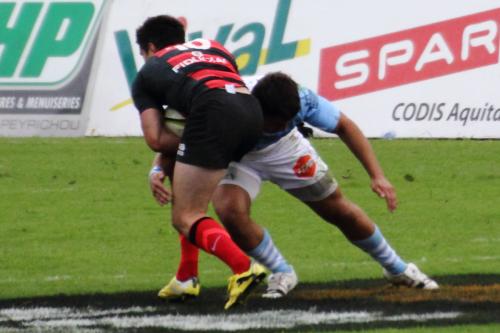 On 3rd January 2017, World Rugby's new laws "to address reckless and accidental tackles" came into effect, to mixed reception. They have been introduced in a bid to improve player welfare – particularly with regard to concussion – which World Rugby have repeatedly described as their number-one priority.

But to many, the new rule is heavy-handed. Though they have largely been implemented with common sense so far, some uncertainty remains, and I am unconvinced that this really is the best way to tackle player welfare issues.
World Rugby have branded the rule change a "new tougher approach" to reckless and accidental head contact. A reckless tackle has been defined as one where a player "knew or should have known there was a risk to the opponent's head, even if the tackle started below the line of the shoulders". This will see a minimum of a yellow card, while factors such as greater speed and force of the tackle could earn a red card.
An accidental tackle is one where a player makes "accidental contact with an opponent's head", for which the minimum sanction is a penalty. Although these are not drastic changes to the letter of the law, it has been made clear that referees are going to hand out both yellow and red cards more readily from now on, in a bid to stamp down on dangerous play.
During an appearance on BT Sport's Rugby Tonight programme last week, international referee Wayne Barnes gave excellent insight into how referees will be dealing with the new laws, stressing that a holistic and common-sense approach needs to be taken when sanctioning foul play. He also emphasised that the new laws are aimed at encouraging players to tackle lower, thereby reducing the risk of tacklers making contact with the head.
This is, of course, a laudable aim. The evidence of the impact of concussion on the short- and long-term health of players is there for all to see, and it is important that something is being done to discourage dangerous play.
"Encouraging players to tackle lower may itself lead to further head injuries. If players are focused on tackling low, they are more likely to put their heads down, where they are susceptible to being struck by a knee."
It is clear, though, that some uncertainty remains. In the Premiership match between Saracens and Exeter earlier this month, a horrible incident saw Exeter's Geoff Parling knocked out following a swinging arm from Saracens' Brad Barritt. As Parling fell to the floor, Barrington – a Saracens player coming to assist the tackle – made contact with Parling's head. Although a later disciplinary panel found that Barritt should have seen a red card, and Barrington been unpunished, the result on the day was the other way around: Barrington was shown red, whilst Barritt escaped sanction.
Given World Rugby's new guidelines, Barritt can count himself very lucky not to have been red-carded, while Barrington's accidental contact could easily have resulted in a yellow card, given the force involved. Prior to 3rd January, Barrington's contact would likely have been deemed accidental and may have avoided sanction altogether; there was nothing he could have done differently, as Parling fell into his shoulder.
In another incident during this month's Champions Cup, Sale Sharks' Kieran Longbottom was shown a yellow card after Toulon's Guirado almost jumped into a tackle and was flipped over onto his shoulder. Like Barrington, Longbottom could not have done anything more. He went low and used both arms: it was a textbook tackle. If the new laws are to be respected, greater consistency is needed.
England fullback Mike Brown tweeted: "Dangerous tackle?!?! Surely you can't jump into a tackle causing yourself to be flipped?! What's the defender supposed to do?! #ridiculous". In a later reply he then made the valid point that "every low tackle I'm going to jump & flip myself, every higher tackle I'm going to duck my head….." 

It is hugely debatable whether 'accidental tackles' can truly be discouraged through sanctions. Although players will try to be more careful, by tackling lower, it is inevitable that in a sport such as rugby, accidents will still happen. If a penalty needs to be awarded for symbolic purposes to acknowledge that contact with the head is prohibited, then players will probably be able to accept that. But yellow, or even red, cards for making contact with the head by some freak accident – as in Barrington's case – do not seem fair, nor constructive.
Worse still, encouraging players to tackle lower may itself lead to further head injuries. If players are focused on tackling low, they are more likely to put their heads down, where they are susceptible to being struck by a knee, or making contact with a hip. I would suggest that more head injuries are caused to the tackler, than by the tackler. As a case in point: during the Saracens vs Exeter game, five players sustained head injuries, but only one was due to a reckless tackle.
On his return to action at the beginning of this year, Wasps' James Haskell was knocked out within 35 seconds, after getting his head in the wrong position when making a tackle.
Although World Rugby's new rules will encourage more cautious tackling, perhaps greater emphasis should be placed on improving tackle technique and on the protocols regarding suspected concussion.
The past few weeks have once again raised questions on head injury protocols. Sale are being investigated after TJ Ioane appeared to suffer a knockout in a tackle against Harlequins before being allowed to play on. And earlier this month, Munster's Conor Murray was allowed to return to the field in his team's match against Glasgow, having been clearly knocked unconscious, but somehow passing the pitch-side Head Injury Assessment.
This is unfathomable. If it is even suspected that a player has lost consciousness, they should be removed permanently from the field of play, and should not be allowed to play again until they have been through all of the return-to-play protocols.
Accidents and injuries are inherent in contact sports. If we want to eliminate them from the game, then 'touch rugby' is the way forward. No-one is going to argue against heavy sanctions for reckless challenges, but rather than sending players off for accidental head contact, World Rugby should perhaps focus on how players are treated when the inevitable injuries occur