Guy Mowbray: 'Once the game's started, it's all about reacting to what you see'
Keir Baker talks scripting, statistics, and Sergio Agüero with the man behind the Match of the Day microphone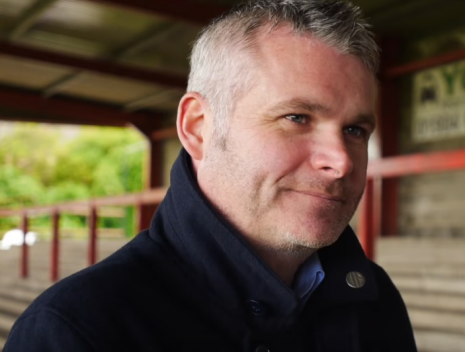 "Ooh I don't know – there's a long way to go until I get there," laughs Guy Mowbray, as I suggest that those of my generation might well consider him to be the voice of football.
"It does come down to eras actually: I think of myself and my contemporaries as just filling the gap because the people I grew up with – John Motson and Barry Davies – don't do it anymore."
But Mowbray could hardly be described as a mere stop-gap. Since the turn of the century, it has been rare to find football coverage on terrestrial TV without the Yorkshireman's voice. Indeed, his reaction to Manchester City's Sergio Agüero scoring a last-minute winner in 2012 to secure the Premier League title has gone down in commentating folklore, much to his bemusement.
"I hate the commentary… I wish I'd done it better and wish I'd done it differently. I got praise for it, but I don't know – I don't like hearing it. But…you just react to what you see and I was doing my nut."
And Mowbray is well on the way to becoming one of English football's great voices. Alongside his 15 years' commentating on Premier League highlights for both the BBC and ITV, Mowbray has also been behind the microphone at every major tournament since Euro 2000. Then, at the 2010 World Cup, he succeeded Motson as the go-to man for the BBC's coverage of the England national team.
That said, the national side's recent performances might have left the job feeling like a poisoned chalice – never more so than at England's humiliating defeat to Iceland at Euro 2016.
"I have never felt as low as after Iceland," Mowbray admits. "I started to think 'I've covered the England team for a good few years now and I'm going to retire because I think it's me… it's my fault.' Plus, [covering England] leads to extra pressure, extra scrutiny and sometimes I think I'd rather do other games with less focus. But then the next day, I think 'what if they went and won something?' There's no chance I'd want to miss out on that."
"Football and politics: two things you should never bring up at a party."

Guy Mowbray
Mowbray is a true England fan; he possesses that eternal optimism that one day soon, the national side will defy the odds and bring a major international trophy back to Wembley. Like the vast majority of the country too, he also has a club team that he follows with the loyalty of a lifetime fan.
And though Mowbray has not commentated on his beloved York City for a long time, like many other commentators he has experienced accusation of bias in one form or another. While the Minstermen may not be featuring on Match of the Day anytime soon, I suggest it may be hard for commentators in the modern world of sports betting to escape teams they have some kind of investment in, financial or emotional.
Mowbray is quick to dismiss this, however. "The level we're all at on national television means it's irrelevant. It's almost like being a player [who] plays for different clubs. The club they supported doesn't ever leave them, but it's not relevant – they're just a professional doing their job. It's the same with commentators: people think they can guess [who we support] based on our commentary, but they can't. They just hear things based on their own bias… As a commentator, you go on auto-pilot: it's just one team against another. The only exception is England where, if anything, you can be more critical of the players [while] still subliminally making it clear that you'd really rather like them to win."
When I mention the criticism that commentators face, Mowbray seems torn. For the most part, he accepts that it's an inevitable part of his job, particularly given the rise of social media: "You're under as much scrutiny as anyone ever has been… now it's in your face and it's quite difficult not to look at it." But he is usually quick to brush this aside, observing "it's such an emotive subject, football, perhaps more than anything else in this country. Football and politics: two things you should never bring up at a party."
But he does take time to dwell on the odd criticism in admirably good humour: "It's an irritation of mine that there are still people… who think the Match of the Day commentary is done after the game, and that we script it. I shouldn't be irritated by it – it's technically a compliment."
For Mowbray, the fact that commentators are always avid fans is vital. When I note his Match of the Day colleagues Simon Brotherton and Jonathan Pearce have found success covering track cycling and Robot Wars respectively, he emphasises their knowledge and enthusiasm as a major factor.
"Simon is an absolute expert in cycling and Jonathan knows loads about other sports too," he says. "I used to do a bit of rugby league and a bit of cricket – it's just about the circumstances you find yourself in. If you have the enthusiasm and in-depth knowledge of the sport… you can transfer the other skills over. Personally, I'm reluctant to do something when I'm not absolutely 100% certain I know my stuff."
What Mowbray means by 'knowing your stuff' has shifted from being solely about the terminology and basic rules. The last few years have seen statistics become a major feature of football coverage and, as Mowbray explains, facts and figures have seeped into commentary.
"We use stats because there's almost an unwritten rule that we'll be pilloried if we don't come out with them… There's a lot of pre-match preparation involved in that; it's taken over a little bit and I've reluctantly conformed to that."
I am surprised by this reluctance, given that the young Mowbray spent some time working in a bank and told FHM in an interview that he had "loved statistics since [he] was a boy." He laughs and sighs, almost simultaneously, before choosing his words carefully:
"I am more a maths person, to be honest. I wouldn't say I'm obsessed with statistics, but I do keep stats on all Premier League teams because it helps my job – the process of putting in every weekend of who's played and who's scored helps get things in your mind, even squad numbers. The familiarity is very useful…"
The amount of preparation that Mowbray undertakes before a game was laid bare in April 2015, when a picture of his unbelievably extensive pre-match notes surfaced before a match. But when I mention his tendency to use clever or witty lines on Match of the Day, he is adamant that this is one element of his commentary that he refuses to prepare:
"I learnt [not to] early on when I was covering Sunderland for local radio… I remember saying to myself: 'if Craig Russell scores today, I'm going to say this' and I had it all prepared in my head. And when he did, I delivered this line and I made such a dog's dinner of it – it sounded so false and scripted – that I vowed then [I'd] never do it again."
"Yes, you've got your notes to glance down at and you might semi-script your opening, but once the game's started, it's all about reacting to what you see… if a line goes out and people deem it to be witty then it's something that comes at the spur of a moment."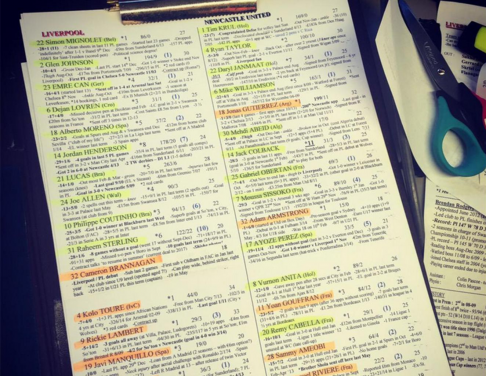 Still, despite the pressures of preparation, there's still the attraction of getting paid to travel the world, watching and talking about your favourite sport. But like any job in journalism, getting into commentary seems to be a tough ask, as Mowbray admits:
"I can't make my mind up whether it's more or less difficult now than when I first started… There's certainly more platforms: every club has their own commentary, plus local radio stations and various internet stations. But to get a look in now, you need some sort of sports broadcasting or journalism degree, and these courses won't necessarily get you a job but might get your foot in the door."
"I don't think anyone can do it – but I would never discourage anyone from trying. Some people just don't have the voice, some people can write brilliantly but maybe can't call it instantly or formulate the words at the right time in the right order. It's something you can't learn as well – you get better as you do it but I don't think you can start from scratch and learn how to."
Nonetheless, Mowbray is happy to offer some guidance for those wanting to follow him behind the microphone. His best piece of advice? Though "you grow up hearing commentary and you assume that's how it's done", it is important not to just copy your predecessors. "I think when you do that, you cause problems for yourself… you can't imitate anybody. You've just got to be yourself; it comes out as it comes out."