The law on dangerous tackles: time to get a grip
Rugby columnist Ben Cisneros argues that World Rugby's new tackling directive goes too far in its attempts to protect player welfare
Brain injuries are serious business. That is why the rugby concussion epidemic is at the forefront of the debate in the sport. 
It is also why World Rugby has issued a new directive to its referees ordering them to be "strict when it comes to tackles, charges, strikes or kicks that make contact above the shoulder line" and to hand out strong sanctions, including red cards for serious acts of foul play. It is why Anthony Buchanan, the chairman of World Rugby's Match Officials Selection Committee, described the necks and heads of players as "sacrosanct", as he clearly outlined the strong stance that the game's governing body will take to "head-high hits".
"By taking this strong approach," he continued, "we are saying to players that tackling an opponent above the shoulder line will not go unpunished". He added: "Even ball-carriers must be careful that they fend off tacklers legally and do not strike opponents with forearms or elbows."
Player welfare is evidently World Rugby's number one priority here. But decisions in the sport over the past month suggest that that the new directive has gone too far. Yes, it is clear that action needs to be taken to reduce the risks of long-term health problems for players. What is less clear, however, is whether the new approach to dangerous tackles is the right way to do this.
The problem is that the policy is far too heavily outcome-based. When England's Elliot Daly was shown a red card against Argentina last month, it was because the player he tackled in the air unfortunately landed on his head.
Later in the game, Argentina's Juan Pablo Estelles took out Jonny May in the air: May landed, by chance, on his side, so Estelles was sanctioned with merely a penalty. The intent appeared  the same, yet there were radically different sanctions, purely because of the outcome.
In Wasps' European Champions Cup match against Connacht this weekend, Kurtley Beale was yellow-carded when his opponent fell into the tackle, and Beale's arm slipped up just above the shoulder. Before the new directive, that tackle might not even have been a penalty, let alone a yellow card. Beale had no intent to make a high challenge – nor was he even reckless, in truth – but he spent 10 minutes in the sin bin.
Imagine, for a moment, if the law worked like this. Criminal offences are committed with a certain level of mental culpability, or mens rea.  The most serious offences often require intent to commit the offence before convictions are dealt out. Intent is the factor which decides just how criminal an act really is. Although legal scholars have long recognised that 'outcome luck' will always be relevant in criminal liability, the outcome isn't what determines how criminally culpable you are.
You cannot commit murder unless you intend to kill, or at least cause grievous bodily harm. If you do not, but someone dies anyway, you may be charged with the lesser offence of manslaughter, which carries a much lower sentence. Just imagine the outcry if there was a mandatory life sentence for causing accidental death!
Attempted murder carries the same sentence as murder: mandatory life. Although you got lucky and did not end up killing anyone, the intention was the same.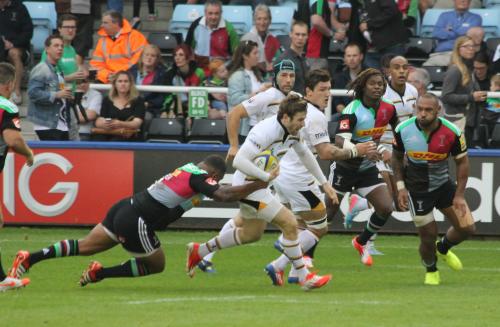 If it were similar in rugby, Beale would certainly not have been sanctioned, whilst Daly and Estelles would have been treated equally.
Despite the need to prioritise player welfare, it is difficult to fathom why the World Rugby rules state that referees must not make decisions based on what they think the intention of the offending player was. Instead, they have to decide based on an "objective assessment of the overall circumstances of the tackle".
The purpose of a sanction is to discourage dangerous tackles and to stop repeat offending. But you can't discourage something that isn't intentional. Yes, players will be encouraged to be more careful, but there is a limit to how much this will help.
What is more, not fully committing to a tackle is a pretty good way to get yourself injured. If World Rugby really want to prevent brain injuries, they're hardly going about it in the right way.
It's worth pointing out that some criminal liability can be based on mere recklessness rather than intent, and the argument can be made that not caring about the outcome of your actions can be as bad as intending that outcome.
Many sanctions dished out by World Rugby are based on this lower level of mental culpability which, it is argued, is acceptable in order to protect players. There is a strong argument that Daly's tackle was indeed reckless – the player was clearly in the air, an obvious danger – though there was clearly no malicious intent, as Daly's immediate reaction suggested. While this is undoubtedly deserving of some sanction, it is not clear that it deserved the sanction it did get: a red card. But by the letter of rugby's laws the decision was correct.
Joe Launchbury's two-week suspension for kicking a Fijian player in the head during their game against England in November was similar. He was clearly attempting to kick the ball, and was being cleared out of the ruck as he tried to do so. As a result, his boot made contact with the Fijian player's head. The Independent Disciplinary Committee said that this warranted a red card. Again, following World Rugby's directive, they were correct.
Yet it is far from clear that Launchbury's act can truly be deemed reckless. He was perhaps merely 'negligent' – an even lower standard of mental culpability, but is it questionable whether rugby players should be sanctioned for being negligent? It is an aggressive game, where players of enormous stature run into each other at ferocious speeds. To sanction players for merely failing to take reasonable care would seem inappropriate.
There has been a huge surge in yellow and red cards of late, at the risk of ruining matches for both teams and spectators. Playing a large part of a match with 14 men is quite a disadvantage, surprisingly enough. Red cards for intentional behaviour such as stamping or gouging are never going to be questioned, but outcome-based punishments for unintentional contacts do not seem so deserving.
Dylan Hartley, too, who has had major problems with discipline in his past, has fallen victim to the new directive. In Northampton's match against Leinster on Friday, he was red-carded after he made contact with the head of Leinster's Sean O'Brien.
This writer feels that his 'swinging arm' was in fact a proper attempt to tackle, only made to look dangerous by the fact that the Leinster player was falling to the ground. It was perhaps misjudged, but reckless? Intentional? No. Nonetheless, he made contact with the head and will now surely serve a ban.
It is all very well wanting to 'stamp out' dangerous play and to improve player welfare but, at present, this is coming at the cost of potentially ruining the sport and causing injustice.
Neither spectators nor players want to see matches played out by teams with only 13 or 14 players, and there is a real danger of diminishing the physical element of the game which makes rugby what it is. Clearly a balance needs to be struck. But World Rugby might need to think again