Rogue Sport of the Week: Beach Volleyball with Sam Dunbavin
Keir Baker speaks to the international beach volleyball player about the sandiest of sports in Cambridge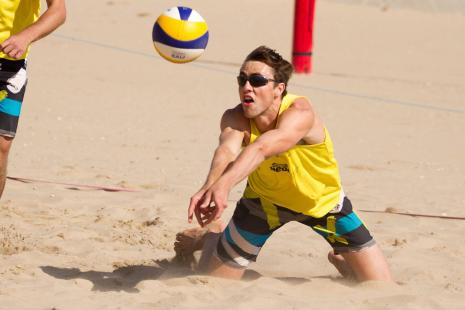 Athlete Profile
Name: Sam Dunbavin
College: Christ's
Degree: MML (German and Spanish) – 3rd Year
Hometown: Barnstaple
Sam Dunbavin is a renowned beach volleyball player. Having been on the fringes of various England squads since 2013, he finally won his first international cap in September at the NEVZA competition in Olso, Norway, where he finished in 17th place. He has also finished in third place in a nationwide event run by Volleyball England. He has excelled in the sport at a student level, representing Cambridge in the Indoor Volleyball Varsity match of 2015 against Oxford, as well as being part of the Cambridge team that finished fifth in the Beach Volleyball Student Cup.
Can you give us a brief overview of beach volleyball?
The basic aim in both forms of volleyball is to get the ball to hit the floor on your opponent's side of the net – that's what gets you the point. In indoor volleyball, it's the first to 25 points, best of three sets, and in beach volleyball, it's first to 21, best of three sets. There's a net in the middle in both forms – for women, it's at a height of 2.24 metres, whereas it's 2.42 metres for men – the same height as a football crossbar.
Each time you win a point, you go back and serve. So it's actually easiest to win a point when you're receiving because you get the first chance to hit the ball and you're trying to score as soon as the point starts. But if you're serving, you need to get some life into the point first. It's about consistency and statistics, really: if you can survive their return of your serve about three times, you'll probably win the set.
There are few key differences between indoor and beach volleyball. There are six players per side in indoor, while there are two for beach. The playing surface is obviously different – the indoor version is played on a slightly sprung floor and the court is about a metre bigger too. And there's differences in terms of the handling rules, the shots you play and the strategies you use too.
How did you first get into beach volleyball?
I started playing volleyball aged 10 when I was at secondary school – they introduced it to us in PE lessons. And I got sucked in: I started playing at grass competitions in Devon and just progressed from there.
The fact it's a team sport was a really big thing for me, especially as beach volleyball is just a partnership. I like the independence of it too – you're not allowed any coaching when you're actually playing on the court, so you have to solve your own problems. It's not like football, where the players are very dependent on their managers: volleyball rewards people who can think on their feet, be smart and work out where they are leaving you opportunities to win points.
What is the hardest thing about beach volleyball?
Searching for how to develop and improve your results can be hard: volleyball can be something of an enigma. With certain sports, you know that if you work on something specific, you'll get a better result. But with volleyball, there are so many different factors that matter, and that makes a poor run of form hard to rectify because you're never really sure what needs changing.
What traits helps facilitate success in your sport?
Height is inevitably a factor. For example, girls who are anywhere over 5ft 7 inches or above are going to have an advantage because they'll be that much higher when they're looking to play a spike shot. The build of typical volleyball players is someone with big legs and a small upper body that's quite lean – this means you aren't carrying any excess weight and it will give you a big jump.
Who is the most famous athlete in your sport?
The most famous of all time is probably an American guy called Karch Kiraly from about 15 or 20 years ago. He won pretty much everything going then – he's the only player to have won Olympic gold medals in both volleyball categories, beach and indoor – and was incredible because he wasn't ridiculously tall or big: he was just a great athlete.
But my personal favourite is a Brazilian athlete called Emanuel Rego. He was absolutely phenomenal and at the top of the game for 10 years. His speed around the court was unbelievable.
What is the state of the sport in Cambridge, in the UK, and internationally?
At Cambridge, we work via the Cambridge University Volleyball Club, which is the general club. There are various teams that play indoor volleyball and we run Cuppers too – some colleges have teams and some don't, but we can always find a team for people who are interested in playing. And then from that group, we take anyone who's interested in beach volleyball to train somewhere with facilities – so I've run sessions along with the Essex Volleyball Club in Brentwood, and there are also sessions in Leyton in North London too.
There's no official beach volleyball Varsity against Oxford because the University has not recognised us yet – which is absurd because it's in the Olympics. Hopefully, that's about to change because we've just been included in the volleyball constitution, which now says it does exist. The indoor volleyball team lost the last two Varsity matches, but we've had a historical dominance. I also played for the University at the Beach Volleyball Student Cup and we got to the quarter-finals, where we actually just lost to Oxford.
In the UK, it's slowly growing but it's still a minority sport and we struggle with a lack of funding. At London 2012, we had the chance to get funding but we didn't get the results the sport needed to secure that investment. Regardless, the sport is still going somewhere – lots of private enterprises in London are competing now, and this is usually a precursor for the rest of the country! Indeed, we have junior athletes who are winning medals on the European and international stage, so that's a good indicator of how the sport is doing.
On an international level, the Americans and the Brazilians have dominated in the past. But in the last six years or so, the European teams have started to catch up at a rapid rate.
What is your training schedule like?
When I'm at home, the training is pretty hard-core: I'll play volleyball five times a week, plus two weights sessions, and do some other sport or cardio, and a lot of stretching too!
But at university, it's far more restricted and I'm forced to choose in Cambridge – either I play indoor volleyball, or I don't play volleyball at all. The University and the Council have made no provision for the beach sport here, despite it thriving in other cities and at other universities. So I've been leading efforts over the last couple of years to get a beach volleyball court built in Cambridge, but applications for space and funding have been continually denied by the Council and the University. So I'll look to train whenever I can – and that can range from once a week to three times a week – and I have to use other sports and gym work to keep me fit.
How do you reconcile a Cambridge workload and your training schedule?
For me, it's about not wasting any time – I'm either training, eating, studying, sleeping or spending time with mates. There's no room in my life really to watch the television or do anything else I don't consider necessary. I do have a few late nights where I have to get stuff done, but that's the nature of Cambridge, quite frankly.
How might somebody interested in beach volleyball get involved?
They would get involved through the Cambridge University Volleyball Club. The website is a good place to visit and there's a specific Facebook page for beach volleyball too! But if anyone has any specific questions about Beach Volleyball, they can email me (sjd86@cam.ac.uk) too.
This interview has been edited for length and clarity