Rogue Sport of the Week: Dancesport with Liam Patullo
Keir Baker channels his inner Ed Balls as he sits down to discuss footwork, tactics and training with the competitive dancer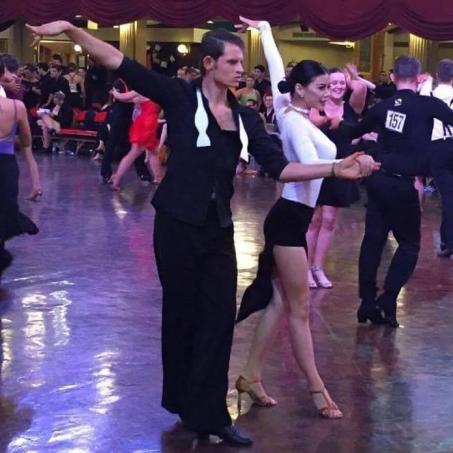 Athlete Profile
Name: Liam Pattullo
College: Selwyn – 2nd Year
Degree: Veterinary Medicine
Hometown: Thurrock
Liam Pattullo's dancing career has spanned years. First taking to the floor aged nine, he has been performing Ballroom and Latin dances since he was 12 – earning himself a bronze-level rating from the Imperial Society of Teachers of Dancing in the process – and began dancing competitively at the start of the sixth form. 
He and his partner Nelly Hu Kuo were part of the second team squad of the Cambridge University Dancesport Team and were the first reserve couple for last year's Varsity match against Oxford. They have competed in a number of competitions across the country, finishing in 13th place in the Novice Latin category of the Inter Varsity Dance Competition (IVDA). This year, Pattullo is likely to be promoted into dancing in the intermediate category. 
How does a Dancesport competition work?
You dance against the other dancers in your category. There are four categories – Beginners, Novice, Intermediate and Advanced – with the first two categories using step restrictions to ensure a more level playing field. Somebody who has not had professional dance training since the April of the previous year would be put into the Beginner category, where they would learn four dances – two Ballroom (Waltz and Quickstep) and two Latin (Cha-Cha and Jive).
You dance in a big hall with all the other couples. You have a number on your back, and the judges use those numbers to pick out and rank the couples they feel are performing the best, slowly whittling away couples in the competition until they reach the final of six couples. The more judges you get who rank you, the better you do. There are usually around six judges who tend to move around, though not always. It can often get quite tactical because there's a risk that the judges will only see you performing your bad steps or might not see you at all! Ultimately, though, it's complete luck of the draw and consistency of performance is really important.
Is there a requirement for mixed-gender couples?
Double-male couples are rare: we have none in Cambridge, but there are some in other teams across the country and, actually, they can be very eye-catching. Double-female couples are more common because there's often a lack of guys in squads. Same-sex couples can compete with normal couples, but some tournaments also have a same-sex section which helps counteract the problem that some judges show a bias towards mixed-gender couples. While a guy–girl couple definitely has its advantages for Ballroom dancing for the posture and hip placement because of the anatomical difference between boys and girls, for Latin, it can sometimes look so much better with a girl–girl pair!
How did you first get into Dancesport?
I was always quite energetic as a person (I used to dance around at weddings like a madman) and my family was very musical too. So my grandma – who went to a dance school where she went for adult lessons – took me along one day. I did modern dancing and pretty much fell in love with it, and I've been at that club ever since. I always liked performing and being on stage, but for dancing, in particular, there's not as great a feeling of self-consciousness than singing or acting – you can just close your eyes and enjoy it.
I understand that some people suggest it's more of a performing art than a sport, but I don't agree. Indeed, the different techniques and the sheer amount of stamina you needed to perform all the different dances at a competition means I would argue that some of the dancers are perhaps more physically fit than some athletes, particularly those who just do one sporting discipline.
What is the hardest thing about Dancesport?
It depends on the individual. My biggest issue personally is timing: sometimes I struggle to hear the music or get a bit excited and rush the steps. But also, the competitions are long, long days – 9am until 11pm – so people do burn out. At the Varsity match, for example, it's amazingly intense. They do each dance three times (dancing for a total of 12 times in a very short space of time) and every single performance has to be of the same quality if you want to do well!
What traits helps facilitate success in your sport?
I think anybody could do Dancesport, though they'd need to be prepared to be committed, particularly because one of the big differences in Dancesport to many others is the lack of individuality. You definitely don't want to let down your partner because you're doing it as a unit.
Who is the most famous athlete in your sport?
One person that's very popular among the Cambridge team is Joanna Leunis – she is absolutely awesome. But to be fair, most of the top dancers are ridiculously good: they make the basic steps look effortless. The thing about Dancesport is that the harder you work, the easier it then looks. With the Viennese Waltz, for example, there are only about four steps but the really, really good people will make it look amazing like they're gliding around the dance floor.
What is the state of Dancesport in Cambridge?
Cambridge are the most successful team in the country: it's like Cambridge academia – even if you aren't the very top person, you're still ridiculously good. We have three teams in Cambridge, which is great because there is always someone above you can be inspired by, and the quality is consistently amazing. The first team won IVDA, but I think it's our Beginner team that is the biggest success of Cambridge: they won every single category last year, and some of them seem better than the second team. My partner and I focused on Latin rather than Ballroom, because we really clicked with it, but the team is strong and has great coaches in both disciplines.
It was a massive relief last year that Dancesport was given the discretionary Full Blue status for men. Before that, only women got Full Blue status and men had to settle for Half-Blue – it was almost discriminatory that men had Half-Blue status. Lots of credit should go to last year's captain, Kien Trinh, for that.
What is your training schedule like?
The training schedule can be what you want it to be, but if you're on the second team, you are obliged to go to one rehearsal a week. And if you're in the first team, that goes up to two. There is a weekly team practice and also open practice sessions where you can go along and practice with your partner. A lot of people also book private spaces to practice – in Selwyn for example, I book out the Diamond for my partner and me.
If I'm leading up to a competition, I would probably rehearse every other day – in the lead-up to Varsity, it was every day. Mostly we just practice the dances, though we don't just rehearse the routine over and over again: often, you focus on a specific element and literally just practice a certain step for the entire hour.
How do you reconcile a Cambridge workload and your training schedule?
You have to learn to balance your life and prioritise what is important to you. It's the same with any extracurricular activity in Cambridge: it should be your downtime rather than your work-time. It should replace watching Netflix rather than the time you take to write that very important essay.
How might somebody interested in Dancesport get involved?
They would get involved through the Cambridge University Dancesport Team. One of the great things is that even people who aren't on the team can go to the social dance lessons we run. If people have further questions, our website is a good place to visit or they can email the Team Captains Tom Nelson and Tom Brown (cudtcaptains@gmail.com) or myself (lp462@cam.ac.uk).
This interview has been edited for length and clarity