Wimbledon, for the uninitiated
Emily Wright finds out there is more to the British Grand Slam than strawberries and cream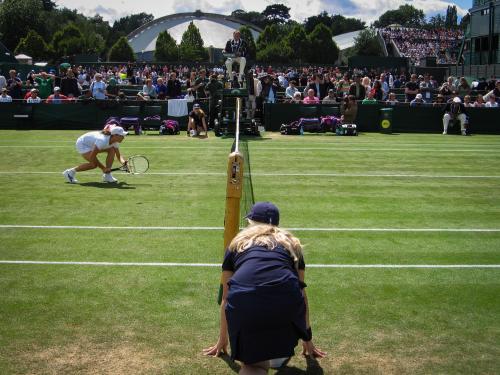 Against my better judgement, I recently found myself agreeing to camp overnight on a Friday evening for tickets for Wimbledon. Despite knowing absolutely nothing at all about tennis, I couldn't ignore the fact that Wimbledon is arguably the crown jewel of British summer sporting events, so I was prepared to join a good old-fashioned British queue to experience it.
That evening, I did the logical thing and bought an 8 pack of ciders in preparation. The camping hype was real. I'd never been camping before, and I imagined myself boozily bonding with my queue neighbours. It was going to be like a swap… but in a field in southwest London, instead of Sesame. It was dark by the time we arrived, and we set up our tent, got our queue card, and settled into a circle with our ciders.
"Ain't no party like a Wimbledon queue party," I said.
"Strictly no noise after 10pm," the queue steward said.
We headed to our sleeping bags for the night.   
As we queued the next morning, Tim Henman and Judy Murray were playing tennis with queuers. It was like May Ball queue entertainment, but good. They also had a coffee stand where they printed a picture of your face on the foam and, in my excitement of running towards this witchcraft, I lost my queue ticket. I asked the steward if this really mattered, as I'd already had to show it to get into this part of the queue. He said it did, it mattered an awful lot, and that I wouldn't be let in at the security check.
I'd been queuing for 12 hours so this was very distressing news.
Thankfully, a group of French girls queuing behind me said they'd vouch that I'd been queuing with them the whole time, so I was able to be let in. I felt that this was very nice of them, in light of Brexit and all that.
There is no running allowed in the Wimbledon grounds, so I fast-walked towards Court No.3 to see Kei Nishikori, 5th in the world, play Andrey Kuznetsov, 39th in the world. Now, the majority of my exposure to sports-watching crowds is YouTube videos of football matches, where everyone is chanting and generally being rowdy. Tennis has got to have the most polite audience of any sport. It's a weird feeling being in a packed stadium where everyone is silently listening to two men loudly groaning every time they hit the ball.
But the weirdest bit for me was following the ball boys/girls (ball people? ball children???) and the military intensity with which they did everything. Everything down to their sweat towel dabbing style was choreographed. I found it all simultaneously impressive and hilarious – I realised halfway through the match that I'd started gleefully applauding whenever my favourite ball boy had done a really good tennis ball-dash rather than any of the actual shots.
In between sets, the woman next to me was really surprised when I told her I'd camped overnight in the queue. She informed me that we definitely didn't need to do that just to go to Court No.3. I wanted to tell her to stop talking but that didn't feel in the spirit of things. I smiled politely and focused very hard on my clapping.
Afterwards, I went to buy some Pimm's, where I was informed that a small cup would cost £8.50.
I had free orange squash from a Robinsons tasters stand instead.
We headed to the packed Murray Mound to watch Andy Murray play the Australian John Millman on the big screen. There was a great atmosphere, with everyone cheering for Murray – except for two rowdy Australians who were chanting "Millman's on fire, Andy Murray's terrified". I wanted to be all patriotic and supportive of Andy, but that Will Grigg chant is incredibly catchy and I kept catching myself humming along.
I also wondered if Andy Murray ever plays tennis on the Nintendo Wii in his downtime, or if that would be like taking his work home with him.
All in all, Wimbledon was a fantastic, unique and thoroughly entertaining experience. The Wimbledon grounds are like a weird museum for the high-class British stereotype; a grassy, classy village where the players and workers are kitted out in Ralph Lauren gear and pre-portioned containers of strawberries and cream are consumed by the thousands. Packed full of traditions and quirks, I'd recommend it to anyone – regardless of your knowledge of tennis.