What does the future hold for healthcare?
Vyas Burra explores some of the the technology that we can expect to revolutionise healthcare in the near and distant future, and the accompanying challenges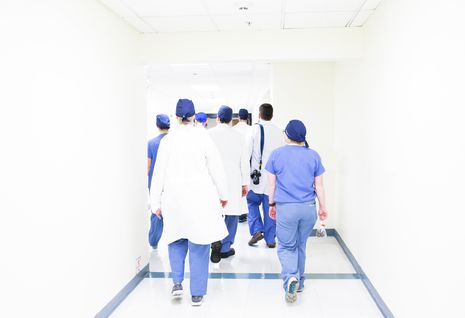 Humans haven't been around for very long in the grand scheme of things, but we've managed to make a significant impact upon the world. Going from being hunter-gatherers to exploring the secrets of the universe only took a few thousand years, which might seem like a lot but pales in comparison to the almost five billion years the Earth has been around.
The last few decades have seen even more rapid change than has ever been seen before, and this can be put down to accelerating change – more commonplace invention and innovation with faster adoption of new technologies leading to more rapid changes in society. For instance, telephones took many decades to become commonplace, whereas mobile phones and the internet only took a few years. Living standards have also drastically improved, even over the last 100 years. In the pre-modern world, life expectancy was thought to be around 30 years for all world regions, and since just 1900 the global life expectancy has more than doubled to over 70 years, although inequalities in life expectancy are still rife. Similarly, it took 150 years for infant mortality to halve from 1800 to 1950, but a further five-fold decline since then has only taken less than half the time.
Like in all fields, advances in healthcare have been evident. Technology already plays a huge role in medicine and is likely to continue to do so in the future. One example of a futuristic technology is gene editing, which has already started to make its mark in therapeutics. Examples of gene editing drugs include Luxturna, which is used to treat adults and children with inherited retinal dystrophy, a rare genetic disorder that causes vision loss. Luxturna delivers a functioning gene into the eye, allowing for the eye to work properly. The number of people who can benefit from this treatment is limited, but with more and more gene therapies being introduced, there is the very real possibility that, in the future, genetic diseases could be cured with a short course of treatment instead of being managed long term.
"Even if editing embryos started with good intentions, such as trying to cure an otherwise fatal disease, without proper oversight, it could end up fuelling an age of eugenics"
Gene editing has the potential to drastically improve the quality of life for countless people across the world, but it can also be very dangerous if it is not regulated properly. The issue of "designer babies" is something that will need to be addressed. Editing genes after birth, so called "somatic" gene editing, is seen as less controversial and could potentially be used to treat diseases such as sickle cell disease and cystic fibrosis. Editing embryos, on the other hand, is a whole different issue. Even if editing embryos started with good intentions, such as trying to cure an otherwise fatal disease, without proper oversight, it could end up fuelling an age of eugenics. This is where genes are edited to produce babies with "desirable" characteristics – very much like the dystopian world portrayed in the 1997 movie Gattaca. These could range from specific shades of skin colour to height and more. Gene editing in human embryos has already been done, with much controversy. In 2018, Chinese biophysicist He Jiankui announced that he had used a type of gene-editing technology (called CRISPR-Cas9) to produce twin baby girls who were purportedly less susceptible to infection with HIV. He was subsequently fined $430,000 and given a three-year prison sentence. Alongside concerns about eugenics, embryonic gene editing outside of a controlled research setting is strictly forbidden given that current technology is still not precise enough, risking the unintentional modification of the wrong genes.
"Growing organs that are tailor-made for an individual could reduce the need for depending upon transplanted organs, which are in short supply"
Regenerative medicine could also benefit from major advances. Researchers at UCL and the Francis Crick Institute have managed to build a whole functioning human thymus, an organ involved in the immune system, from stem cells. Growing organs that are tailor-made for an individual could reduce the need for depending upon transplanted organs, which are in short supply. Organ rejection, which is common with transplanted organs as the body recognises them as "foreign", would also not be an issue, as the patient's own cells would be used to grow the new organs. We are still many years away from growing any organ that we need, but the steps that have been achieved already could revolutionise the way in which we approach failing organs and tissues in the future. In a few years time, more challenging medical problems, such as blindness and paralysis, could potentially become treatable.
Artificial intelligence also shows promise. Neurotechnology, which hopes to integrate neuroscience with technology, has started to become more crowded, with research being piled into how to make brains talk to computers. Elon Musk's Neuralink is one company aiming to do just that, hoping to both offer medical benefits, such as helping to treat paralysis, as well as augment human capabilities, undoubtedly raising many ethical concerns along the way. This technology isn't new; a cyclist who had been paralysed from the shoulders down had a special implant installed, allowing him to regain enough function to feed himself. Looking past medicine, Neuralink could also be used to allow healthy humans to interact with the digital world. A monkey was shown to play the video game Pong using just its mind, and the hope is that this can be built upon to provide a much more integrated experience between humans and the digital world. However, controversy has recently set in, after Neuralink was accused of causing "extreme suffering" to monkeys and also had several monkeys die during trials, highlighting that this technology still has a long way to go.
The future will most likely see the divide between medicine and technology becoming more and more blurred, and we may even start to see technology being used to supplement human capabilities rather than for purely medical reasons. We're probably not going to get as far as becoming cyborgs, but it seems like we're getting pretty close.
Varsity is the independent newspaper for the University of Cambridge, established in its current form in 1947. In order to maintain our editorial independence, our print newspaper and news website receives no funding from the University of Cambridge or its constituent Colleges.
We are therefore almost entirely reliant on advertising for funding and we expect to have a tough few months and years ahead.
In spite of this situation, we are going to look at inventive ways to look at serving our readership with digital content and of course in print too!
Therefore we are asking our readers, if they wish, to make a donation from as little as £1, to help with our running costs. Many thanks, we hope you can help!
Sponsored Links
Partner Links