Remembering Dorothy Garrod, a feminist archaeological pioneer
Jess Sharpe shares the remarkable story of Dorothy Garrod, the first woman to hold an Oxbridge professorship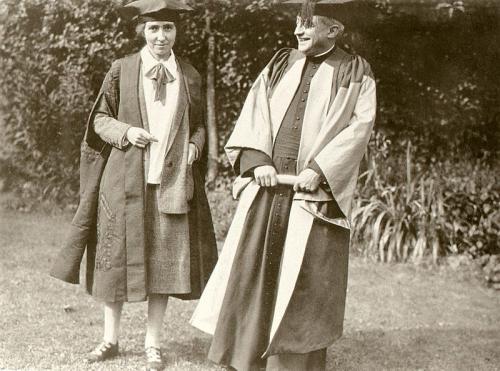 Judging by the daily crowds in Newnham's Iris Café, you have probably visited Newnham's new building. However, you might not have known that it is named after Cambridge's first female professor, who established a chronological framework of the prehistoric period and employed a feminist work ethic on her archaeological sites. The Dorothy Garrod building is a fitting homage to this brilliant archaeologist.
In 1913, Garrod joined Newnham College to study history, and later received a diploma in Anthropology at the Pitt Rivers Museum in Oxford. After archaeological training in Paris, Garrod set out on excavations and in 1925 unearthed the second Neanderthal skull ever found. By 1929, Garrod was directing excavations in Palestine, where she uncovered findings fundamental to the chronology of the prehistoric period.
"Women carried out the skilled work of excavating and recording"
Despite the challenges involved in being a professional scientific woman in the first half of the 20th century, Garrod worked across the globe. She relied on female co-workers, often with varying expertise, such as Dorothea Bate, whose experiences in the field would have mirrored her own. Bate recounted sexual harassment by the British Vice-Consul while on trips and stated that she did 'hate old men who try to make love to one and ought not to in their official positions'. Sexual harassment is a contentious issue in the archaeological fieldwork setting to this day. Perhaps as a response to this, Garrod built up teams of researchers, staffed mainly by women recruited from local villages, as an early form of community archaeology. Within these teams, women carried out the skilled work of excavating and recording while men completed the menial and heavy labour. One of these women was Yusra, a Palestinian who worked with Garrod for six years and pieced together the fragmented skull of a female Neanderthal. This discovery stands as one of the most important – though unacknowledged – findings in early archaeology.
Garrod held a number of academic positions back in Cambridge before being selected as the Disney Professor of Archaeology in 1939 – as by far the best available candidate. Her position, as the first woman chair at either Oxford or Cambridge, is all the more remarkable at a time when women could not become full members of the university, so could not speak or vote on university matters. Even back home and away from the challenges of fieldwork, Garrod could not partake in dinnertime conversation about department and university matters held in men's colleges, and she struggled to adapt her co-operative style to the bureaucratic Cambridge world. However, she introduced a course on global prehistory and her reliance on women workers in the field – who may recognise, specialise in or pursue different archaeological inquiries to men – is also likely to have impacted the field of study presented in the newly structured archaeology courses.
The Museum of Archaeology and Anthropology holds a display on Dorothy Garrod's work, showing flint tools and a necklace dating back from around 10,000 BC.  Other pioneering women in archaeology, such as Kathleen Kenyon, also feature in the museum – making it well worth a trip next time you fancy a science-themed afternoon out!