Cambridge scientists launch £100m technology investment fund
The Ahren fund is "a completely different model to anything out there", according to its founder and CEO, Alice Newcombe-Ellis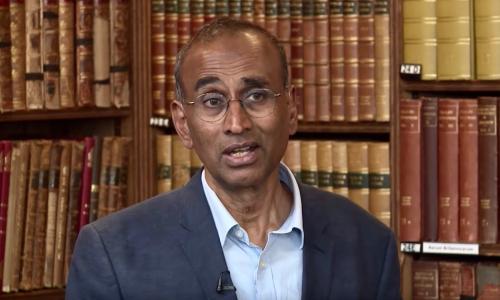 Eight Cambridge scientists have united to found a £100 million fund investing in a variety of "transformative" technologies to support young entrepreneurs.
With investments focused on the four domains judged to be most crucial for the future – the brain and artificial intelligence; genetics and platform technologies; space and robotics; and the planet and efficient energy technology – Ahren Limited Partners claims to be building "a new wave of billion-dollar companies that will change the world for the better".
Ahren's founder and CEO, Alice Newcombe-Ellis, is a Cambridge maths graduate and fund manager. She is joined by eight leading men in science and technology fields, who will act as "science partners" in the organisation.
Ahren's founding partners, who have all experienced great commercial success through their innovations and research, have invested substantial sums of their own money. They plan to play a far more active role in managing the fund than a standard scientific advisory board, creating, according to Newcombe-Ellis, "a completely different model to anything out there".
Key differences will include the close involvement of well-connected experts in scientific fields, a focus on high-risk, high-reward business opportunities, and the willingness to hold investments long-term.
The Ahren fund has already raised over £100 million from investors, and hopes to raise significantly more over the coming months. The partnership, according to one of the founding partners, is "taking a modern Silicon Valley-style approach to engaging with entrepreneurs and incentivising them to succeed."
Outside investors include insurance company Aviva and Wittington Investments, as well as several undisclosed wealthy American families.
The fund's first investment is a $10m stake in Cambridge Epigenetix, a biotechnology company currently developing tests for gene activity in disease, which was co-founded by one of Ahren's science partners, DNA sequencing pioneer Shankar Balasubramanian.
Future investments currently under consideration by Ahren include companies in innovative fields such as quantum technology and interpretable machine learning, which enables AI to explain its decisions, allowing consumers to understand why certain choices have been made by the software.
Sir Venki Ramakrishnan – Nobel laureate in Chemistry, President of the Royal Society, and Deputy Director of the Cambridge Biomedical Campus – is one of Ahren's founding science partners. He believes that through empowering entrepreneurial scientists and technologists and building relationships of trust, you can "create immense business and societal value".
Alongside Ramakrishnan, Ahren's founding partners include Professor Andy Parker, Head of the Cavendish Laboratory; Lord Martin Rees, renowned astrophysicist and former master of Trinity College; and Trinity's current Master, biochemist Sir Gregory Winter.