Theatre: Frost/Nixon
Ariadne Lyroudia enjoys an excellent and original production of this political drama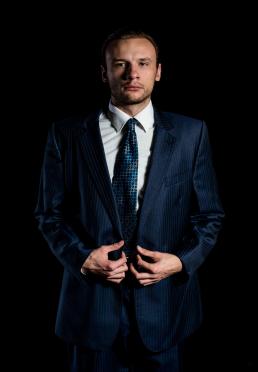 Having heard rumours of a last-minute replacement of David Frost (which occurred only five days before the opening night), I naturally anticipated chaos on the ADC stage. How can a character with as much intrinsic complexity as Frost be tackled, and the intricate interactions between him and Nixon be adequately refined, in under a week? Near impossible…and no doubt, the rest of the show would suffer if one of the lead roles, on whom a crucial power-struggle relies, was under-rehearsed. Yet the saying 'the show must go on' was glorified in the Dryden Society's execution of Frost/Nixon, which shows talent and potential.
Credit must go to Helena Middleton for her originality in setting the story on a minimalistic, almost bare stage, involving wooden boxes which were used with wit, transformed from car headlights to beds through clever constructions. Virtually all cast-members remained on the boundaries of the stage in between their scenes which created an atmosphere akin to that of a filming studio (very fitting to the story told). The background fast-forwarding or slow motion during narrations was also a good idea, although in application it suffered a little from being, by definition, too filmic to translate convincingly onto the stage.
The four stars that this show merits are particularly attributed to the excellent standard of acting. No one could have guessed that James Evans was an unintended David Frost; the role fit him like a glove. He had an excellent 1970s show host air about him. This was complemented by an underlying dignity and solemnity which was an interesting fusion of the Michael Sheen interpretation (in the film) and of the true David Frost. Robbie Aird had no easy task in playing a known-by-all American President in his sixties, but achieved an admirable (and at times hair-raising) resemblance to this charismatic figure, and delivered his lines with fascinating credibility. Ben Walsh was outstanding in his role as a charmingly British John Birt and performed with a remarkably affable manner.
The entirety of the first Act is a build-up to the interview between Frost and Nixon. Consequently, although the first half was well executed, everything rested on how well this interview could be delivered. Perhaps it was this mounting pressure that led Aird and Evans to be slightly erratic when the interview began. For instance, Ford's first question, which was intended to shock Nixon, was answered hurriedly and although Nixon's reply expressed surprise, the hurriedness meant no genuine surprise was revealed. Nonetheless, this brief moment was soon overshadowed by the brilliant chemistry which developed between the two men, and the second Act crescendoed to a tense, enthralling conclusion.
That being said, the show was not perfect, but its imperfections mostly lay in peripheral shortcomings which can be easily fixed. Kay Dent was impressive in her ability to adopt a masculine bellicosity, but her aggression was so defined throughout her entire performance that it devalued the moments where the character was intending to be cross; ultimately this also led to the occasional tripping up of lines, which was unfortunate. Furthermore, the most pivotal moment of the play involving one of the most fascinating speeches ever made by Nixon was disrupted by the coughing of a cast-member who perhaps ought to have left the stage. Finally, it was a pity that out of all the suits worn on the stage, that of the President of all people was subpar; one conspicuously unhemmed, longer trouser-leg which simply couldn't be ignored. Although these criticisms seem trivial, the collective presence of such blunders prevented the show's transcendence from a good to a great performance.