Watersprite Festival: Neil Gaiman
Frances Evans reviews the festival's opening ceremony starring the celebrated author and screenwriter.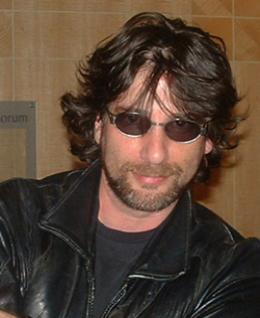 The red carpet may have been rolled up for another year in LA, but in Cambridge the most eagerly anticipated student film event of the year is just getting underway. I am seated in the stylish surroundings of Magdalene's Cripps Court for the opening ceremony of Watersprite 2013. Fans have formed an impromptu queue, snaking between the refreshment tables, and Neil Gaiman – an effortlessly cool presence with a shock of curly hair and signature black outfit – is making his way down the line, chatting, signing books and standing for photographs. Ten minutes later, we are ushered into an auditorium and Gaiman slides into the interview chair to kick-off the festival.
When he was fifteen Gaiman wrote a list of all the things he wanted to do in his life – write a novel, write a children's story, write a film script, write a musical... By the sound of it, he's ticked most of those boxes already (except the musical; he's still working on that). Barring the list, however, Gaiman tells us his career was 'accidental' and driven by a 'need to keep interested'. After trying his hand at children's fiction and journalism, Gaiman made his name writing comics for DC in the late 1980s. In the course of a prolific career, Gaiman has not only produced cult comics (The Sandman), but has also written – among a mountain of other things – a critically acclaimed episode of Doctor Who and several award-winning children's novels, one of which was adapted into an Oscar-nominated film (Coraline).   
His recent work on Doctor Who has earned Gaiman an even wider fan base, and the audience is eager to hear about his experiences of writing for television. Unusually for a writer, much of Gaiman's work has involved collaboration, a process which he particularly enjoys. While he has not re-read his script for 'The Doctor's Wife', he loved watching the episode on TV and seeing the different creative elements come together.
Working on Doctor Who is a time-consuming process; it took Gaiman 18 months to complete 'The Doctor's Wife'. For this reason, perhaps, Gaiman avoids suggesting a long-term commitment to the show. However, the fact that he has already penned a second episode – the brief was to make the cybermen 'scary' again – sounds promising. It is not as if Gaiman will be resting on his laurels. Up-coming projects include an adaptation of his novel American Gods for HBO (he has just finished drafting the pilot episode). A radio play of Gaiman's 1996 television fantasy Neverwhere is also due to be broadcast on Radio 4 this month – its stellar cast includes Benedict Cumberbatch, Romola Garai and Christopher Lee.
Working across a range of cultural forms, Gaiman has learnt the importance of being flexible as a writer and allowing himself to 'follow the story'. Gaiman encouraged, for example, the changes that Henry Selick made to Coraline in the course of adapting it for screen. A screenwriter has to be violent with source material – often, Gaiman believes, adaptations are too faithful to their originals. Books, films and plays need to be different because they do different things: 'You can't transliterate, you have to translate'.
Gaiman looks set to have another busy twelve months – his new novel The Ocean At The End Of The Lane (his first book for adults in nine years) is being published in June and a film adaptation is already in the pipeline, with Anna Karenina's Joe Wright on board to direct. On Sunday, Quentin Tarantino proclaimed this to be a 'writer's year'. Neil Gaiman's energy and passion for his craft has provided an equally inspiring opener to Watersprite 2013.