Interview: Jean Becker
Alice Bolland speaks to Jean Becker, distinguished French filmmaker and son of Jacques Becker, director and inspiration of the Nouvelle Vague. Becker (1938-) has been making films since 1961; his most recent work is My Afternoons with Margueritte, starring Gérard Depardieu.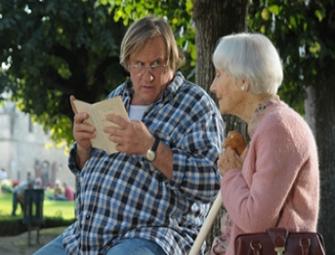 Did you immediately think of Gérard Depardieu for the part of Germain Chazes?
We have the same agent who liked La Tête en Friche (Marie-Sabine Roger's book which inspired the film), and he asked if I had anyone in mind to play Germain. I said Gérard Depardieu, but younger, and he told me to ask him anyway. Gérard called me back three days later and we spoke for nearly two hours – he knows the book better than I do! So I said, all right, you have the part! He has a natural way of being rather than acting. He's very easy to work with.
In your opinion, how do English and French cinema differ?
I don't feel that there are many differences - the French tell stories of their own people and the British do the same. Americans are much more international. With American cinema the director doesn't have the deciding word in the final cut. When I make a film, I have the final say – I wouldn't put up with anything other than that. Editing is a very important stage for me. Even if people think your creativity is in bad taste, it should still be there and it needs to be respected.
How were you influenced by the Nouvelle Vague movement?
I think the new wave did good things – it shook everything up a bit. But those who were part of the New Wave later became what they were fighting against and made those 'classical' films they were trying to move away from. Having said that, Godard's jump-cuts were revolutionary. They were just young film makers who wanted to exist and to exist they had to kill their forefathers.
What is your advice for young people interested in the film industry?
It's very important to have experience – a lot of people know nothing about cinema history. You need to watch everything that's gone before, especially now because there's no excuse not to as everything has been restored. So watch the classics, even if they seem boring at first, you will learn a lot from them. It is important to know what ground you're stepping into. Get educated in cinema. Just as it's very difficult for a writer to write if he doesn't have a literary culture, so it is for film.
Read Alice's review of the festival and pick of the films on show on Varsity Online.