Gigs: Thom Yorke at the Cambridge Corn Exchange
5 stars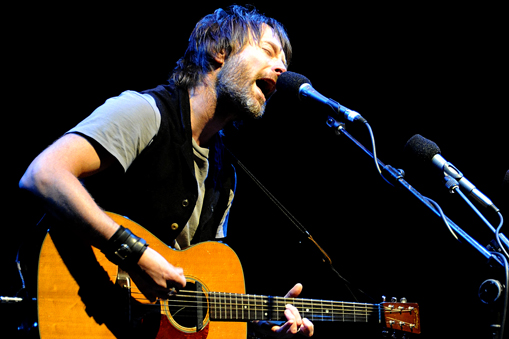 It's not every day that one of the most beloved, respected and exciting British musicians randomly announces a one-off gig in a university town like Cambridge midway through recording a new album, but Thom Yorke is apparently one of them. Performing in benefit of good friend and Green Party parliamentary candidate Tony Juniper, Yorke could have easily sold out a larger venue in London, but insisted on playing in Cambridge, where Juniper is running for MP. After interminably dull support act Pete Um, Yorke lollops onstage, sporting a rangy beard. He is greeted by a huge cheer - fans as far as Madrid have flown in for the sold-out gig. "Hiya," he murmurs, proceeding to play a near-perfect 19-song set that includes three new tracks, old favourites like 'Airbag', as well as rarely-played ones like 'I Froze Up'. An appreciative roar greets each one. "So many hits," Yorke, in uncharacteristically chatty mood, dryly notes at one point.
Solo material from The Eraser, an almost frustratingly downbeat electronic record, is given an injection of warmth. Stripped down to bare vocals and piano, the title track off Yorke's solo record turns into a melancholy ballad. Meanwhile, new material is rapturously welcomed. 'The Daily Mail', with lyrics like "we'll feed you to the hounds / to the Daily Mail", sounds like it could have stepped out of Kid A. On standout song 'Giving Up the Ghost', Yorke improvises with a sample pedal and loops drumbeats and his own vocal harmonies over and over, until the song reaches a tremendous, crashing crescendo.
It's not all smooth sailing, though. Yorke giggles every time he forgets the words to 'Weird Fishes/ Aperggi', quite frequently considering that it was Radiohead's last album. The audience forgivingly sings the lines for him. It is really behind the piano that Yorke seems truly comfortable, eyes shut, face twisted up in that typical contortion. And what a voice – one of the most distinct and expressive voices of our generation. Stripped of album production, Yorke's incredible vocal range takes centre stage, dropping and rising into and out of deep wells of feeling. Cryptic lyrics like "the more I try to erase you, the more, the more…" are at once menacing and tender. It's not a voice that wins fans easily - it's been criticized as a whiny second-rate Jeff Buckley, but it is tremendous live. The greatest vocal conceit Yorke pulls off is making a voice with huge technical strength and skill sound so delicate and fragile. He sings "don't hurt me", and you believe him.
Yorke's comments on politics are fleeting and delivered somewhat awkwardly, with the singer aware of not giving over to Bono-style preachiness, though such sentiments as 'people are frightened of change so much in this country we just accept the political status quo, but we can no longer do that as far as I'm concerned', criticising politicians for 'talking lip service on green issues', are met with rabble-roused cheers and applause.

After 'I Froze Up' (with Yorke laughing "I've never played this outside my bedroom, or other people's bedrooms"), the singer brought his set to a close with the glacial piano arpeggios gracing 'Like Spinning Plates', followed by the plaintive 'Black Swan' and concluding with a haunting performance of the painfully beautiful In Rainbows closer, 'Videotape'. Then came the, not one, but two, encores. Announcing another new song, Yorke's performance of 'Mouse Dog Bird' is met with rapturous applause, which doubles for new favourite 'Reckoner', the lone guitar part giving space to Yorke's mesmeric vocal. OK Computer's opening track 'Airbag' makes the transition to Yorke's acoustic version impressively, with the crowd's singing at times drowning out the vocal.
A final nod to his makeshift band with Red Hot Chili Peppers' bassist Flea came in the form of 'Atoms For Peace', before Yorke waves goodbye for what seems like the final time. But the lights stay low, the footstomping and unceasing applause of the crowd remain and the techies hurriedly place an acoustic onstage. Emerging once more, Yorke straps on the guitar: 'This song is called 'True Love Waits'; the announcement of the perennial Radiohead set-closer is greeted with sheer euphoria.
"You might have to sing along, I tend to forget the fucking words," Yorke jokes, but he doesn't, and neither do the crowd. The gorgeous simplicity of the song, with no drum loops, no sampling, no embellishments, just one man and a guitar, shines through. In amongst the song's lyrics of love in 'haunted attics' living on 'lollipops and crisps', Yorke closes his eyes, seemingly fighting back tears; while none come, no-one could blame the singer if they did. If Yorke was waiting for true love, he'd have found it in the adoring voices chanting back every word at the Corn Exchange on Thursday night. Simply put, a perfect end to an incredible set.