Unknown Displeasures: Snakehead Swamp
Anna Ellis-Rees ventures down to Snakehead Swamp and is horrified by what she finds…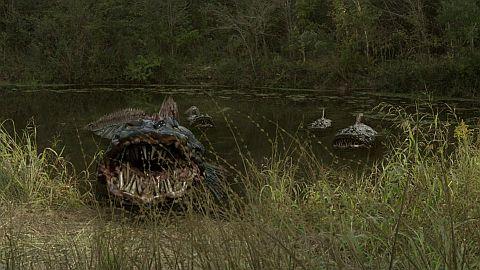 It's hard to expect much from a film entitled Snakehead Swamp. When you find out that it is a low-budget television film about the brutal attack of a town by huge mutant fish that are linked to both a chemical disaster as well as a local curse, any possible remaining expectations just fly out of the window.
This is the point where you're probably expecting me to contradict myself, telling you why Snakehead Swamp is in fact a hidden masterpiece.
I will not. And, believe me, I gave it as much of a chance as I could possibly bear to.
From the outset, Snakehead Swamp was not looking promising. Director Don E. FauntLeRoy sets the scene with disturbing flashes of a man violently partaking in voodoo. Considering his role as seemingly crazed believer in ancient curses alongside the fact that he is the only non-white character in the film, the poorly thought-out and frankly offensive nature of the film was made obvious. Following this opening, full to the brim with backwards stereotypes, the cast of characters continues in a similar manner. As expected, the protagonists are your run-of-the-mill group of brainless teenagers, consisting of: the troubled hero, his damsel in distress and her boorish boyfriend whom she would never actually be with in real life.  
"Instead, the features of Snakehead Swamp that might pass as tongue-in-check are so ridiculous that they instead only exist as a result of poor writing and acting."  
However, it was this question of reality that pushed me to view the film with a certain irony in mind. Perhaps FauntLeRoy is knowledgeable of the tropes of the survival film, and has purposefully crafted a tongue-in-cheek story as a tribute to the genre, as Wes Craven did to the horror genre in the Scream franchise. What's more, the environmental and political undertones of the movie somewhat reminded me of Korean director Bong Joon-ho's acclaimed monster movie The Host (2006), in which the creation and clumsy pursuit of a giant fish is presented as a result of political corruption.  
However, now, I can't quite believe that I would compare that gem to Snakehead Swamp for even a second. FauntLeRoy in no way possesses the subtlety that is so necessary in the production of an ironic homage to a particular film genre that is so clear among talents like Craven and Bong. Instead, the features of Snakehead Swamp that might pass as tongue-in-check are so ridiculous that they instead only exist as a result of poor writing and acting.   
There is something almost cringe-worthy about FauntLeRoy's attempts at character and plot development, with cliché after cliché of damaged relationships and blossoming romances that somehow resolve themselves thanks to the horrific fish disaster. This is not helped by the overall stunted performances by the cast, who are melodramatic at best. Even the monsters fail at creating a lasting impression; the shockingly outdated CGI and the amateurish shots from the snakes' perspective are laughable.
Nonetheless, Snakehead Swamp is certainly not dull viewing. Albeit mostly due to its poor direction, the film does succeed in entertaining its viewers. The clichés and survival movie tropes are perhaps fitting considering the 'fantasy set in reality' nature of the genre, and films in this category more often than not lack variation or even a wholly serious tone.
Having said that, while their main purpose may be for entertainment, intelligent survival and monster films such as Jaws (1975) or Frozen (2010) are just as pleasurable but also skilfully directed so as to convey some sort of message, whether it be within the scope of the film itself or the wider context of society. Forgettable films like Snakehead Swamp, on the other hand, completely fail at doing anything of the sort. While the town's warden claims the swamp "can be mean", to me, it is just meaningless