Progressive Disney: Clement and Musker's Moana
Disney's latest dispenses with stock archetypes for a far more individualistic animated experience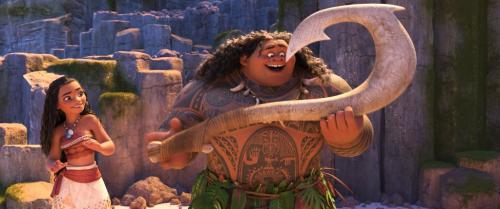 Moana, Disney's newest animated feature, hit theatres last week. Set on the Polynesian island of Motunui, the film follows the teenage Moana on a quest to return the stolen heart of Te Fiti, the island goddess, to its rightful owner. Te Fiti's wrath has corrupted the natural bounty of the island, jeopardising the survival of Moana's tribe, which refuses to relocate due to a deep-rooted fear of seafaring. Moana is helped by Maui, an ancient demigod and the original thief of Te Fiti's heart.
Moana is a heroine story, bearing striking resemblance to Mulan in that both protagonists voluntarily risk their lives for the good of their families, spurred on by a compulsion to do what is right. Moreover, Moana is, at least broadly speaking, a genuinely well-meaning celebration of Polynesian culture. This is reflected in the film's cast. Amongst other Polynesian cast members, Hawaiian high-schooler Auli'i Cravalho voices Moana, The Rock (Maui) is Samoan, and Nicole Scherzinger (Moana's mum) is Hawaiian. Disney's depiction of the Middle East in Aladdin was pretty racist; Moana is a significant improvement. Producers spent more than 5 months visiting the Polynesian islands themselves to represent the culture authentically and with deference. Pains were taken to this end, with attention paid to casting, mythological references, and the minutiae of choreography. 
The film has been praised for omitting a love interest from its plot. This does the film a disservice, really, as there simply wasn't room for a romantic storyline. After all, our attention was essentially confined to two protagonists – one a teenage girl and one a centuries-old Hawaiian demigod. The principal narrative was engaging enough on its own, although Maui's "fallen hyper-masculine demigod whose ego is restored" trajectory was quite simplistic. While Moana battled issues of grief, loyalty, and identity, Maui was chiefly concerned with returning to former glory, stacking up poorly next to Moana's more intricate character development.
"With its celebration of non-Western culture, its message of empowered girlhood, and its exploration of complex themes like home, survival, and independence, Moana joins a growing line of smarter, more nuanced Disney films."
Slate writer Ayesha Harris identifies three main stages of the evolution of the Disney princess. First, Snow White. An archetype with a singular lack of agency, who merely exists and awaits a prince's rescue. A Renaissance occurred with Pocahontas and Mulan – not quite princesses, but veritable heroines and role models who dominate their own narratives; thoroughly beneficial for the princess canon. Finally, the ladies of Frozen, which focuses on sisterhood and female friendship. Yes, Princess Anna does find love, but the bait-and-switch by her original beau Prince Hans turns the romance-driven plot on its head. Moana takes her place in this third, 'Golden Age' as Harris calls it, even though she rejects the princess title entirely. "I'm not a princess," she declares. "I'm the daughter of the chief." Indeed, Moana is more hero than princess, and takes on the classic arc of a hero – the noble quest, the self-doubt, and the eventual discovery of gumption and courage within.
 With its celebration of non-Western culture, its message of empowered girlhood, and its exploration of complex themes like home, survival, and independence, Moana joins a growing line of smarter, more nuanced Disney films. These include the similarly multicultural Big Hero Six, socially conscious Zootopia, and Brave with its strong female characters.
Moana is also surprisingly quirky. Chief purveyor is Moana's pet chicken and seafaring companion, who provides no-frills slapstick relief by constantly falling into the ocean and swallowing important objects. If the notion of a constantly drowning chicken on a raft isn't enough, then consider Tamatoa, an enormous coconut crab (voiced by Jemaine Clement from Flight of the Conchords), the villain and lovable 'Ursula' of this underwater universe. Tamatoa rises to the fore as the mother lode of Disney quirk, an extreme amalgamation of the Olafs and Cheshire Cats that quickly become comedic scene-stealers. Indeed, the quirk dial is turned all the way up in Moana, a move consistent with the self-awareness and tongue-in-cheek charm of new age Disney.
I would be remiss not to mention graphics. This movie is beautiful. I found myself gasping alongside other audience members at the sight of a breathtakingly cute baby Moana, whose giant rock-pool eyes, tubby feet, and expression of bewildered wonder made my insides positively contract. The islands and their inhabitants were lifelike and engaging, and the ocean under the night sky was stunning. The animation also managed to shift artfully between different aesthetics (from the 3D Pixar matrix to flat, 2D patterns), especially during musical numbers and scenes depicting mythology.
It's no secret that the soundtrack is the work of Hamilton originator Lin-Manuel Miranda; indeed, this was a selling point. Fans of Hamilton will delight over the distinctly "Lin" elements of the Moana soundscape, like dynamic melodies and vowel-heavy rhyme schemes; I found myself poking my friends on several occasions to gasp "That's so Lin!". Traces of his bold and slightly reedy belt can actually be heard in the rousing choral arrangements of 'We Know the Way' and 'You're Welcome'.
Verdict? See Moana. Now. So far, it's gotten everything right – a powerful and uplifting story, a beautiful presentation of Polynesian culture, an honest and grounded cast, a rousing soundtrack, and more than anything, genuine heart