Film: As I Open My Eyes
For Georgios Topaloglou the cast of Leyla Bouzid's latest film is especially promising but the film itself fails to deliver a finish which equals the drama of its events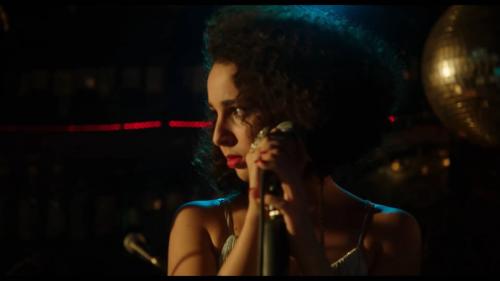 As I Open My Eyes has a real and powerful story to tell. It is the story of young people trying to create art in the face of political, social and parental adversity. The context is pre-revolutionary Tunisia, and the main character is Farah, an 18-year-old musically gifted student. The film follows a few months of her life, as she struggles to live, love and create in a family trying to protect her and under a political regime where social commentary is not just discouraged, but actively punished.
After some recent political developments, Tunisia has once again taken a turn for the repressive and the fact that the young and dynamic cast, like the characters they play, are struggling against an unfriendly regime gives the film, Leyla Bouzid's first feature-length work, a very realistic touch. Baya Medhaffer, who plays the lead character, deserves a special mention as it is her remarkable acting that saves some scenes which might have otherwise appeared affected and gives the film an authentic and real feel.
The film's soundtrack is worth a few remarks, as music plays a very important role in the experience of watching the film. Even though this might be expected in a film whose plot features music in such an important way, Bouzid deserves praise for the masterful way in which she builds tension among the characters before resolving it through the power of a song. As a result, even though translation inevitably erodes some of the directness of the lyrics, the songs remain moving and powerful.
While the main focus of the film is political, there are other issues that also feature in a prominent way. They might be hastily described as gender issues, but a more careful reflection reveals that they are more related to sexual repression than gender itself. The film builds up a lot of sexual tension in its first part and stands out from most other productions in that it features more male than female nudity. Set in a country which, despite being one of the least repressive in the region, still struggles to assimilate feminist ideas and behaviour, the film brings out the austerity and hypocrisy of social norms relating to sex and relationships in a very effective way.
Despite the film's excellent music and cast, the script and plot are often lacking. The characters' reactions generally seem a bit exaggerated and arguments between them escalate much quicker (and more often) than would seem natural. After a very promising first half, the second half of the film seems repetitive and lacking substance in comparison. Luckily, this is almost saved at the very end by a few scenes in which raw realism comes through to the viewer in a chilling directness, making the film's ambivalent ending more effective than it would otherwise have been.
As I Open My Eyes is a promising debut and makes us expect even more, but mainly from the cast. Many parts feel repetitive and overly dramatic and most audiences will find that the film's auspicious start did not lead on to an equally impressive finish. Despite these imperfections, the film's message remains powerful. With a better script and better direction, it would also have been convincing. Nevertheless, Medhaffer's prizes for her acting are certainly well deserved, and as she sets out in her career in the international scene, we shall be awaiting her next role with eager attention.